At WristReview we love all complications, no matter how complicated they turn out to be. But, one of our most favourite complications is the tourbillon. Now, granted, not everyone sees the tourbillon as something that improves accuracy, or even something that can be considered as a complication. Nevertheless, that doesn't stop people from making them, and that certainly doesn't stop tourbillon watches from commanding an enormously high price. While they've been put into nearly everything, our favourites are the  crazy sports watches which have a tourbillon jammed in them for no other reason than good measure. So, here are our Top 5 sports watches which probably don't need a tourbillon, but have one anyway.
5.

Breguet Marine 5837 Rose Gold
For this one, Breguet goes one step further and offers what it calls a 'Grande Complication' in this watch. Not only does it feature a tourbillon, but there is also a chronograph operated by the pushers which are cleverly disguised as crown guards. Although it's quite a traditional watch, that hasn't stopped Breguet from making the tourbillon carriage out of titanium, which is extremely hard to machine if you were wondering. Although it is a very cool watch, its looks are, shall we say, polarising. To paraphrase the Watch Snob, the more complications Breguet adds to the Marine collection, the uglier it gets. Very cool rubber strap though.
4.

Audemars Piguet Royal Oak Offshore Chronograph Tourbillon Ref. 26421ST.OO.A002CA.01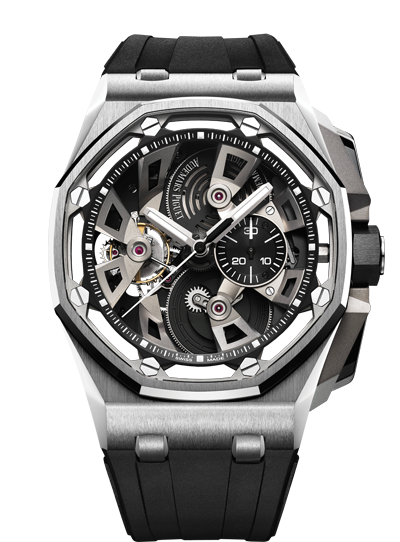 Ah AP, the king of 'luxury-sporty-sort-of-everything' watches. It doesn't matter what your job is, what car you drive or how much money you have in the bank, if you have a Royal Oak you are most likely a refined yet outgoing type. Nothing accentuates that more than the Royal Oak Tourbillon Offshore Chronograph Tourbillon. Granted, it's not as subtle as a Royal Oak Tourbillon Extra Thin, but it makes up for that with dashing good looks and a lot of charm. Not to mention the new bezel design, which is basically non-existent given that it's been replaced by a sapphire crystal. It's a new avant-garde take on a traditional design, and I love it. But, it takes the 4th spot on the list because it's still got a reputation for being worn by, well, you know the type I mean.
3.

Blancpain Fifty Fathoms Tourbillon 8-Days Ref. 5025-1530-52A
While I've quoted the white gold version in the title, it doesn't really matter which one of these you go for, white gold, rose gold or even diamond encrusted (I mean, the base watch is still the same, right?). The Fifty Fathoms is an already beautiful watch, add in a power reserve and suddenly you've got a beautiful and practical diver's watch. Add in a tourbillon… and you lose the practicality but it looks awesome. This one follow's Blancpain's traditional tourbillon design which is a little different from the form we usually see it in. But, it's lighter this way, so less strain on bearings and a longer power reserve, eight days to be exact. Not to mention that it's still depth rated and tested to the extreme like a 'standard' Fifty Fathoms. My only criticism is that the caseback needs an update, the movement looks tiny in the big case. Apart from that it's faultless in my eyes.
2.

Richard Mille RM 56-02 Tourbillon Sapphire
Come on, I had to put Richard Mille on the list, pretty much everyone demanded it. In case you didn't know, Richard Mille cut its teeth in the watch world making crazy sports watches, but by far the craziest it makes are its tourbillon watches. I've selected the RM 56-02 for its high tech everything. The case is made of sapphire crystal, a challenging and demanding material to work on. Inside, the movement is suspended from the case on a steel cable of just 0.35mm diameter. Go even further in, and you'll find the barrel, the tourbillon and centre bridges are made of sapphire crystal as well. It took over a thousand hours to make the case for this watch. There were only ten examples of this watch built, and each of them cost $2.02 million.
1.

Rebellion 540 Magnum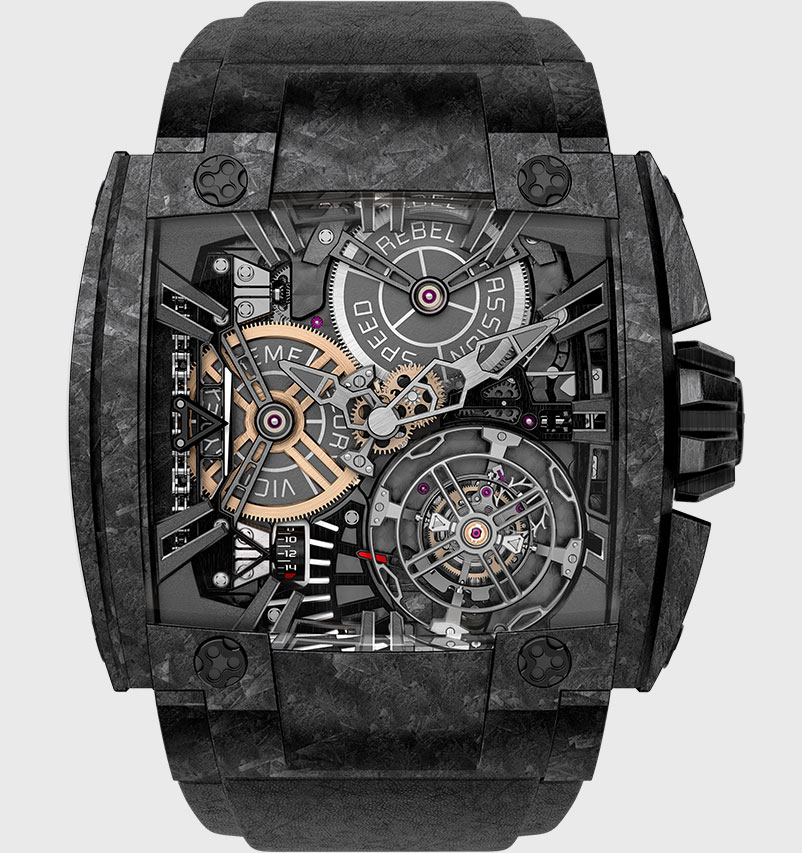 While it only costs around ten percent the price of the Richard Mille, Rebellion's 540 Magnum takes the top spot on this list for its unique build materials and that grande tourbillon. In case you were unaware, Rebellion has its own racing team that competes in endurance championships such as the European Le Mans series. The materials this watch is made of come straight from there, the mainplate is made of aluminium, while the three-quarter backplate is made of carbon fibre along with the case. This carbon is a lot more unique than the carbon weave we usually see; each case has a different pattern in it as the fibre creates random shapes when created.
To indicate the power in the barrel, Rebellion created one of the world's smallest chains which drives an arrow (titanium or aluminium, your choice) up and down the side. Said arrow is connected to a small cylinder which reads the hours so we get a good idea of how long it has left to run. The name for the watch, 540, comes from the circumference of the tourbillon, 540 tenths of a millimetre. Or, 17.2 millimetres in diameter, which is extremely large for a tourbillon. All this comes at a fraction of the RM's price, 270,000 CHF, like the Richard Mille, it comes in only ten watches, but it doesn't come with RM's brand name.