Gérald Genta, the man who needs no introduction. We all know him for his contributions to the watch industry, he designed not only the Royal Oak, the watch which saved Audemars Piguet from bankruptcy but also Patek Philippe's Nautilus, Vacheron Constantin's 222, the Bulgari Bulgari, IWC's Ingenieur and many many more. It's Bulgari that seems to have benefitted the most from this tie into Genta, the 222 and Ingenieur look entirely different, the AP hardly ever mentions him at all, and the Nautilus is so hard to get hold of these days. The main reason behind the success of these names is simple, Bulgari acquired Genta's watch business in 1999 and set about making something of it. To celebrate 50 years of the Genta watch brand, a new special edition watch has been revealed.
Let's go over the specs first. This watch is a non-limited edition piece, so you can buy it any time as long as you can afford the high price tag of $59,000. For that, you get a 41mm case made of platinum and a sexy bi-retrograde dial layout which we'll come back to in a moment, powered by the calibre BVL300 (and based on the BVL191 Solotempo movement) which has a 4Hz beat rate and an ample power reserve of 42 hours. It's presented on a blue alligator leather strap which matches the dial colour.
You can see the case of the watch is a smooth round shape, slightly reminiscent of watches made by Laurent Ferrier, at least in my eyes. There are subtle shoulder guards leading up to an oddly shaped crown, a classic Gentas style with knurling around a big dome. The sides of the case are fluted. Much like a Breguet, however, they are a lot thicker and chunkier than on a Breguet watch. But, it's the dial where things take off for this piece. The backdrop is a deep blue colour, with a sunburst effect radiating outwards from the single hand in the middle.
This is not some kind of slow watch, where one hand indicates the hours and minutes in 5-minute increments. That big central hollow sword shaped hand points only to the minutes and jumps back to zero when the hour changes. The hours themselves are displayed as a number in a big window just below the '30' marker. It's not easy to move a hand back and forth like that, instead of round and round, so to see anything retrograde is quite a rarity. In this case, the date is also displayed by a retrograde hand at the bottom of the dial.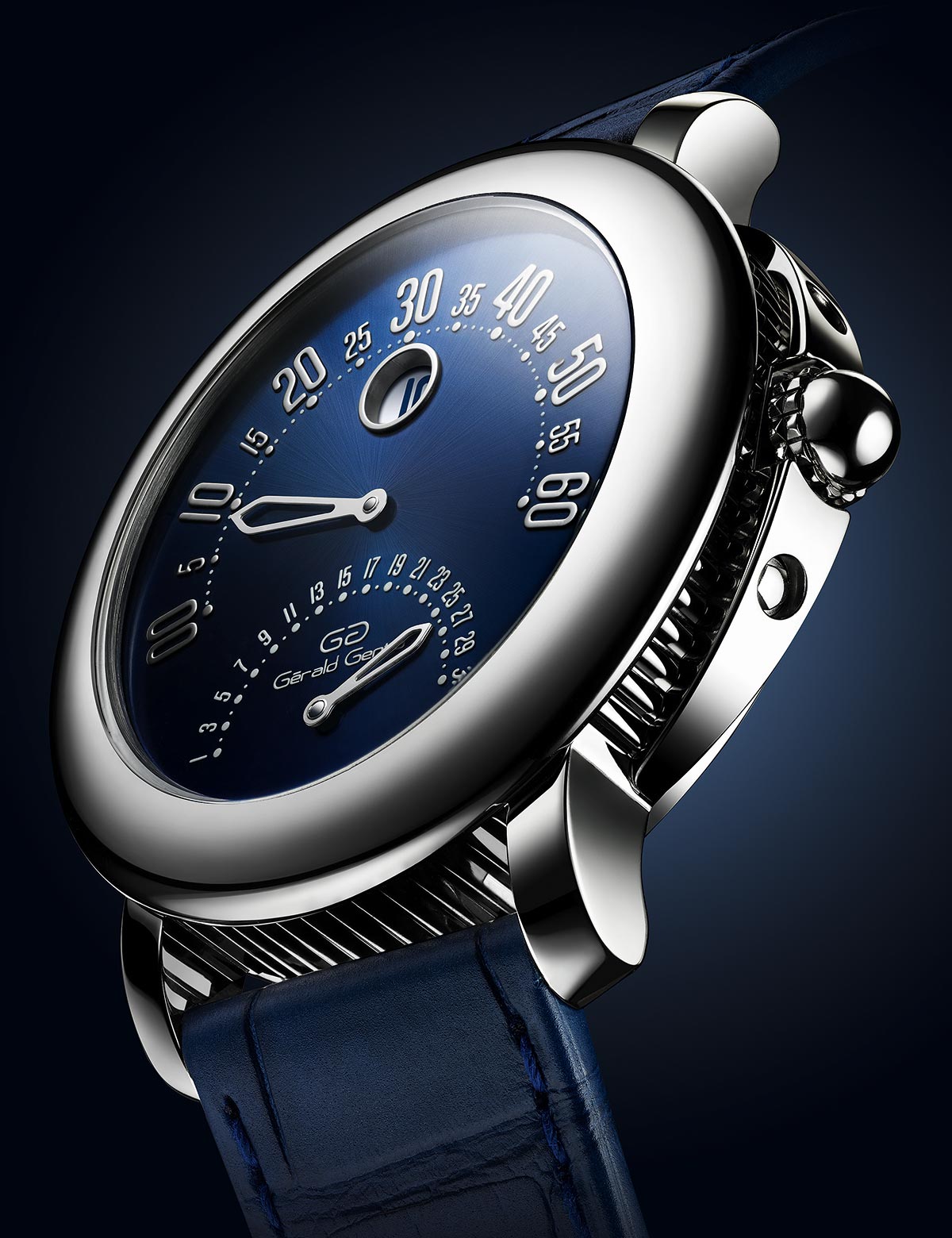 The reason it's rarely seen is that it's hard to do. That little box of springs and gears is responsible for moving three different indicators, and, we need to consider what happens at the end of the month. When midnight rolls around, the date, minute and hour displays will all have to move simultaneously, putting an incredible amount of pressure on the mechanics inside. I can imagine the owner sitting up late at night at least once to wait and see all that magic happening, and why shouldn't they? Like Genta's designs, it'll undoubtedly be dramatic.
Visit Bvlgari here.