We're going to have a hands-on with Chopard's latest collection that harkens back to a lesser-known classic from the early 80s and investigate whether this raptor can hold up against other high-end sports watches in steel with an integrated bracelet and case.
Background – a phoenix has risen from the ashes
Certain stainless steel sports watches with an integrated bracelet and case from Audemars Piguet and Patek Philippe have, in recent years, been in ultra-high demand. Honourable mentions in particular include the Reference 15202 and Reference 5711 respectively that command a premium on the secondary market, while authorised dealers around the globe are having a hard time weeding out speculators from genuine watch collectors and enthusiasts.
Based on the current situation of the market, one might construe Chopard's Alpine Eagle as an attempt to capitalise on this phenomenon. This is, however, where you'd be mistaken. The inspiration behind this collection actually stems back to the early 80s where an ambitious 22-year-old man by the name of Karl-Friedrich Scheufele (now co-president of Chopard along with his sister Caroline Scheufele) submitted an idea for his first watch to his father, Karl – just 17 years after the latter took over the Geneva-based watch manufacturer.
The watch that was presented by the ambitious Karl-Friedrich was to be named St. Moritz (Sankt Moritz in German); a name inspired by the high alpine resort town in the Engadine region in Switzerland. The inspiration behind Chopard's Alpine Eagle collection might be based on the St. Moritz, but I'd be a little creative and take things even further by construing the Alpine Eagle as Karl- Fritz' first flight into the family business; reminiscent of an eagle leaving its nest and spreading its wings for the very first time, and reminiscent of Karl-Friedrich's entrance to Chopard.
Considering how the Swiss watch industry had barely recovered from the quartz crisis in the early 80s – and the plethora of stainless steel sports watches with an integrated bracelet that were already available on the market – it was a risky move for the time, but certainly not a bad one as it became a best-seller for Chopard during its long production run with approximately 50,000 examples sold over 16 years. The St. Moritz was launched in 1980 and it spawned a slightly updated version near the end of its production run. Rumour is – at least with more seasoned watch enthusiasts – that the St. Moritz collection got phased out with the introduction of Chopard's L.U.C line of watches in the mid-90s, but I've yet to have it confirmed by any official authority.
It even spawned a model with an integrated chronograph calibre by Frederic Piguet; Reference 8386. The Frederic Piguet calibre 1185 has been widely used by several companies and still ticks away more than 30 years after its inception – and is by many watch enthusiasts considered to be a high-end movement. From a comparative point of view, this is interesting because Patek Philippe's first casually elegant sports watch with an in-house developed and manufactured chronograph calibre with a column wheel, vertical clutch and even fly-back complication saw the light of day in 2006 while Audemars Piguet released their Royal Oak Offshore (Reference 25721ST (also known as The Beast)) with a modular chronograph back in 1993. In comparison, Vacheron Constantin launched their first generation Overseas model with a Frederic Piguet calibre 1185 beating inside of it in 1999 while I presume that the esteemed manufacturer's Phidias – featuring the same calibre – might very well have been launched sometime after Chopard's Reference 8386 or a little before that.
However, one has to keep in mind that a chronograph is one of the most difficult complications to design and develop from scratch – and that the consumers back then didn't put that much emphasis on whether or not a calibre was created in-house. It's nonetheless interesting from a purely horological perspective that Chopard opted for a high-end chronograph calibre during the St. Moritz' production run. But I digress.
When the St. Moritz collection was launched in the early 80s, it was the manufacturer's first sports watch and also their first timepiece made of steel, which is rather interesting from a purely historical perspective as they previously were well-regarded for their watches intended for formal wear. Chopard has since then moved onto other fields, especially the world of motorsports with their Mille Miglia and Superfast line of watches. With these lines of watches – and the more traditional L.U.C. line – I'd honestly say that the Alpine Eagle collection fills out a gap in Chopard's catalogue as the collection offers the best of two worlds with its casual and yet elegant design. In other words, the Alpine Eagle collection maintains just the right equilibrium between being sporty and formal and is therefore great for both office wear and sharing cocktails at K-bar with a special woman on a chilly Tuesday night in October.
One could therefore, from a symbolic point of view, construe the Alpine Eagle as a phoenix that was reborn from the ashes of the St. Moritz.
Material – has Chopard discovered a new philosophers' stone?
The Chopard Alpine Eagle clearly echoes the St. Moritz. But, unlike its forefather, it's made from a special material called Lucent Steel A223; a new proprietary alloy which is composed partially of recycled stainless steel (70% recycled and 30% mined through a 100% traceable route), featuring three distinct characteristics.
One of these includes properties comparable to that of surgical steel, thus making it highly dermo-compatible. Another interesting aspect of their new alloy is its resistance to abrasion as it's 50% more scratch resistant compared to conventional steel and therefore has a unique hardness (i.e. 223 on the Vickers scale – hence the name behind Chopard's new alloy). This is rather convenient and also stress relieving (broadly construed) if you're the type of watch enthusiast that cares deeply about the condition of your timepiece.
Based on my experience with Patek Philippe's Nautilus and Aquanaut as well as Audemars Piguet's Royal Oak and Royal Oak Offshore, it's really difficult to avoid scratches, including hairlines, when we're dealing with watches that come with such an exquisite finish – all done by hand in several steps – steps – consisting of satin-brushed and polished surfaces. Therefore, I'm stoked about this distinct characteristic of Chopard's Lucent Steel A223 as it enables its wearer to focus more on enjoying the watch rather than worrying about adding too many battle scars to its bracelet and case.
Last but not least, Chopard's latest alloy has a superior homogeneous crystalline structure with a purity that enables it to reflect light in a unique way. Reminiscent of a diamond whose brilliance depends on the lowest degree of impurities, Chopard's innovative alloy has far less impurities than conventional steel, thus guaranteeing it brilliance and brightness comparable to that of gold.
Considering the aforementioned benefits, I'm going to salute Chopard for actually having added something genuinely new and interesting to a genre that otherwise seems to be played out. The four years of research and development that Chopard invested in order to produce and industrialise this new complex alloy was clearly well spent. Honestly, I keep my fingers crossed that both watch enthusiasts and celebrities, including musicians and movie stars, will take a look at the Alpine Eagle with an open mind as these aspects really set it apart from other high-end stainless steel watches with an integrated bracelet and case.
Chopard might not have discovered a new philosophers' stone, but they've without doubt come up with a clever and innovative solution to a common concern that lurks in the back of the mind of many watch enthusiasts. It also represents a great leap towards sustainable luxury that is perfectly in tune with the manufacture's focus on using fair-mined gold for their production of timepieces, so I'm pleased to see that our planet no longer has to suffer in order for watch enthusiasts to enjoy a luxury timepiece. From a symbolic point of view, it also stands in stark contrast to the splendour, flying champagne corks and lovely women in pencil skirts with big curly hair and Colgate smiles during the golden era of St. Moritz in the 80s .
Design – a combination of the alpine fauna with some of the zeitgeist from the 70s
Drawing on his passion for the Swiss Alps and the principle of form follows function – which is commonly credited to the father of both modernism and skyscrapers, Louis Sullivan – Karl-Friedrich Scheufele has added a new member to the genre of watches with an integrated bracelet and case.
Considering the inherent limitations of this genre which was first established in the early 70s, I'm delighted to see how the designers at Chopard managed to combine a contemporary design with subtle references to the Alpine Eagle and its biotope – and still maintain the core principles behind the genre. Everything from the rock-like textured dial made of stamped brass which evokes an eagle's iris to the counterweight of the running second hand whose shape is reminiscent of the majestic raptor's feathers blends nicely together with the integrated bracelet and case. Let's not forget the third distinguishing characteristic of the Lucent Steel A223 case: its ability to reflect light like no other type of steel used in watchmaking. The effect is – under certain circumstances – is comparable to the effect that is created when sunlight hits an icy mountain top.
The bracelet of the Alpine Eagle is slightly tapered with a satin-brushed wide link and sides. It also has a single ingot-shaped link with a polished and gently raised centre link in the middle, thus creating a distinct design with its very own identity. The case features alternating satin-brushed and polished surfaces with eight polished screws – grouped in pairs at the four cardinal points – holding the bezel, case middle and back together. The screws, therefore, not only serve a technical purpose, but also serve an aesthetic purpose as the lines of the screw heads are perfectly aligned with the periphery of the dial and contrast with the satin-brushed surface of the bezel. Speaking about the case, it's also distinguished by a protrusion protecting the winding crown, which has been engraved with a compass rose; an instrument that has helped adventurers find their way since ancient times. This subtle detail further emphasises the adventurous vibe that this collection oozes of – once you've gotten familiar with its origins.
Thanks to Chopard's vertically integrated production process; all of the components for its calibres, bracelets and cases have been produced and assembled in-house.
The baton-shaped hour and minute hands of the Alpine Eagle are prominent and offer great legibility under most conditions, including under dark and low light circumstances, as they're coated with Super-LumiNova ® Grade X1. This also goes for the applied Roman numerals and hour-markers that are rhodium-plated and coated with the same Super-LumiNova as the hands. It's therefore easy to read the time if you by any chance should have gotten curious about it while waiting for commercials to end at your local cinema so that you and your special someone can enjoy the critically acclaimed movie Joker together.
Another detail that I really enjoy on the references with a date complication (located between 4 and 5 o'clock) is that the colour of the date wheel matches the dial of the individual piece, which for instance isn't the case with Patek Philippe's Reference 5711 and Reference 5167. In other words, if you opted for the Aletsch-blue (name inspired by the Aletsch Glacier), then you get a matching blue date disc. If you opted for the Bernina-grey (name inspired by the Bernina mountain range in the Alps of eastern Switzerland), then you get a matching grey date disc. It might sound like a simple thing, but it can really bug some watch enthusiasts if the date wheel and dial don't match.
At launch, the Alpine Eagle collection consists of 10 references in steel, gold or gold set with diamonds plus gold/steel. The last one is my preferred model of the bunch because the warmness of the 18 ct. gold contrasts rather well the coldness of the steel. Three of them are sized with a diameter of 41 mm and 9.7 mm thickness while the remaining members of the bunch are sized at 36 mm in diameter and has a thickness of 8.4 mm. I'd be inclined to consider the latter as oriented towards females while the former seems to be oriented towards a male audience. Chopard has, however, categorised all 10 references as unisex.
The cases can't exactly be considered ultra-thin, but they do wear comfortably on the wrist without feeling fragile, and this – along with the increased resistance towards abrasion – makes them great for daily wear. The smaller Alpine Eagle, however, wears more snug on the wrist due to its svelte profile and slimmer bracelet, while the larger Alpine Eagle can feel a bit more top-heavy – depending on the size of your wrist. Both eagles can easily fly under your dress cuff or sweater, but you might want to try both on before pulling the trigger, as the protruding lugs demand more wrist real estate in practise than the 41 and 36 mm on paper otherwise gives you the impression of.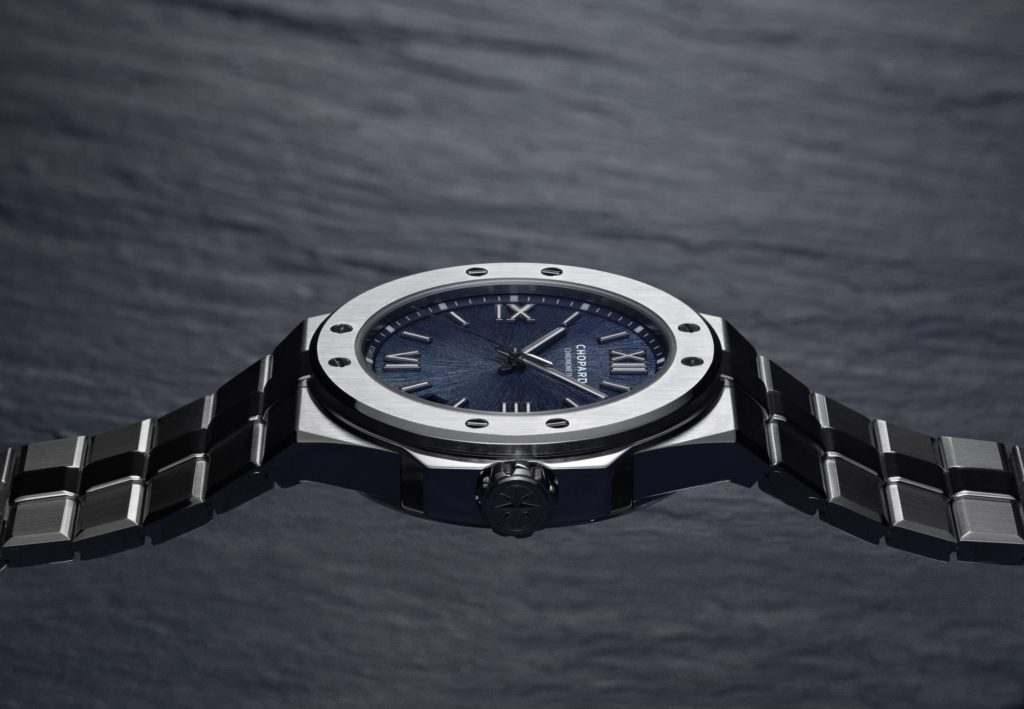 Unlike its predecessor, the Alpine Eagle comes with a seamless clasp that flows just perfectly with the rest of the bracelet; reminiscent of the bracelet on Rolex's Day-Date. Chopard has, however, made sure that wearer can locate it by a discrete, but nicely done engraving.
Chopard's calibre 01.01-C – a healthy heart for a bird of prey
The larger Alpine Eagle is powered by the in-house developed calibre 01.01-C and offers 60 hours of autonomy when fully wound. The smaller Alpine Eagle is powered by the in-house developed calibre 09.01-C and offers 42 hours of autonomy once fully wound. The latter ticks away at 25,200 vph (3.5 Hz) while the former ticks away at 28,800 vph (4 Hz). Both self-winding calibres are COSC-certified – with the calibre 09.01-C being one of the smallest movements to receive a COSC-certification – and can be viewed through a transparent glare-proof sapphire crystal back.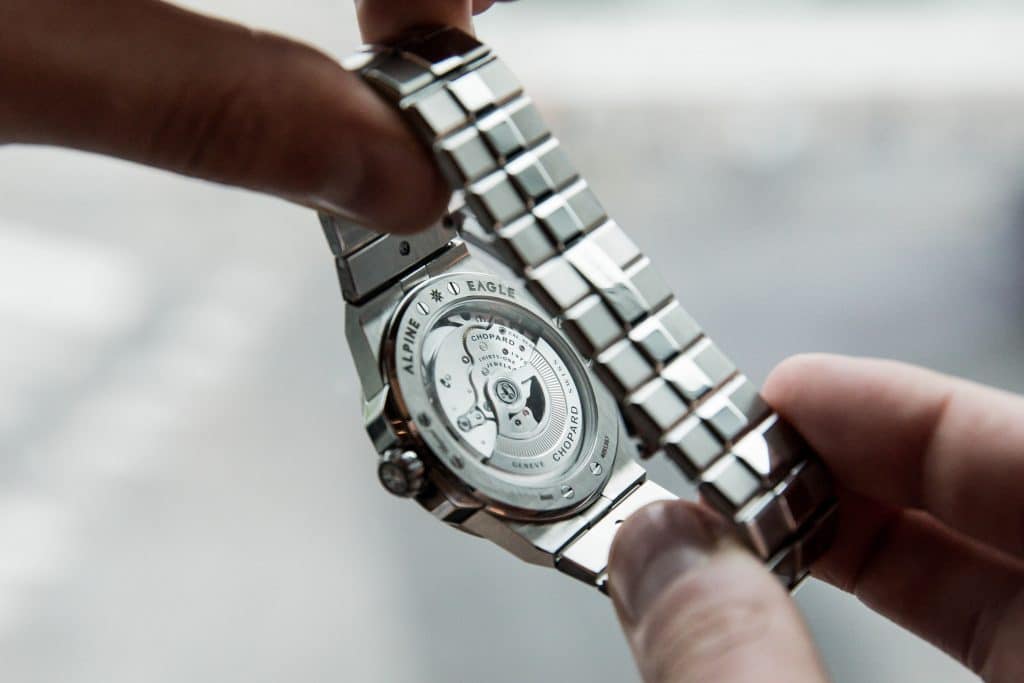 At first glance, both calibres appear rather industrial. Upon further inspection, you'll realise though that the overall finish of both calibres belongs at the higher end of the scale. This is partly evidenced by the satin-brush finish of the bridges and anglage at each edge, but also by the polished screw heads within the chamfered slots. The rotor is nicely decorated as well with a coin edge sort of pattern on its outer edge and some writing in bold black.
The finish might not be on par with Patek Philippe's calibre 324 SC or Audemars Piguet's calibre 2121, but there's no doubt that we're dealing with a couple of good calibres with a nice finish. If I were to change anything about them, I'd do some rich Côtes de Genève on the bridges of the calibre 01-01-C in order to bring more visual depth and a stronger sense of exclusivity to the wearer – especially considering the high level of finish on the bracelet and case.
Conclusion – the Alpine Eagle can claim a spot near the top of the food chain
Overall, Chopard's Alpine Eagle has a lot going for it. It retains the appeal of the stainless steel sports watches with an integrated bracelet and case genre – and perhaps even extends it with the use of their new alloy. It's my impression that the Alpine Eagle collection isn't competing for a spot at the absolute top of the food chain, but rather tries to find a crevice at the near top and indeed fills out an existing gap by offering a watch that imbues all the distinctive qualities of a high-end watch without breaking the bank (relatively speaking).
This is due to the fact that the retail price for the larger Alpine Eagle starts at CHF 12,450 while the smaller Alpine Eagle starts at CHF 9,760. Considering the vast amount of attention to detail where these timepieces are concerned along with the fine movements, it's actually a great product from a reputable manufacturer. If I were to give some friendly advice, I'd recommend Chopard limit their production in order not to fall in the same trap as Omega did when they added more self-winding ceramic Speedmasters to their catalogue, as the original Dark Side of the Moon was difficult to purchase during the beginning of its production run.
If Chopard could create an aura of exclusivity by limiting the production – and maintain the same price level – they might be able to create a sought-after timepiece that will catch the interest of watch enthusiasts and also hold its value on the secondary market, especially considering how extremely difficult it has become to acquire a Nautilus or Royal Oak through an authorised dealer.
Now, I'm just curious to see whether the Alpine Eagle will spawn some chicks by making good use of their calibre 03.05-M and/or L.U.C 96.13-L, so we in the future can see some Alpine Eagles with Chopard's in-house developed and manufactured chronograph and/or perpetual calendar beating inside of them. I'm also curious to see whether we're going to see a large Alpine Eagle in 18 ct. gold with a grey or blue dial, as it would supplement the smaller Alpine Eagle in 18 ct. gold – which currently is the only way to treat oneself with a gold watch – in a good way.
Visit Chopard here.
A special thank you to the professional photographer, Sahel Hamdan, for the images.