Few brands can master the difficult technique of enamel dials, which require delicate applications of enamel that are fired in a kiln. Most of the time, the dials crack due to the various subtle differences in the process applied to them that comes naturally from human error. This is why enamel dials tend to be reserved for more pricey watches. One of the exceptions to this rule is Seiko, which does its own enamel dials for much lower costs than other brands do.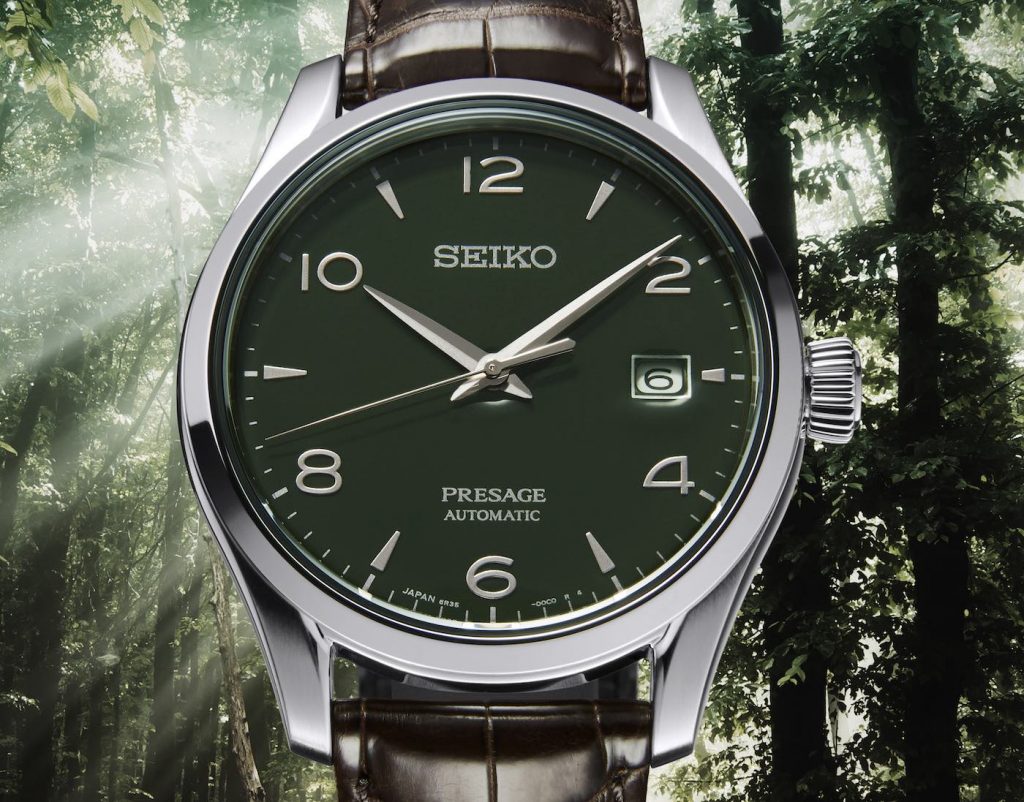 The new Presage watch features a verdant green dial to evoke the cedar trees that grow around central Japan. In case you didn't know, quite a lot of the Japanese territory is mountainous or otherwise tricky to habituate, which is why the cities tend to be extremely crowded. Nevertheless, there's plenty of flora and fauna to see in the mysterious nation. Applied to the green enamel dial are a combination of markers and numerals which are shaped to resemble the leaves of the cedar tree somewhat. The dial is very minimalistic, with elegant dauphine hands completing the look. You can see a dip in the dial around the hands and the date window which uses a green font that matches the dial.
Inside the watch is the Seiko 6R35 movement, which is a reliable workhorse of a movement. There's not much in the way of gimmicks or fancy touches here, but that reflects the price. The movement isn't rated as being particularly accurate, either, even for a mechanical watch. Whereas the COSC chronometer rating requires a mechanical watch to run somewhere in-between -4 seconds and +6 seconds per day, the 6R35 is rated to run between -15 seconds and +25 seconds per day. Still, this is better than the -35 seconds and +45 seconds per day than you'll find from the Seiko 5 movements. But, on the face of it, do you care? Nearly all of us have a smartphone anyway, and the key selling point is the dial.
The case is 40.5mm in diameter, 12.4mm thick and has a water resistance of 100m and it's fitted to a green leather strap. There will only be 2000 of these made, as they are limited in their production, and they will cost $1499 each.
Visit Seiko here.