It's time for another Only Watch article! We've looked at quite a few watches over the past couple of months or so, with my personal highlights being the Breguet Type XXI 3813 watch in platinum and the Ulysse Nardin Stranger Only Watch edition, although all of the presented watches look stunning and unique in their own way, but none quite like this Chanel.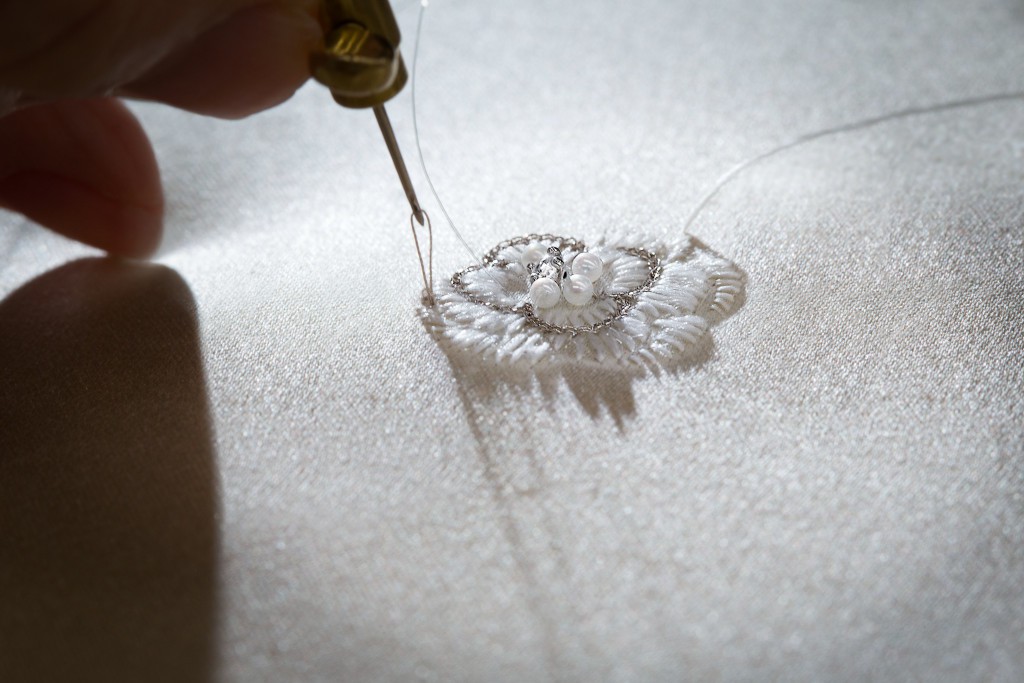 To design and craft this beauty of a timepiece, Chanel worked closely with Maison Lesage, a company now part of the Chanel group via a company called Paraffection. Maison Lesage was founded by François Lesage, a Frenchman who was very well known for making embroidered items of the highest quality, nowadays the archives of Maison Lesage contain over 75,000 examples of work, making it the largest collection of haute coutre embroidery in the world. This hard work and effort can be recognised and appreciated on the dial of the Chanel Mademoiselle Privé watch which has a hand embroidered beige coloured dial. The inspiration for the flower motifs located on the dial comes from Coco Chanel's favourite flower, the camellia. The flowers have been ever so carefully designed and made with both chain and knotted stitching as well as a wondrous natural pearl in the centre.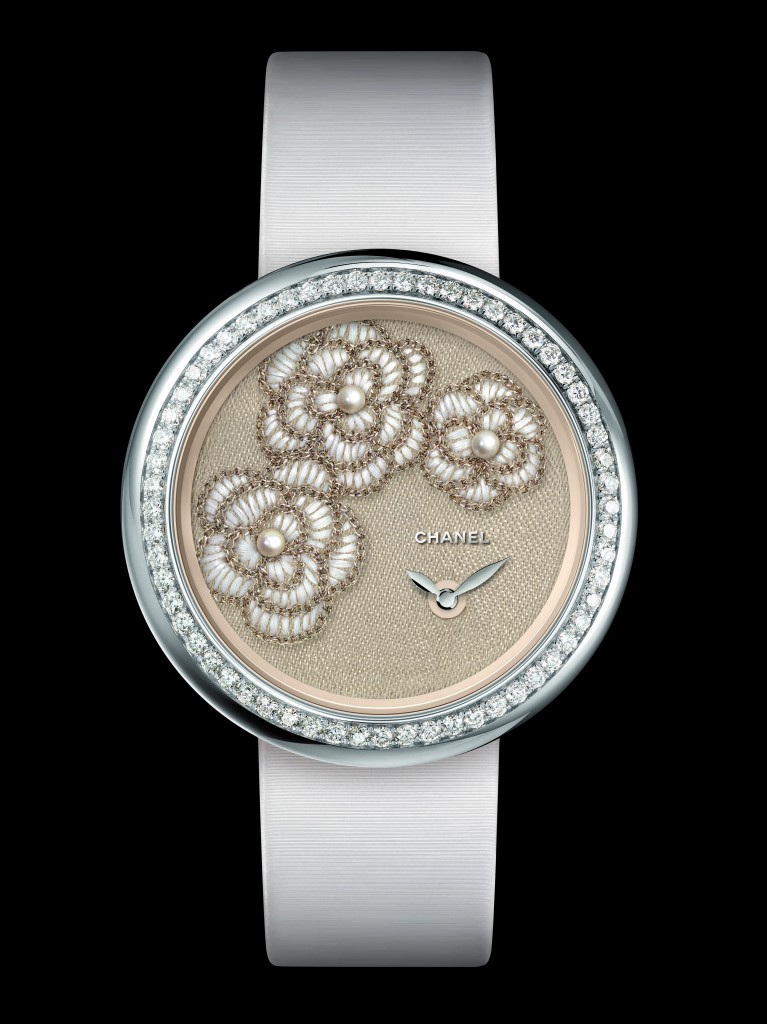 The bezel and caseback of the watch have been decorated with a combined total of 200 radiant round cut diamonds, giving this watch just under 2.5 carats of diamonds. These have been placed onto a majestic 18k white gold case, in this example white metals are definitely the correct choice for a timepiece, they look much more modern and crisp while still being ornate, a yellow or rose gold case when coupled with the beige dial of the watch might well look like it belongs in the 19th or 20th century.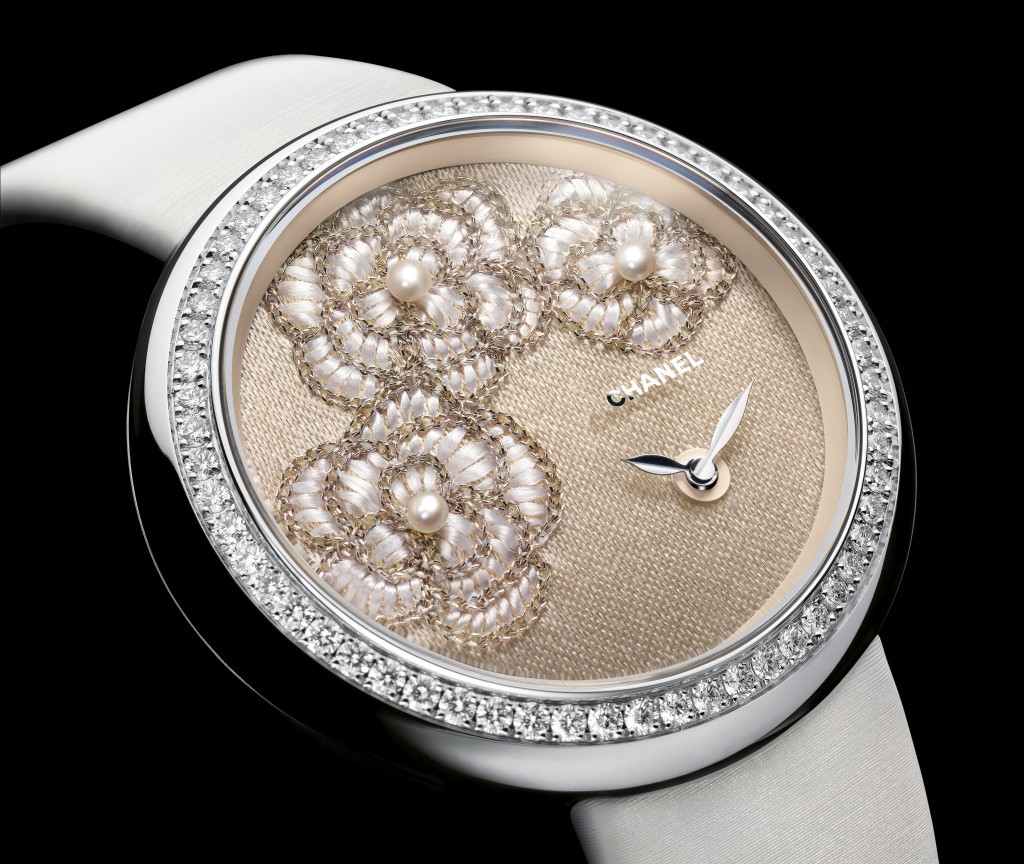 The watch also has a brilliant white satin strap which promises to be extremely soft to the touch. Inside the watch is a Chanel quartz movement which has been placed under the small hands at 5 O'clock. Some might be wondering whether this is an important piece in the Only Watch lineup because Chanel opted for a non-mechanical movement. In this case I feel that it was a good choice, the watch is to be looked at and appreciated for how it appears, an open caseback wouldn't get much attention thanks to the beautiful Lesage flowers on the dial.
The Chanel Mademoiselle Privé for Only Watch 2015, along with all the other watches, will be sold at auction on November the 7th with the funds being raised donated to fighting Duchenne muscular dystrophy, a life changing condition which we can prevent with the help of events such as Only Watch. For more info, please visit chanel.com
Can you guess how much the Chanel Mademoiselle Privé watch will sell for when it goes under the hammer on the 7th of November? Stay with Wrist Review to find out.

HARLAN CHAPMAN-GREEN – CONTRIBUTING EDITOR
A keen bass guitar player, Harlan enjoys all the perks modern watchmaking technologies the industry has to offer. Although you might catch him sampling Omegas or the Rolex, Harlan loves all things Haute Horology, with his three favourite brands being Breguet, A.Lange & Söhne and Vacheron Constantin. He hopes to study timekeeping more in depth someday and will never be able to thank his father enough for introducing him to the industry. Read his articles here.