Chopard once again steps up its Haute Horlogerie game this year at Baselworld as it unveils a refresh for a member of its L.U.C collection that I doubt many have heard of. It's called the All-In-One and it's one of the rarest and most exclusive watches Chopard makes this side of the L.U.C Full Strike. They've never had one of these available to us for a photoshoot, even when we went to the manufactures last year. The All-In-One was first released in 2010 and came with Chopard's older styling with Roman numerals, a flat white dial and arched L.U.Chopard logo. Even for a fan of the company, I never found this style very appealing. Now, though, things have changed a little.
Gone are the Roman numerals which looked a little mismatched on a dial that already had a lot going on, they've been replaced by sharp elongated arrow pointers which reflect well with the Chopard style dauphine hands which add to the visual elegance of the watch. The white dial has been replaced as well, it's now either a cool blue colour or a 'silver gilt' colour, depending on which metal you choose (either platinum or rose gold respectively). Also, there's now sunburst guilloche emanating from the L.U.Chopard logo, very fitting considering the string of hits they have been releasing recently.
The movement inside this watch is a gem and surely worthy of the title 'Haute Horlogerie royalty'. It's comprised of 516 parts, all of which are verified and meet the Seal of Geneva hallmark. The watch has a multitude of displays, more than the almost unassuming dial lets on. As well as the time, there's also seconds which are indicated via a tourbillon, a perpetual calendar and a big date under the logo, note how the depth of the numbers is the same, meaning the two discs underneath aren't superimposed like some other companies do it.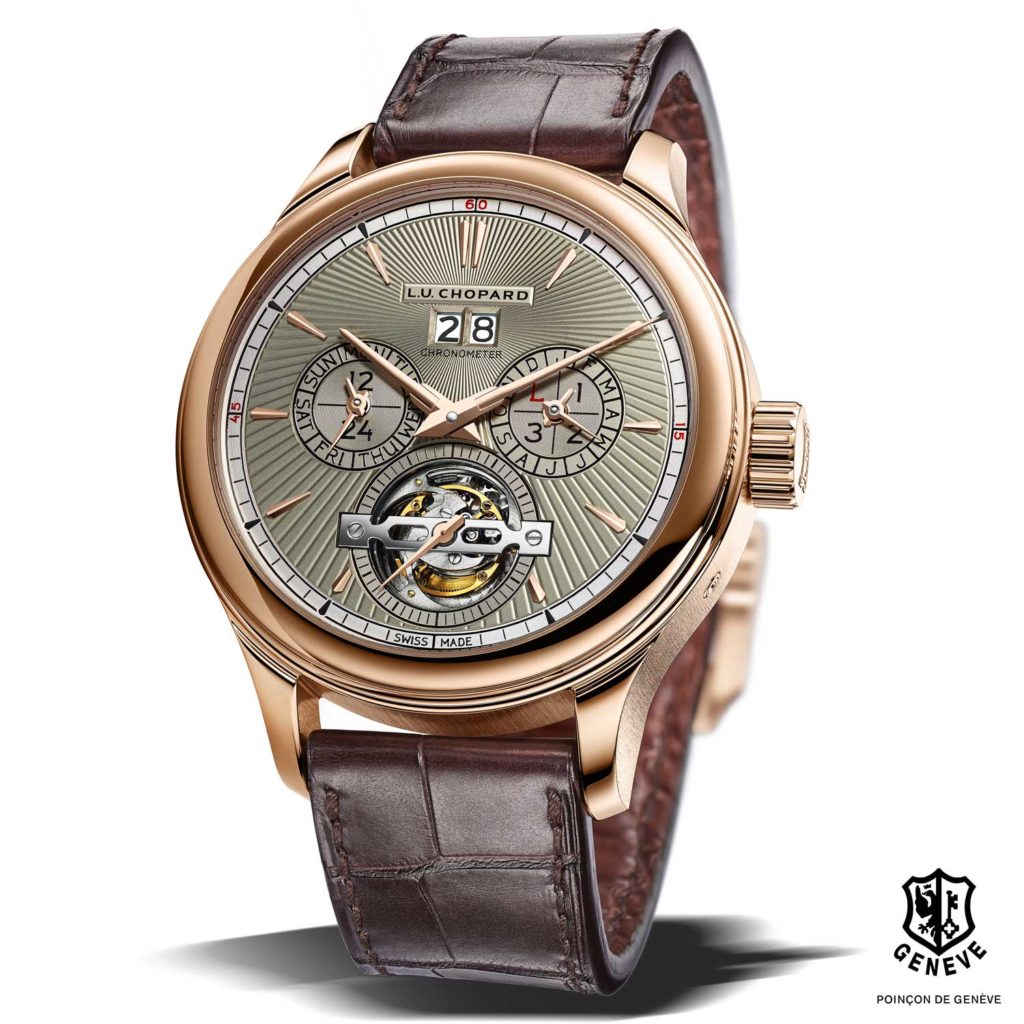 That's all there is to it, right? Wrong, on the flipside there's a whole other world of indications going on. There's a display for the equation of time, the 24 hour day/night indication, calculation and display of the time of sunrise and sunset (set to Geneva, but I'm sure this could be changed) and sat slap bang in the middle is the astronomical orbital moonphase display. As if that isn't enough, the power reserve on this watch is very practical at 7 days plus the extra safety margin. Even better, it's also COSC chronometer rated, if this watch was awarded the Qualite Fleurier mark, it would probably take the title of the best watch at Baselworld this year. Sadly, only ten of each metal will be made, but one can always dream, eh? For more info, visit Chopard online.