I know I know it's not technically accurate is it? WristReview goes to Geneva except we go to Fleurier instead, how did that happen I wonder. Before we catch up with our intrepid adventurers, or judging by Jovan's bored look as he sits in the hotel lobby, I should say our intrepid adventurer (aka, me), let's have ourselves a little recap of the past events shall we?
So far we've all met up at the Chopard HQ in Meyrin, Geneva for a fancy lunch before wandering around the factory in a kind-of-organised kind-of-lost way, there's a lot of backtracking to be able to follow the logical construction process for one watch. We also then went full hands on with the new novelties for the year and discovered wooden tables can also be mirrors. Finally we returned to the hotel before being taken out for dinner in a stylish urban deli-restaurant before retiring to our rooms for chocolate, beer and a bit of banter on the phone. Now, we return to the trip where we find ourselves having just endured a Swiss take on a Full English breakfast which was actually about a quarter of an actual Full English.
Not long after we were picked up by Mr. Laforge who took us on the long trip up into the mountains to Fleurier. On a sidenote, if you haven't been to Switzerland you're missing out on a gorgeous country, there are watch factories everywhere (I counted at least 5 on the way out of Geneva, but only Hublot springs to mind at the moment) and in the clear sunshine we had it was very pretty indeed. It's quite a long journey out to Fleurier, around 1 and 3 quarter hours in good traffic, but the drive is enjoyable nonetheless. Once you leave the motorway and start taking the windy roads up the mountains it gets even more interesting and you pass by some lovely villages. If you're doing a horology tour then companies like Reuge which have just set up new facilities are dotted around the villages, it's like a gold mine you just keep finding more interesting stuff.
Eventually we made it all the way to Fleurier which was basking in the sunlight and the crisp Swiss mountain air, Fleurier being around 740m up. It's a small village which was particularly quiet when we visited, the only residents we noticed were a couple of folks walking around shops and a clockwork Xenomorph from the Alien franchsize stood outside a church of all places. The Chopard building is particularly ominous in the town being five stories and fronted by glass and steel, perhaps not so in-keeping with the local architecture but people don't seem to mind them.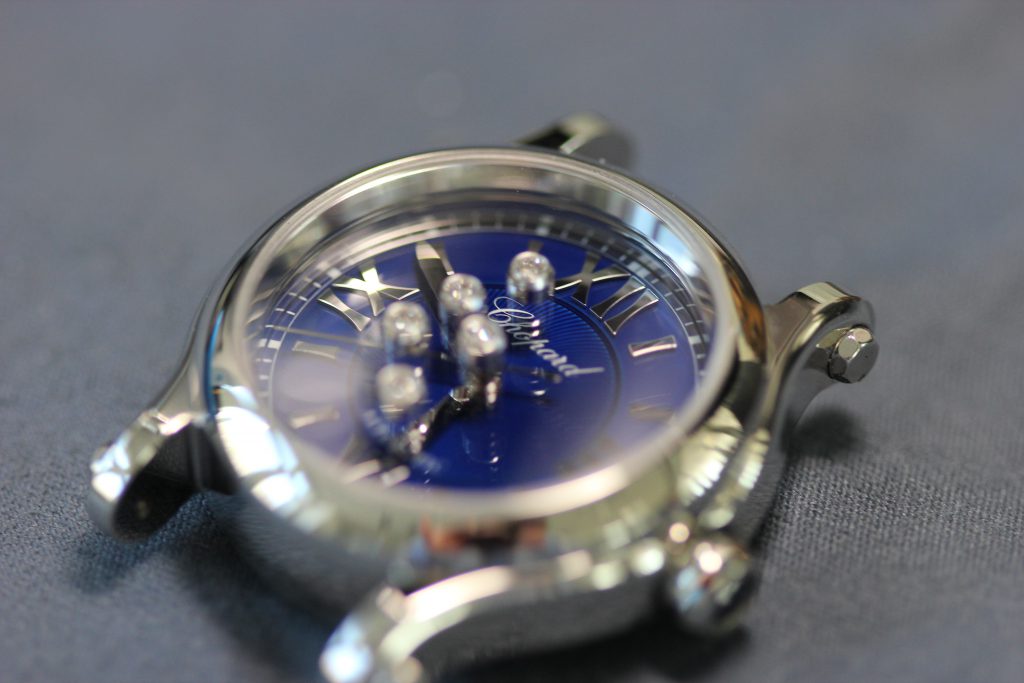 Once inside and settled we found ourselves in a small boardroom with croissants, pain au chocolat and Chopard chocolates. We were given a small presentation about the operations of the building as it's mainly L.U.C watchmaking at the Fleurier building. We also met the lovely Pamela who showed us around the building and gave us a full in-depth explanation of each process.
Unlike Geneva where we were wandering around the Fleurier facility is a lot more calm and, dare I say it, organised. We started off by heading a couple of floors down where we were met with the closed doors of the R&D department. Naturally, with Chopard working on designs for 2020 and beyond in there you could understand why they were firmly shut to us, but it was interesting nonetheless wondering what exactly was happening on the other side.
We then visited the finishing workshop. This is where the works of L.U.Chopard are really brought to life as, as you will have noticed, the finishing is rather excellent on their watches. Chopard can do many different types of finishing on their watches ranging from perlage (aka engine turning) to Côtes de Genève and everything in between, I believe it to be about ten different styles they can apply and can no doubt train staff to meet certain customer demands if needed. Each decoration style is done by one person in the workshop and they dedicate themselves to ensuring the highest standards are met for each watch. We spent a good ten minutes observing over the shoulder the engraving of some of L.U.Chopard's most complicated watch movements.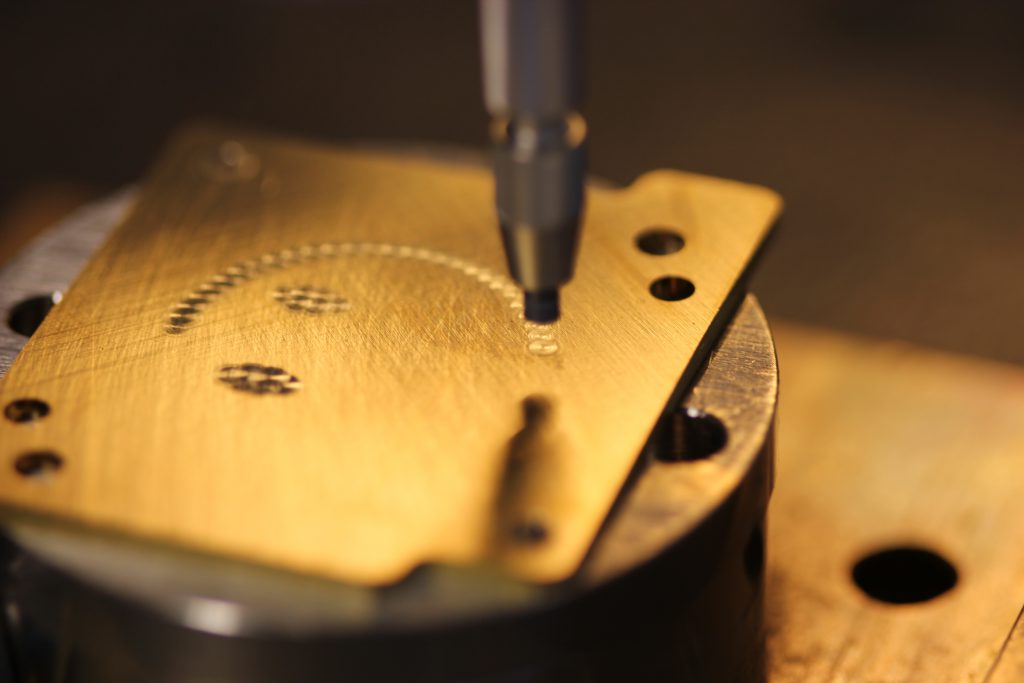 Jovan and I even got to have a go at it ourselves on a CNC engraver which moves the metal to the correct position and requires us to apply the force, although I must stress that the L.U.C. watches don't use this CNC machine for their engraving, all the engraver machines are hand controlled (it's probably just to stop a couple of berks like us from hurting ourselves).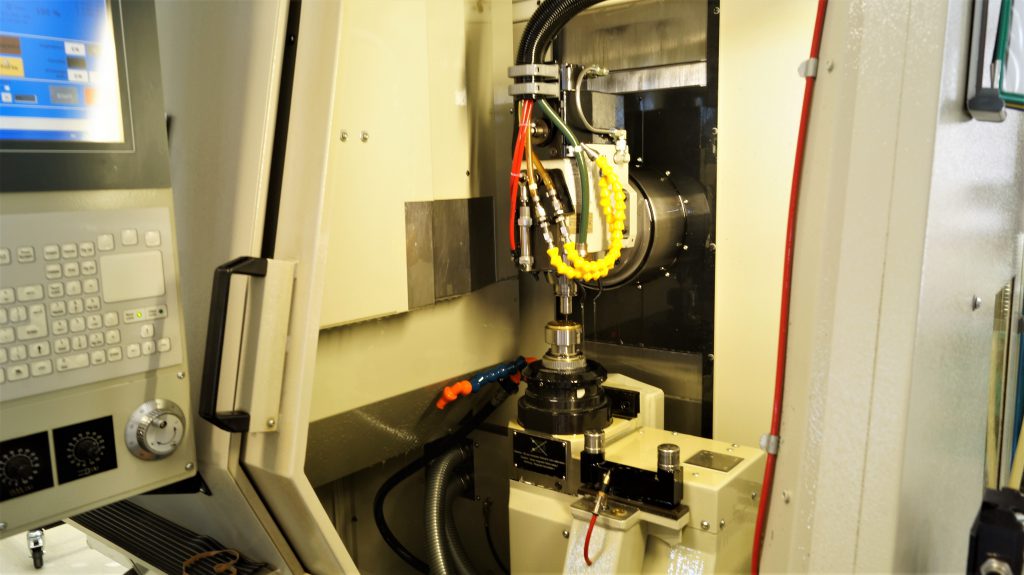 We also visited a larger room that was buzzing with activity. There were several CNC machines cutting the shapes of the different parts that would become base plates and going trains and such for the L.U.Chopard watches.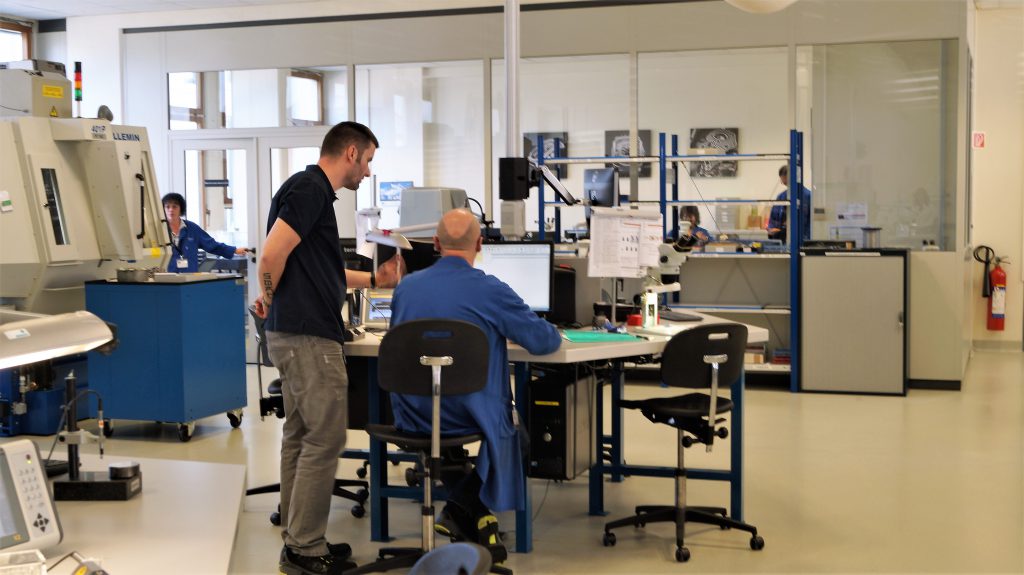 They showed us a movement which had a slight imperfection (I know, can you believe it?) made right at the last step to the amusement of the staff member assigned to it who chuckled as he continued working on the replacement. I remember how relaxed everything was around the place and this was no doubt because Chopard is family owned. Everyone knows Mr & Mrs Scheufele and they are quite casual around each other, as if every member of staff is part of an extended family.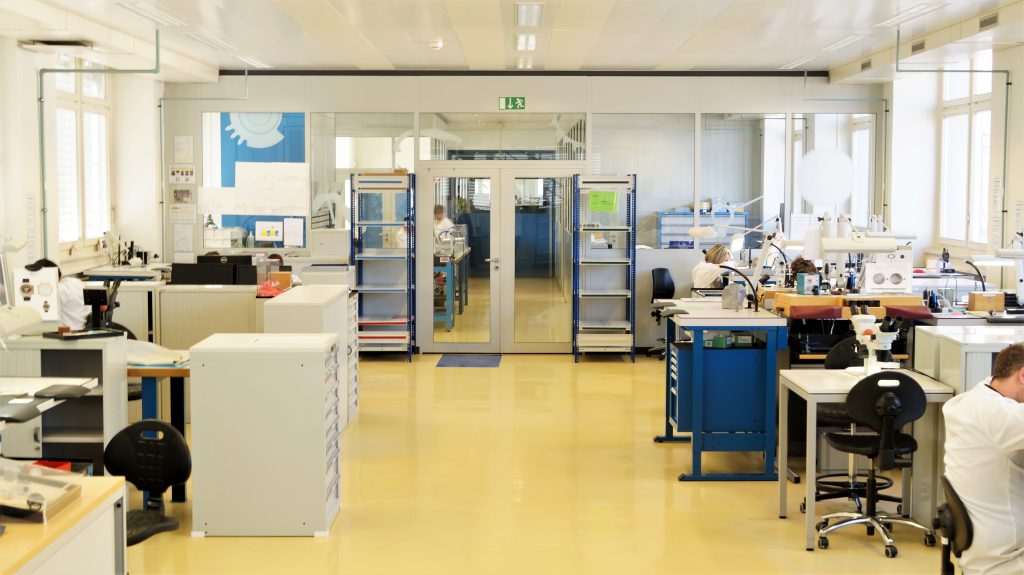 It definitely plays to their advantage when compared to companies owned by big corporations with stuffy suits for leaders. That goes when dealing with nearby companies too, Chopard is on good terms with Bovet, Parmigiani Fleurier and Manufacture Vaucher as well as the upcoming Fleurier Ebauche company which is having a new site nearby to the Chopard building. All these companies working together form a tight knit business community which serves them well if they need advice or guidance on a project.
We were then lead on into a longer room where we were required to wear protection for our shoes, this was to stop the dust and dirt of the outside world coming in as we entered the complications room. One big long workshop housed over a dozen staff who were busy assembling complications such as chronographs, calendars and tourbillons.
Jovan also got to have a go at assembling a tourbillon into a watch, it was just as well he wasn't assembling the entire tourbillon itself as the screws were no larger than a pinhead and losing those is a disaster. It took him about ten minutes but with some careful tweezer work and Pamela's guidance he eventually managed it and looked quite pleased with himself for it.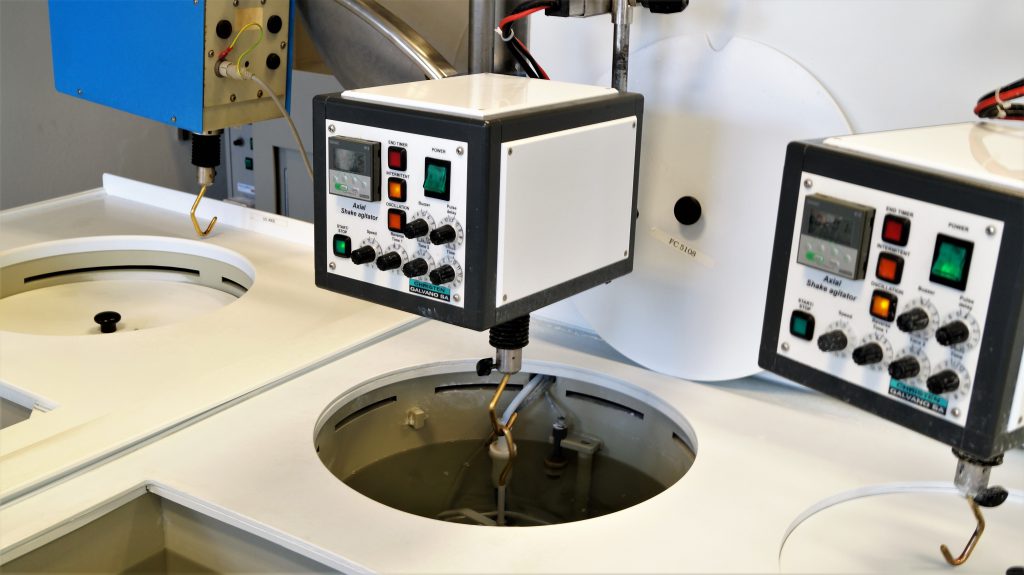 After this we returned to the reception of the building and followed Mr. Laforge out to the town hall of Fleurier, which was just around the corner. In there is the QF, or Qualité Fleurier, laboratory where around 2000 watches are tested annually to meet with the extremely demanding specifications of the seal. Most watches that undergo the test are from Chopard, which is natural as L.U.C makes somewhere in the region of 4500 watches a year without being too accurate about it. Seeing all the machines got Jovan and myself wondering just how well made the watches from this region are, the physical tests are extremely demanding and to think that these companies make perpetual calendars and tourbillons that survive being thrown around and still keep accurate time blows the mind a little bit.
After this we retired to one of Mr. Scheufele's many homes. It's a lovely hidden gem where traditional Swiss mansion design meets modern architecture seamlessly. We particularly enjoyed a four course meal prepared by the housemaid, a sweet lady who only spoke French. Although, you didn't need to understand what she was saying to enjoy the wonderful dinner that was prepared for us and, once again, served with a lot of Mr. Scheufele's Chateau Monestier La Tour wine. If I were able to award Michelin stars she could have all of them as it was a stellar job.
After our lunch in the beautifully appointed dining room with an overview of the church next door, we had a small tour of the building and then entered the conference room where a huge crate full of watches was waiting for us. We will slowly process these watches and create articles for them in due time, but we don't want to overload our readers with Chopard, as with all great things: limitation is key.
It was then time to return to Geneva after saying our goodbyes to the staff of the Fleurier manufacture, it didn't seem to take too long to return even after stopping off for a quick refresher to prevent tiredness, to be fair it had been a long day and it was beautifully warm. I know I chilled out in the back of the car and had a little bit of shut-eye, thinking about all the watches we have seen I suspect. I won't go into too much detail here, as we were waiting in the Geneva facility for a chance to interview the so far elusive Mr. Scheufele whom I can happily say is a very friendly and approachable man. Our interview with him will be around soon.
After this it was time to return to the airport and sadly leave the lovely land of Switzerland, we thanked Mr. Laforge for organising everything despite it being the week before Baselworld was due to start. Not much happened after that, we ran to Jovan's departure gate to find the plane hadn't even landed yet which was an annoyance, so we sat around and chit chatted about the trip and various other things. Once we'd said our goodbyes I had a little wander around the airport myself, sampled a few more watches in there just in case I hadn't had enough. I also checked out the Chopard stand in the centre of the foyer past security, which was very nicely laid out.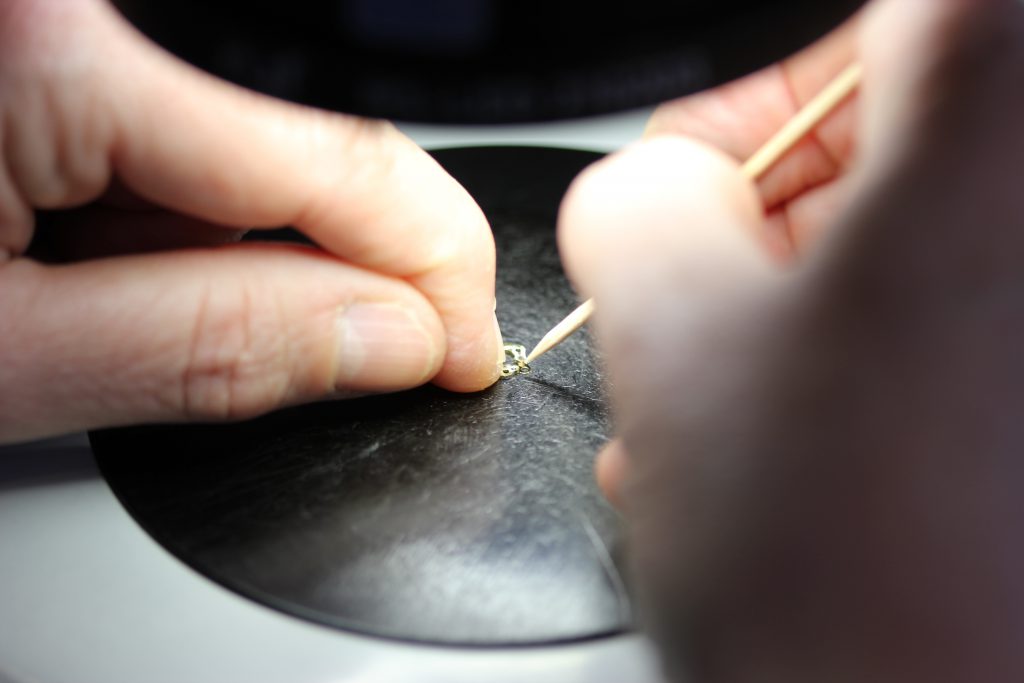 Apart from smashing a lovely bottle of Swiss Chardonnay I'd planned to give to my Mother there really isn't much else to tell at this point. We loved our trip and we would like to thank everyone who worked hard to present Chopard in the best light possible. It was great to feel welcomed and even a little part of the family team ourselves. We would also like to thank Mr & Mrs Scheufele's generosity for hand-picking us to come and tour, we understand it's crazy around Baselworld so it was all handled excellently. We'd also like to especially mention Mr. Cédric Laforge for organising everything, as well as showing us around the manufactures and providing some quite hilarious one liners when the time was just right. chopard.com