Cuervo y Sobrinos is definitely not your household watch brand and many might not know the history behind this unique Manufacture. They are in a unique position whereby they have combined the traditions of fine Swiss watchmaking while at the same time combining a pure Latin heritage, giving them the best of both worlds. With so much character and charisma in each timepiece, it wont be long before people notice this crazy cool watch manufacture straight from the streets of Havana. Here is where we find ourselves today, with a beautiful new piece with some serious Latin soul to it.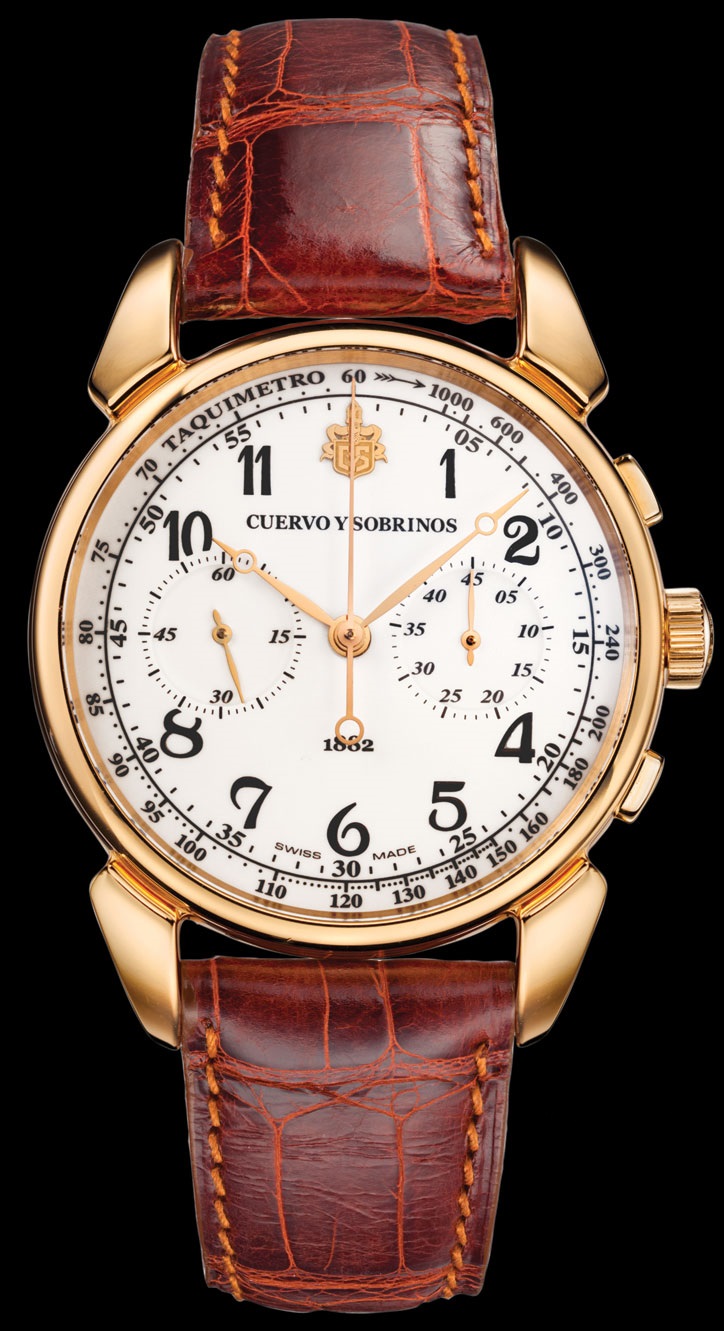 With the Historiador Chronógrafo Landeron, Cuervo y Sobrinos has brought these historic models back from the dead. Inspired by the original Cuervo y Sobrinos design of the 1950's, the Historiador Chronógrafo is a beautiful and timeless looking piece with the same distinctive design and characteristics that give the timepiece so much Latin swagger. The real elegance of the timepiece comes from the underlying vintage aesthetic that you can see from top to bottom and it's all wrapped within an 18 carat rose gold 41mm case. The dial also utilises various styles from the 1950's including the black printed numeral, enamel dial and Breguet shaped hands with gold accents throughout including a beautiful Cuervo Sorbrinos engraved logo.
The dial uses a 2-counter chronograph system with a tachymeter scale around the edge of the face. To make legibility even clearer the black numerals are painted on an enamelled white dial (Simple and effective). The counter located at 3 o'clock counts up to 45 minutes with the counter at 9 o'clock housing the permanent seconds indicator.
Made in very limited number, 50 to be exact, the Historiador Cronógrafo Landeron is a beautiful re-release of a classic that dates back to the 1950's. In order to further highlight the historical importance of the timepiece and to make each model feel unique and one of a kind, a completely exclusive vintage movement has been used for each timepiece. The same movements that were created and used in the 1950's variant have been utilized for the new re-release. They have been meticulously and delicately restored and decorated piece by piece by Cuervo y Sobrinos. The end result is a beautifully restored work of art that has more character than most timepieces you will find today.
A great story and a beautiful timepiece that has more Latin flavour than a plate full of Chicken Taquitos!
For more info, please visit cuervoysobrinos.com


Osheen Arakelian – Contributing Editor
Drawing on a lifelong love of horology and a more recent introduction to appreciation of fine whisky, Osheen brought the two together with watch & whisky. He is proprietor of the site, which covers everything related to watches and whisky. In between completing a degree in commercial law and supporting a rich social life, he is out and about attending all the latest watch and whisky events Sydney has to offer. His passion has also taken him around Australia attending a number of events and he hopes to continue his career in the watch industry on a more serious level after he graduates. Read his articles here.