Last year I wrote about another Fabergé timepiece. I'm almost a little pleased to say that there aren't many Fabergé watch articles around, which leaves me to write about them, which is good because I love them. Yes, I'm returning to the most infamous house of jewellery to grace the planet's surface. Cartier? Pah! For some it's just not enough, the works of Carl Fabergé would be more appealing. Despite my little quip there at the French, I should point out that when the Russian jewellery sector first showed off some of its finest works in Paris, the French went mental over it. They loved Russian Jewellery and the Russian lifestyle they built a bridge over the Seine to commemorate it, and lo and behold it was styled like the jewellery.
So if the Russian Jewellers, particularly Fabergé, can win over the French at their own game, maybe they can win over your heart in the watch industry? Let's take a look.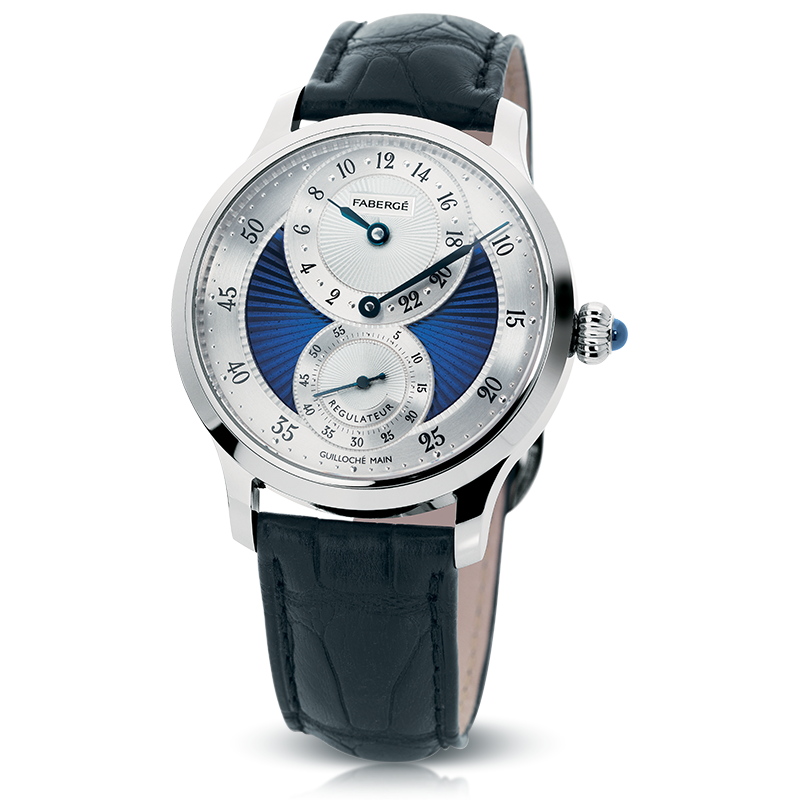 You might have noticed the Agathon Regulateur watch may well look a little similar to a Richard Lange timepiece, but I can assure you that if it was indeed shown a picture of a "Pour le Merit", it probably wasn't looking. This is because the only similarity is the fact that it's got the time spread over three dials. The smaller dial at the top under the Fabergé nameplate is the hour dial, it's got a slight difference in that it's a 24 hour dial instead of the usual 12. The long centre hand represents the minutes, and the smaller dial at the bottom with the 'Regulateur' nameplate is the seconds dial. The hands themselves are a lovely clean shape, gently expanding then becoming very thin near the tip. They also fade from a very deep blue to a lighter shade.
There's also two coloured patches next to the thee dials. These are, like the hour and seconds dials, guilloché completely by hand. This isn't a Cartier guilloché or a Breguet guilloché, it's a Fabergé one. That alone has got to be worth a lot, right? They come in either blue or black colouring, depending which colour you prefer. There's also a cabochon sapphire built onto the crown, a bit like most of Cartier's ranges.
The Agathon Regulateur is using an F1856 movement which is based off a Unitas 6425. This is obviously not the same calibre of movement as found in a Patek Philippe or a Vacheron Constantin, however, the movement will still work well and has a power reserve of 38 hours. The Agathon Regulateur watch is limited to just 25 pieces with the black guilloché, 25 with the blue and is available mainly in 18k white gold. There's also an 18k rose gold version which is limited to ten pieces and covered in diamonds. It's no surprise then that the price of that is revealed on request. However, the white gold versions are available with pricing information. They cost near enough €41,000.
What do you get for that? Well, in horology terms not an awful lot. there's a 24 hour dial, the hands are split up over three separate smaller dials, and that's pretty much it. However, from an artistic view, you get a watch made and decorated by Fabergé, and that alone is more than enough for me. For more info, please visit faberge.com
Harlan Chapman-Green – Contributing Editor
First introduced to horology with the Patek Philippe Calibre 89 by his father two years ago, Harlan enjoys his passion for fine horology. He prefers to spend his time in the boutiques of upmarket brands, trying out new pieces constantly. His preferred 3 brands are A. Lange & Söhne, Breguet and Vacheron Constantin. Although not much for the smaller brands, he still finds the complications intriguing and wishes to own one watch from each of his three favourites. Read his articles here.