Eberhard & Co was at one point a watchmaker famous for its smartly-designed watches. They never broke the bank or set the world on fire. They were just good-quality watches. Good enough for the Italian Royal Navy's offices who wore Eberhard & Co watches back in the 30s. My research suggests that unlike many brands today, Eberhard & Co wasn't destroyed entirely by the quartz crisis. It just kept going as a maker of reliable watches.
I will be honest, though, this La-Chaux-de-Fonds-based brand does seem to make some watches that look like they're from a revival company that doesn't really have anything to do with its past anymore except perhaps names. Eberhard & Co's claim to fame when they unveiled the Chronograph 4 over 20 years ago was that they made the first watch to have its subdials lined up in a row. It does look a little like an advert for Audi. Perhaps they should collaborate if they haven't already.
The dial features Cloux de Paris guilloché for the most part, with a cutout at 12 O'clock for the date and the Eberhard & Co logo below that. I'm not sure about using the model name and logo on the dial. I think it takes up too much space. The subdials have an azurée finishing and are white, regardless of whether you choose the white or black dial. They display chronograph minutes, chronograph hours, running seconds and a running 24-hour display. However, it's a little unclear which is which without any markings. Some usage of colour here would separate these and make it easier for the wearer.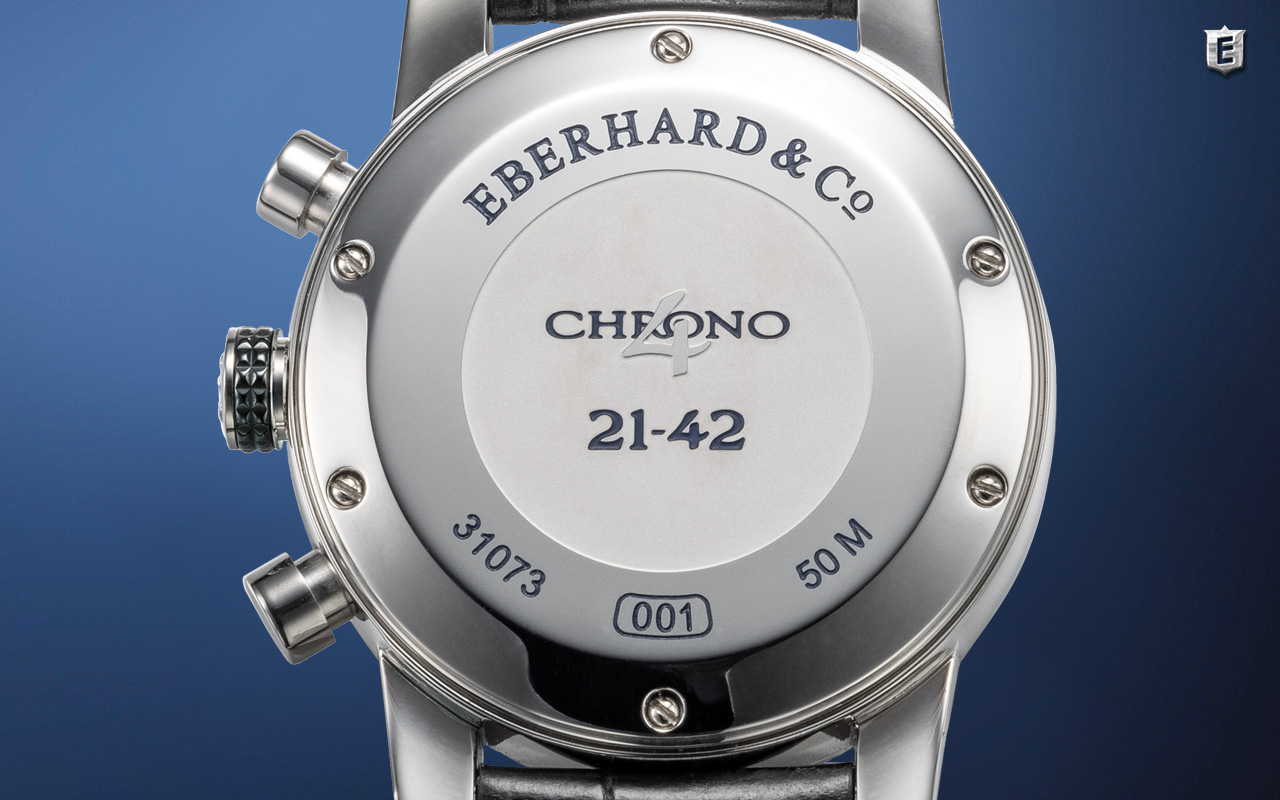 Powering these subdials is a modified ETA 2894-2 calibre, which Eberhard and Co calls the calibre EB. 251, the modification is, of course, for that unique dial arrangement. It still keeps the 4Hz beat rate with a 42-hour power reserve. A solid caseback covers all this with the brand name, model name and the special edition 21-42 text, the 21 marks the number of years since the Chrono 4 was invented, and 42 corresponds to the 42mm case diameter.
All models are available in stainless steel on either a bracelet, leather or rubber strap. They're also all water-resistant to 50m.
They say that beauty is in the eye of the beholder. I also sometimes feel that I need to say nice things to make people happy. I genuinely try to make as many people happy as I can, but compromising my objectivity is of greater importance. I'm not so keen on the design of this one, and the price of €4700, even though Eberhard & Co does offer engraved dials and a modified movement, seems high.
Visit Eberhard & Co. here.