We're back talking about the finer things in life here on WristReview. It's not very often that we talk about Fabergé here, and perhaps that's a good thing as it makes them a rare treat, such as Caviar or a fine glass of whisky. That's the sort of atmosphere Fabergé is more accustomed to in the world of commodities. If a Faberge watch were to talk it would definitely drive a black Bentley over a modern and garish orange Lamborghini and it would dine in a fine restaurant where young families aren't allowed, one where there's not an atmosphere but rather an ambience.
Enough of that haughty rubbish, for now, the House of Fabergé is about so much more than that. It's a very long story to explain as there's so much that has happened to the company over its long lifespan which stretches all the way back to St Petersburg in 1842. Faberge's highly decorated jewellery designs were quite similar to French designs from the same period, unsurprisingly when the French saw the work they were doing on articles such as Fabergé's eponymous jewellery eggs it was unsurprising that the people of France loved it, bought loads of it and even built a bridge in Paris honouring the Russian styling.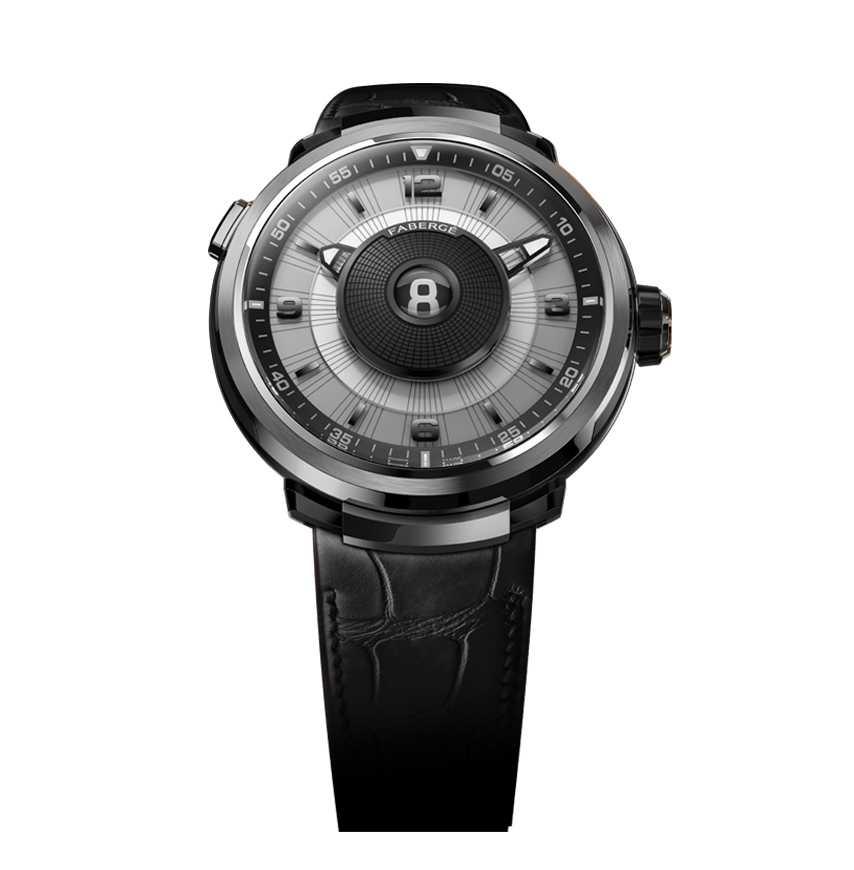 Fabergé's new timepieces are as forward thinking as Carl-Gustav Fabergé's were right at the very beginning of the company with distinct styling changes being made to suit the current times. The 43mm case of this new watch has a complex yet subtly stylish build to it, making use of two different metals locked together as opposed to one solid piece throughout. The anti-reflective sapphire crystal over the dial protects it from the damage of daily wear. On the rose gold and titanium watch the dial is made up of white and gold parts in following with the colour scheme of the watch. On the white gold and black DLC titanium watch the dial is black with several shades of grey along with blacked out German Silver hands.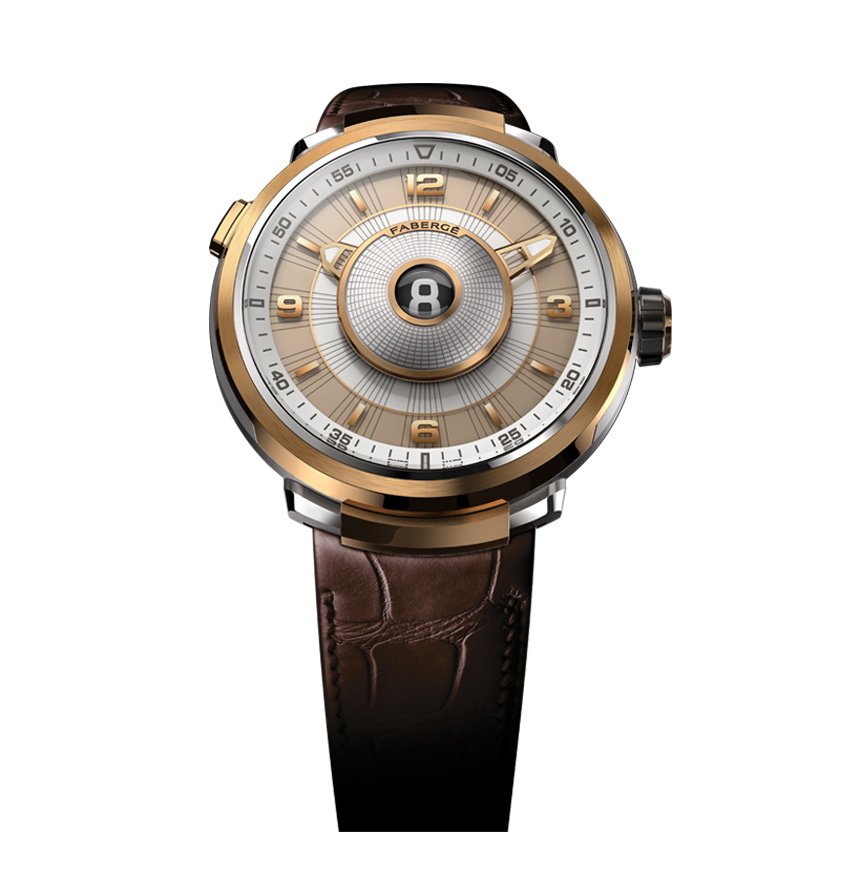 The dial configuration is actually pretty intriguing and no doubt a pain to produce. This is due to the fact the hands are not actually placed at the centre of the time dial like they are on pretty much every watch ever made. The simple reason they can't, this time, is because there is a window which displays the hours of a second-time zone in it, it's been magnified for easy reading too. The short stocky lume hands must instead extend from around this central feature so we can only assume that there's some pretty complex gearing going on under that pretty central disc.
The movement inside this watch is made in-house in Fabergé's own movement centre in Switzerland, it's the calibre 6924 with a fun 50 hours of power reserve, not bad for one of their first attempts at in-house stuff. The circular grained manipulate also has hand polished chamfers to it and the bridges with Côtes de Genève decoration as well, but, come on this is Fabergé we're talking about here so something like that is no doubt easy for them. In fact, I can envision them in a few years making a perpetual calendar watch perhaps and giving it the full engraving and guilloché treatment, but, we'll see. The price for this watch is, like any Fabergé, something you'll have to find out for yourself as we have no idea. Expect it to be a lot, though, it's worth it. For more info, please visit faberge.com