Not long ago, I covered an introduction of the Brellum Duobox Chronometer Chronograph Watch, now I'll have the pleasure of telling my story about this very watch on my very own wrist. It feels good but there is more to say I believe. So let us start with a little story about the watch. Sebastien Muller, the creator of the watch envisioned the watch "to be what Swiss watchmaking should look like not only for today but also in the future." This is a bold claim but he has the right to brag about it considering his over 25 years of experience in the industry. Now after wearing this watch do you think I will agree with him, let us find out.
The one I got sports a silver dial with brown, black straps. I also have the mesh bracelet which looks stylish but not so much to the point of screaming for attention. This is a complicated watch and in itself, it is very much worthy of one's appreciation. It feels so classic with very nice details that I normally find on more expensive brands.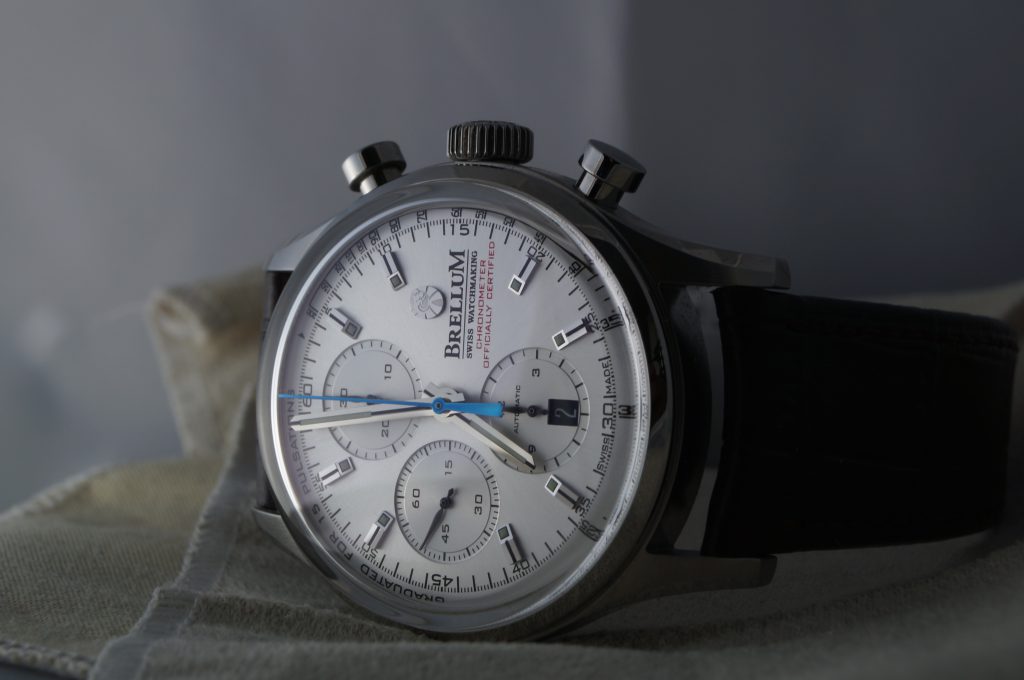 The coolness of this watch is also back by its rich origins since it basically comes from the Swiss Jura in the medieval city of Porrentruy. Then came the contemporary market that allowed us to get the uber cool Brellum Duobox Chronometer at such lowered prices compared to before, whew, I discussed this in detail in my previous article about Brellum. Well on my wrist, the watch really looks great – a marvelous work of art. It is a Swiss watch in all its glory, no doubting that.
The thing that also inspired me to get this watch aside from its reasonable price is its Contrôle Officiel Suisse des Chronomètres (COSC) certification. For diehard horology fans, we all know the tough barriers a watchmaker has to beat in order to get certified. I also love pioneering timepieces and since the Duobox Chronometer is the first timepiece from Brellum, I really pushed myself to get one. The rewards are plentiful and I could not even begin where to start.
Let me talk about the case first, this is based on my experience with the watch. The material is a tough stainless steel otherwise known as the 316L. It feels solid but very smooth on my skin. At 41.80mm it does not feel too big for a classic watch. However its 16.20mm thickness begs to differ, it looks a bit fat although I believe this is more because of the sapphire crystal and bezel rather than the thin case itself. On the front face, we have a very nice box type sapphire with anti-reflective treatment. In bright daylight, I can still read the time with ease, so it works, yey. I also tested the same antireflective feature on the caseback, and it also works.
As for the dial, well this will be very subjective, besides this is my hands-on. The domed curved dial looks fine. The appliques and luminescent material on the hands also beg desire from the wearer, these elements are typical of the higher end brands, just to remind you. I can not say much about the other models of the watch (Grey Meteor and Deep Blue) but the silver dial which is the dial of the watch that I am currently wearing looks so darn appealing and simple, I love its sunray pattern. In broad daylight, I get a fancy professional look but come nightfall, the dial plays with warmer light maximizing the dulled tone on a shimmering surface.
To go into great detail about the watch face of the Brellum Duobox Chronometer Chronograph Watch, I will focus on the stuff that we get right off the bat. The functions are typical of every chronometer – we get the hours, minutes, seconds, date, chronograph and of course a pulsometer scale. These are all presented on beautifully placed sub-dials at 12 o'clock, 9 o'clock and 6 o'clock. The watch branding is located at the 3 o'clock where the date is usually located but for this watch, it is at the 6 o'clock inside the sub-dial for the chronometer. The pulsometer takes the outer edge of the dial with very fine/small inking, however, thanks to the domed crystal, the numbers are magnified for better clarity. The blued seconds hand is also relaxing compared to a more urgency-inspired red color.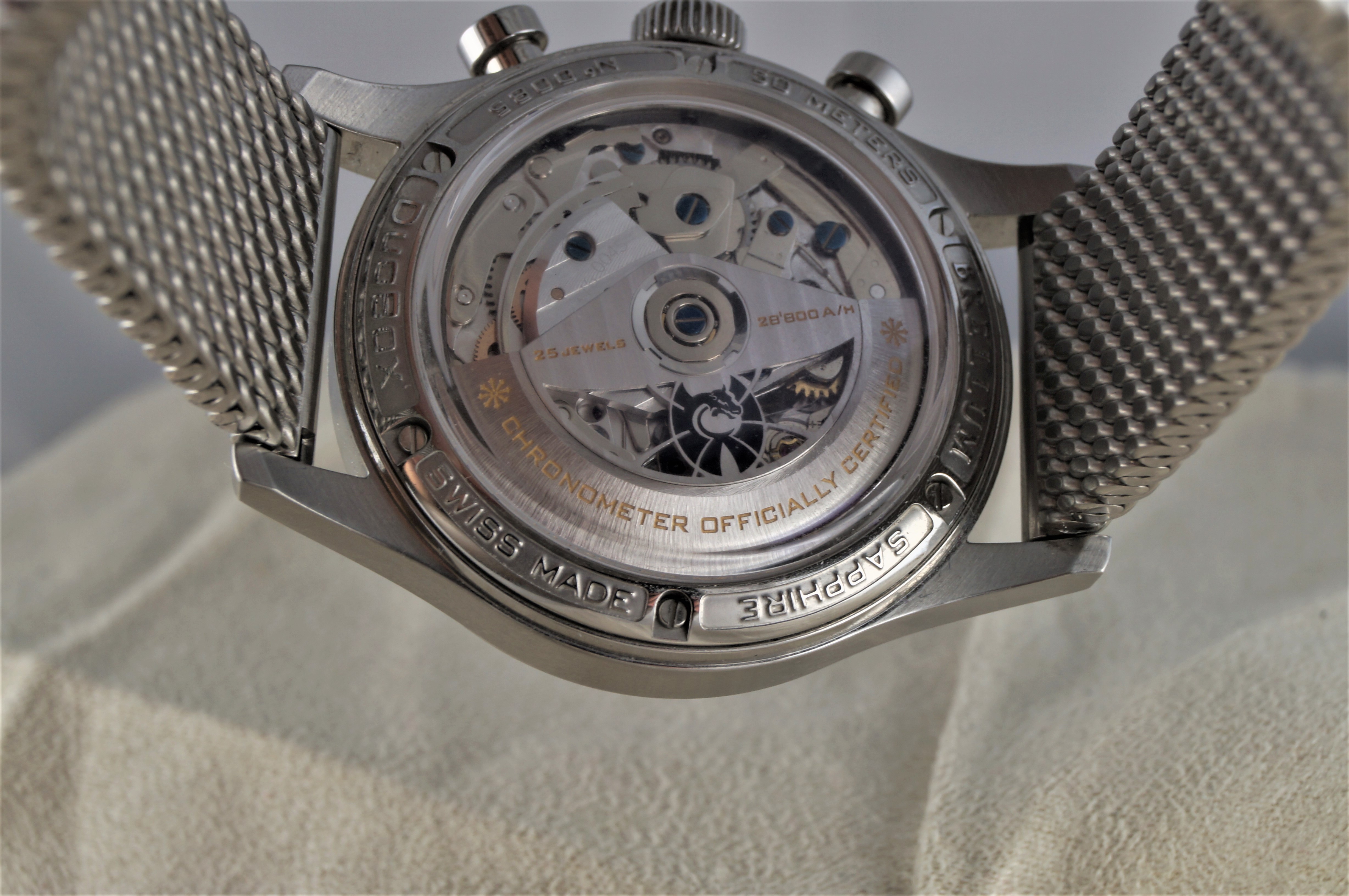 What powers the Brellum Duobox Chronometer Chronograph Watch is, of course, the in-house Caliber BRELLUM BR–750–1 Automatic chronometer, base Valjoux 7750. Being a COSC certified, I can not stress any more just how reliable this chronometer is. It comes pack with beautiful adornments. The spotting decoration is everywhere plus I dig the côtes de Genève. It also features an oscillating weight with the BRELLUM logo which is very much top of the line, to say the least. I wrote in my previous coverage of this watch that this movement was developed in the 70s, this only means that we are dealing with an icon. Truth be told, this movement is now recognized for its qualities concerning precision and robustness and has since been elevated to the ranks of a Swiss legend. The oscillating mass is unique partly because it was machined by hand. Did I forget to say that most of the watch is hand-made, well I just did.
I am using the watch frequently on a handmade genuine brown leather strap. It feels so smooth and being leather, I don't feel it biting on my hairs. Usually, the mesh bracelet does this but what the heck, the leather feels more stylish. As for added protection, I find its stainless steel deploying buckle quite a cinch to have. You know when you have been wearing watches of this caliber for so long, you know quite much to say that a good deployant buckle is as important as the precious movement itself. A little nudge and your precious watch could be dropped causing a lot of headaches for repairs… well, this is just me sharing my two cents.
Furthermore, the Brellum Duobox Chronometer Chronograph Watch comes in various models: Silver dial, black or brown leather strap Silver dial, Stainless Steel Bracelet Grey Meteor dial, black or gray leather strap Grey Meteor dial, Steel bracelet Deep Blue dial, blue or brown leather strap Deep Blue dial, steel bracelet.
This watch feels so personal to me and a must have for every devoted horology fan out there I believe. Due to the stringent measures of making the Duobox Chronometer watches to meet COSC certification, only 299 pieces are produced annually. So go and get yours now and by the way, I'm not paid to sponsor their timepiece, I bought it because I like it. The prices start from 2390 CHF. For more info, please visit brellum.swiss