Well, isn't this just a little strange? A devoted wristwatch blog talking about smartwatches? Other people have done it and it has created some waves in the watch world, it's hardly surprising seeing as smartwatches have been the talk for the past couple of years, the smart crisis if you will. The thing is, though, that it hasn't really been that bad in fact people have started taking the smart idea in and incorporating into their watches. TAG Heuer make their own full-on smartwatch and nestled into Silicon Valley to work with Intel. IWC has launched their connected strap thingy, Frederique Constant and even Sinn made a leather strap that could hold one of their watches and an Apple watch on the opposite side. But let's not forget that this is more than just watches, this is another stage in an all-out war between the two largest tech companies on the planet: Apple & Samsung and this time the Seoul based supergiant comes out fighting.

Before I begin I would like to point out that I have had a fair old play around with the new Apple watch as well in my spare time, the sporty space grey aluminium Nike edition with the ghastly rubber strap to it. Don't quote me directly on this, but Apple's vision for their watch seems to be pretty focused on changing the way we wear our watches and the way we appreciate them, to embrace the tech inside and really get stuck into life. I'm very sorry to rain on the parade, but Samsung has done the same thing and stuck to the ideas that we watch lovers, well, love.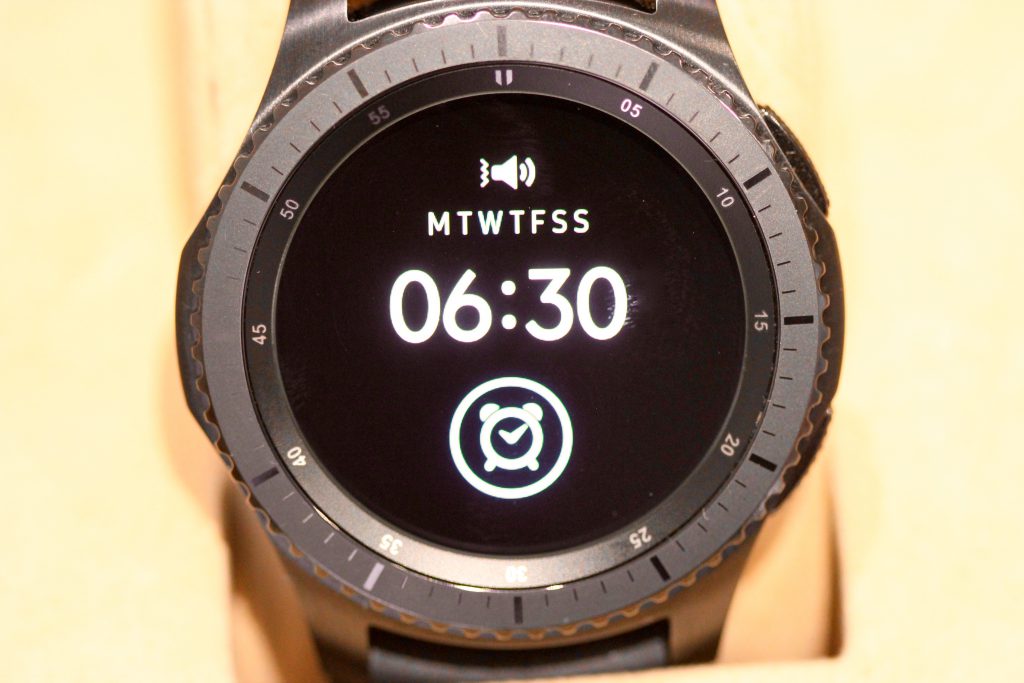 The case itself is fashioned out of 316L stainless steel and with the strap and buckle weighs in at 86 grams, but given its immense size on the wrist it seems almost light on its lugs. It's not like it's lacking on premium touches either, the crystal is made of Corning's Gorilla Glass SR+ which gives it up to 70% better scratch resistance than other options even after contact with everyday obstacles such as clay based sunscreen, salt water, boiling water and high humidity. While I should stress at this point that I did in fact take the utmost care when wearing the watch I was still pleasantly surprised to find it does indeed resist scratches brilliantly. In fact the entire watch is pretty darn tough too, handling a couple weeks of my everyday life with ease including stressful drives, lunch at a restaurant and even writing coursework for University.
Behind the crystal is a 1.3" SuperAmoLED screen which acts as the primary interface for the watch. It's bright, clear and pretty crisp given its size and odd shape too. It's nice not to see any chunks at the bottom of the screen for sensors or anything else like that. Looking at the specs of the watch there is an ambient light sensor in there somewhere, I couldn't find it but it does do the job and dims the screen when entering a darker area.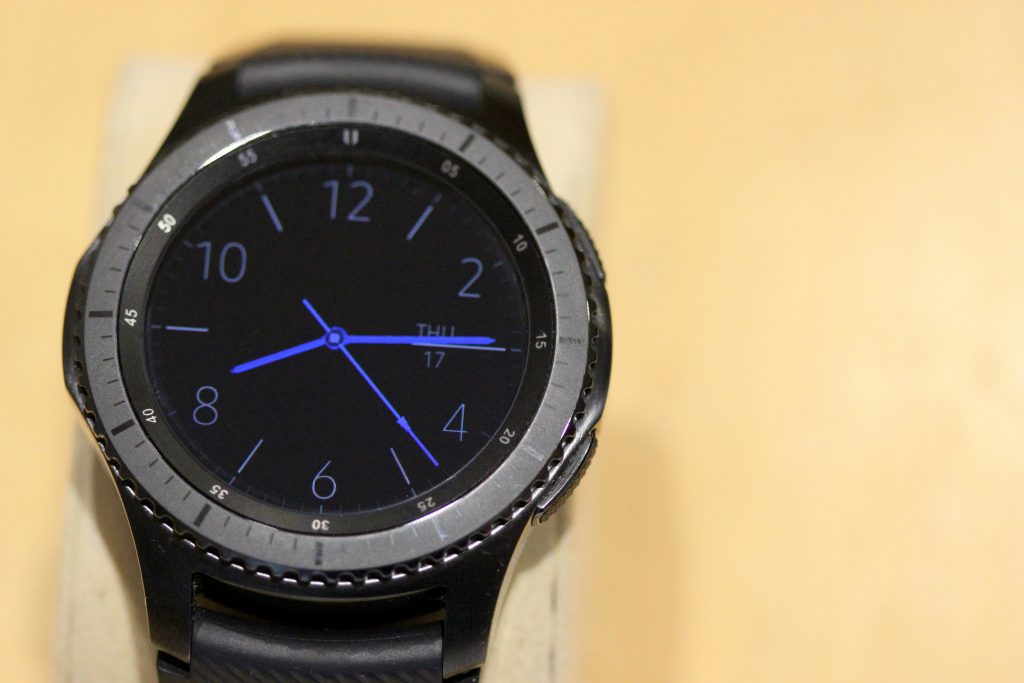 The other methods to interact with the watch are the bezel and two pushers at the traditional points of a watch on the case. The bezel serves as the main way to flick across screens and functions much in the same way as the crown on the Apple Watch, although I must say it would probably be a little easier to get a grip of when your fingers are numb from the cold. The bottom pusher on the case is the return to home button and that's the only function it does, the top one though does a few things depending on which screen you're looking at. If you simply spin the bezel and look through the various widgets such as calendars and whatnot then pressing the top pusher sends you back home. Go into the section with more apps in it and it then serves as a back button returning you to the previous screen. I would like to mention though that one of the stock dials on the watch is a chronograph design, but to start it you tap the screen and subsequently do the same for stop and reset, too. It would've been nice, as a watch enthusiast, to see that button become a mono-pusher for that particular one.
Speaking of, Samsung loaded their watch with Tizen, an OS that shares its roots with Linux. Powered by a 1Ghz dual core Exynos processor, with 768mb of ram built in there too this watch simply flew through everything I asked it to do, no stuttering and no crashing either, it's so refreshing to have a piece of technology that just works again and again, right out of the box!
The watch comes pre-loaded with loads of different watch faces that you can switch between at ease. Most of them also offer an array of customisation options, from things like coloured dials to the colour of the hands to complications on the dial. The different dials also have different sweeps to the hand, with some having a completely smooth sweep such as you'd find on a Bulova Accutron quartz piece while others have the more traditional stepped sweep to recreate the beating balance wheel inside the watch. Most dials also offer a neat choice from things like a battery indicator, world timer, calendars, sunset/rise indicators and even a steps tracker. That's right, Samsung not only wants to sell you a watch designed around your active lifestyle, it wants to help you monitor it as well.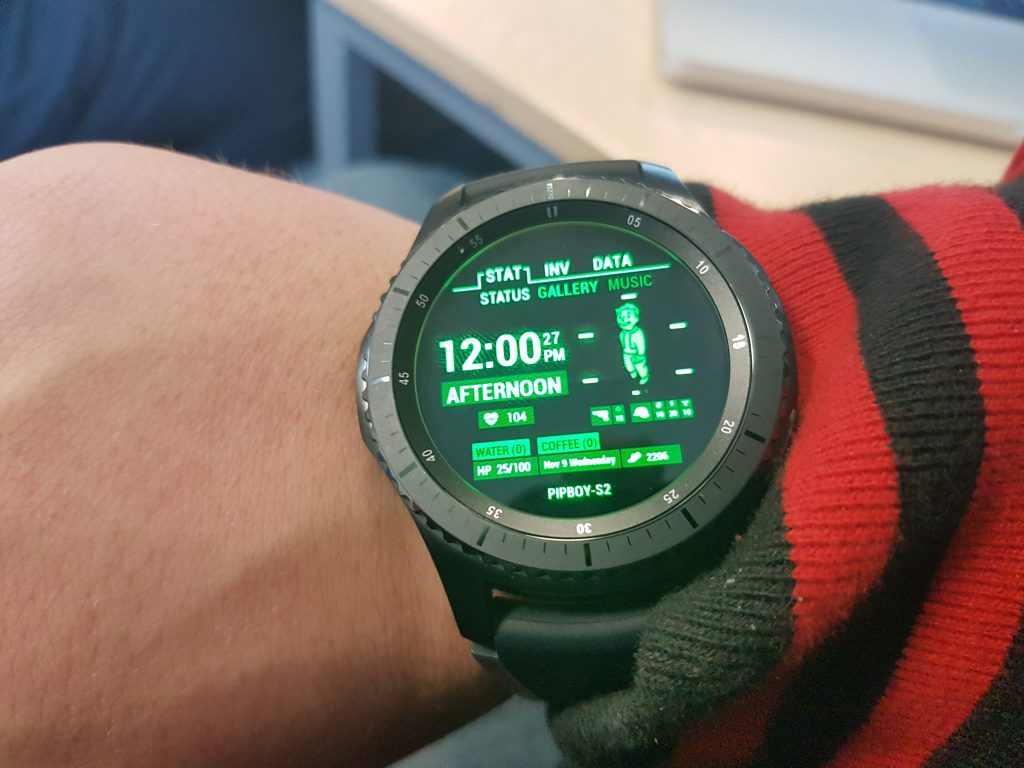 The back of the case is pretty clean, ours had some extra writing informing you it was a demo model, I would imagine that space was blank on the versions for sale. There's also a little bit of writing about the watch, materials and name to be precise, and in the middle of a glass cover is a heart beat sensor which fires up automatically every now and then to take an average reading and send it via bluetooth to your phone. My biggest gripe with this watch is also on the back. There are little grooves on the back where a traditional watchmaker would unscrew the back to get at the movement. You'll actually notice, though, that the back is held on by four screws, meaning the rest is completely pointless unless there is some internal system I am unaware of.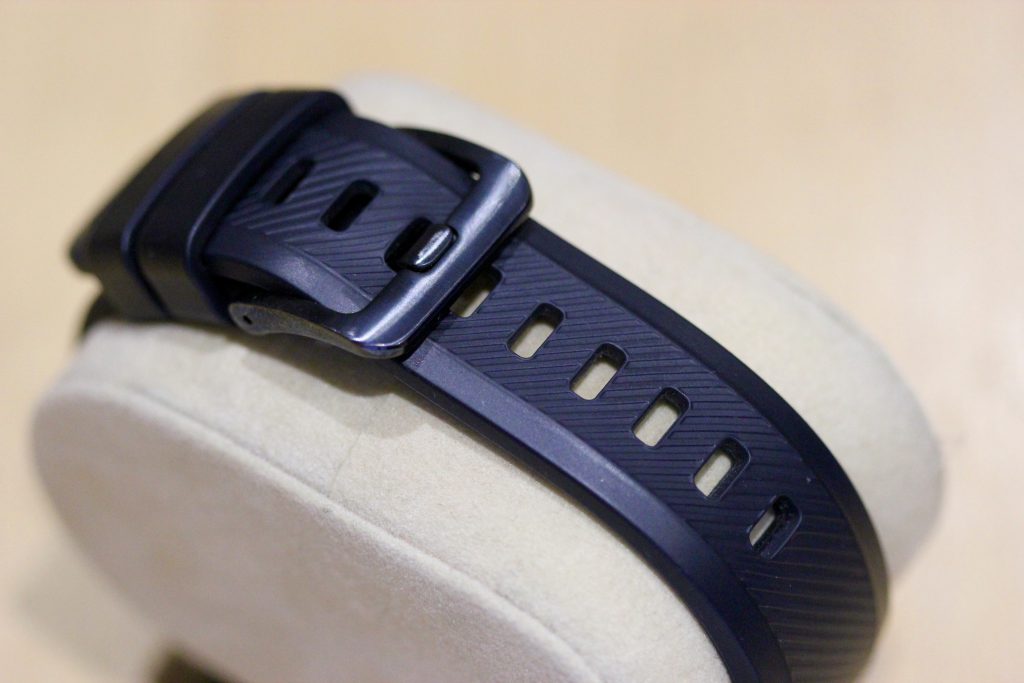 Also, the strap is a little flimsy, but it does hold its shape well and the diagonal grooves on the outer are pleasing to notice without grabbing my attention. It would've been nice to see sweat grooves on the back of the strap, though. Granted in the middle of an English Autumn there really isn't the need but in summer when the wrist heats up the grime will get stuck. The strap is easy to remove and pretty easy to replace thanks to a lever allowing you to disengage the spring pin and fit the strap of your choice (there's quite a few to choose from).
The watch is IP68 water resistant to 1.5m for 30 minutes. This doesn't mean it's good for submersion, though, although the speaker and mic have been treated to resist water, the watch is not suitable for swimming with and should not be used in this manner. It would've been nice to see this considering that Apple does it pretty well on their watch, but this is only a minor thing. The call quality from the watch is quite good if a little fuzzy and I didn't receive any complaints from the other end so it was probably unnoticeable. You still need to speak into your watch in a windier environment, but sat in a closed quiet environment it's not too bad. Still, you get to choose whether you think talking into your wrist is pretty cool or something only a berk would do, I'll leave that up to you to decide.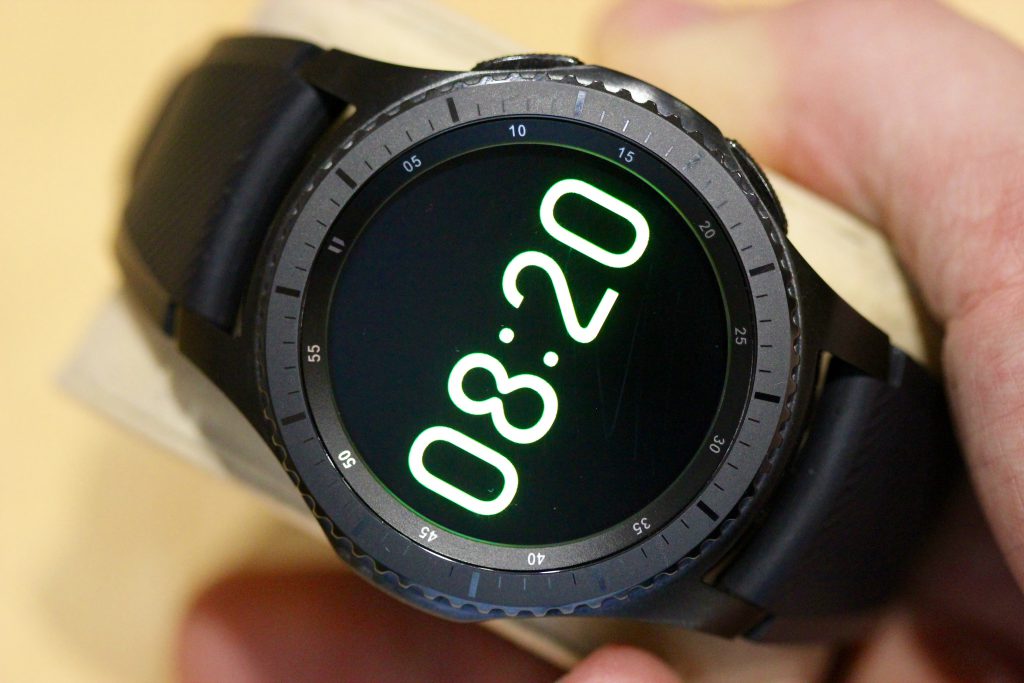 The watch requires you to have the Gear app as well on your phone, luckily this isn't a Samsung only thing, most Android-equipped phones with Bluetooth are capable of running the necessary software, which lets you download cool new watch faces, integrate your data into S-Health, put photos on the watch and even make the watch loudly beep so you can find it in the dark (pro tip, the watch can do this to find your phone too).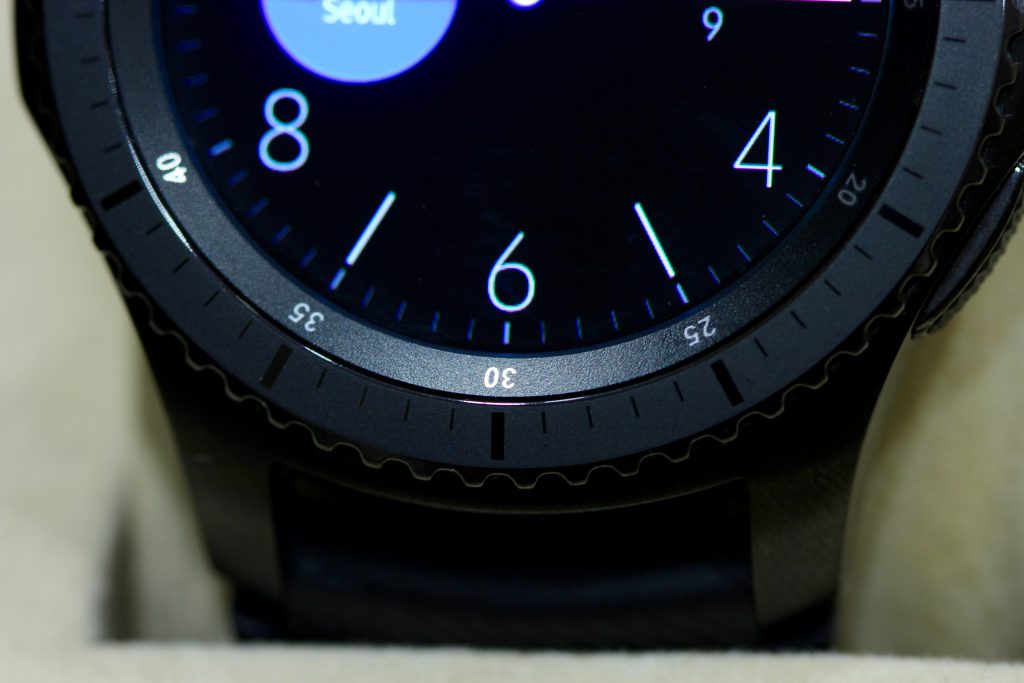 The battery life is quoted at 3 – 4 days, I managed about 2 – 3 days without tasking it too much, but the watch has an always on feature so the screen never goes dark, it only dims. This will use up more power. In the UK the cost of a new watch is £349, in the USA it's $349 for the Wi-Fi only model, but there is an AT&T version available with 4G that doesn't need the phone to be paired to receive texts and calls, which you will notice when the watch vibrates on the wrist. If you want the Gear S3 Classic it's the same price too. The Frontier is currently sold out at the time of writing, and I'm not surprised, it's probably the best smartwatch so far. It does pretty much everything we wanted it to do, and with thicker straps and a useable water resistance rating this could well become the best smartwatch around, it's a good start so far! For more info, please visit samsung.com