Ah yes, another wristwatch, another Fortnight Review. In this article, we'll be looking at one of the special edition watches from Chopard. Every year, Chopard introduces a special racing edition of its Mille Miglia line, the most famous line of watches from the company. The Mille Miglia was a racing event set between Brescia and Rome, Italy, it was billed as the world's most beautiful race and was very important for much of the first half of the twentieth century when motor cars took off. While this classic Italian road race doesn't exist in its original format any more, mostly due to health and safety concerns, there is a historic Mille Miglia race once a year which follows the same route. Chopard is one of the main sponsors of the event and has enjoyed co-branding its products for a long time, since the 1980s.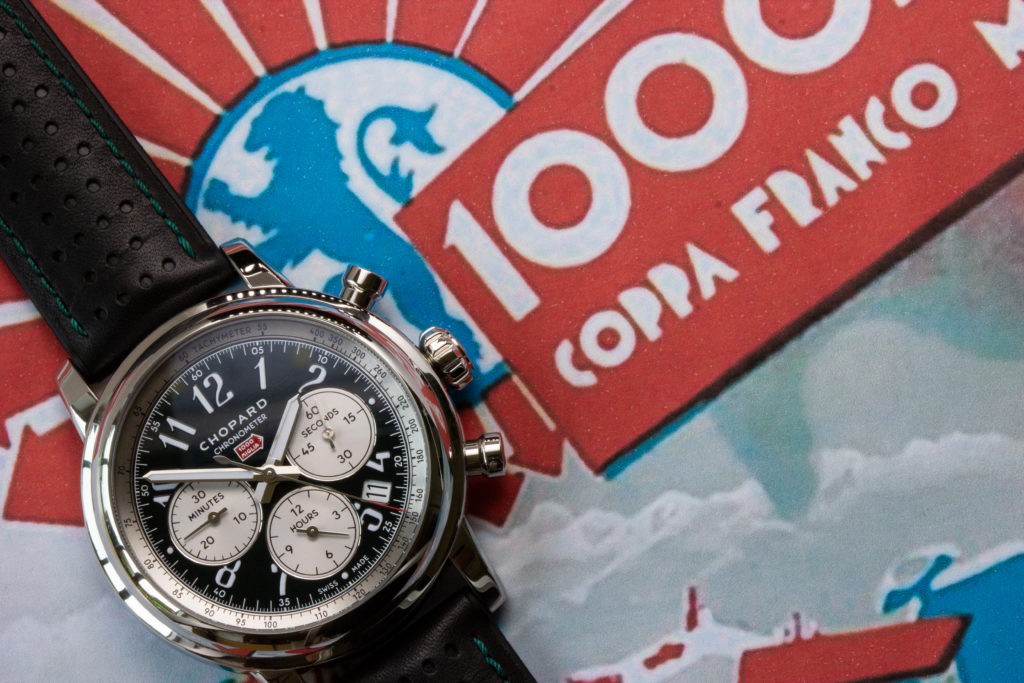 We've enjoyed the special racing editions of the Mille Miglia watch that Chopard has introduced over the past couple of years. In 2016, the classic Mille Miglia case was beefed up to a hefty 46mm, and the ETA movement was shunned for an excellent in-house made offering. Last year, we got not one but two special editions of the GTS style Mille Miglia with excellent engine turned dials. This year, we got five different variations of the traditional Mille Miglia watch that we have come to know and love over the years. Back in the early days of racing, various European countries would paint their cars in different colours, in order to distinguish them easily. Germany would use silver, which is where the nickname 'Silver Arrows' was used, so that edition has an engine turned dial. Belgium used the colour yellow for its cars, so there is a yellow dial version. France would use blue, and it was called 'Bleu de France', of which there is a special blue themed watch. Italy has perhaps the most famous of the colours, 'Rosso Corsa' or 'Racing Red' in English, there is a red themed watch, too. You may have noticed by the way that I spell that I'm British, the UK had its own colour, too, British Racing Green, and its this version of the watch I tried out for two weeks.

My first thought right off the bat after taking it out of the box was "oh, they've sent me the wrong one", clearly they had, as this watch has a black dial. Indeed, it was only after a little bit of closer inspection that I noticed this was actually the British Racing Green watch. Clues to this included the subtle green stitching on the strap, the big print on the back crystal which said "British Racing Green", and when you looked at the dial at a certain angle, you could see that it was green. I don't have the best colour vision I'll be honest, so I passed the watch to a couple of family members who were present who confirmed to me that this is the darkest version of British Racing Green they'd ever seen. Not that that was a bad thing, the dark dial made it very wearable with different levels of attire. Over the course of the two-week review, I had this watch dressed all the way up to a suit and jacket for a club event, all the way down to a simple shirt and trackies.

I have to say, it managed each one with ease. The high polished case meant that under a shirt cuff it looked the part, the case is nicely rounded and quite slim considering it's a chronograph watch. The leather strap is quite nice as well when paired with the watch. It's rubber on the underside with tyre track sweat grooves, but on the top, it's a piece of smooth leather with decorative stitching. It's quite odd at first, feeling rubber but seeing leather, but you get used to it. When wearing this watch with a t-shirt the 42mm case size means it's quite large, and the polishing helps emphasise the diameter of the case. The chronograph pushers help too, and the crown is decorated with a design resembling the steering wheel of a classic sports car. The stainless steel clasp is big and chunky too, with the pin buckle design having Chopard written on it, but instead of the usual engraving it has been extruded, to look like it's been forced out of the metal by some supernatural spirit. Also, that stainless steel case is hefty, giving it a luxurious feel befitting of the Chopard name. I've held one of these 42mm Mille Miglia watches before, but I also held the 46mm 2016 XL edition at the same time, so I guess I never noticed until I got to try one on its own.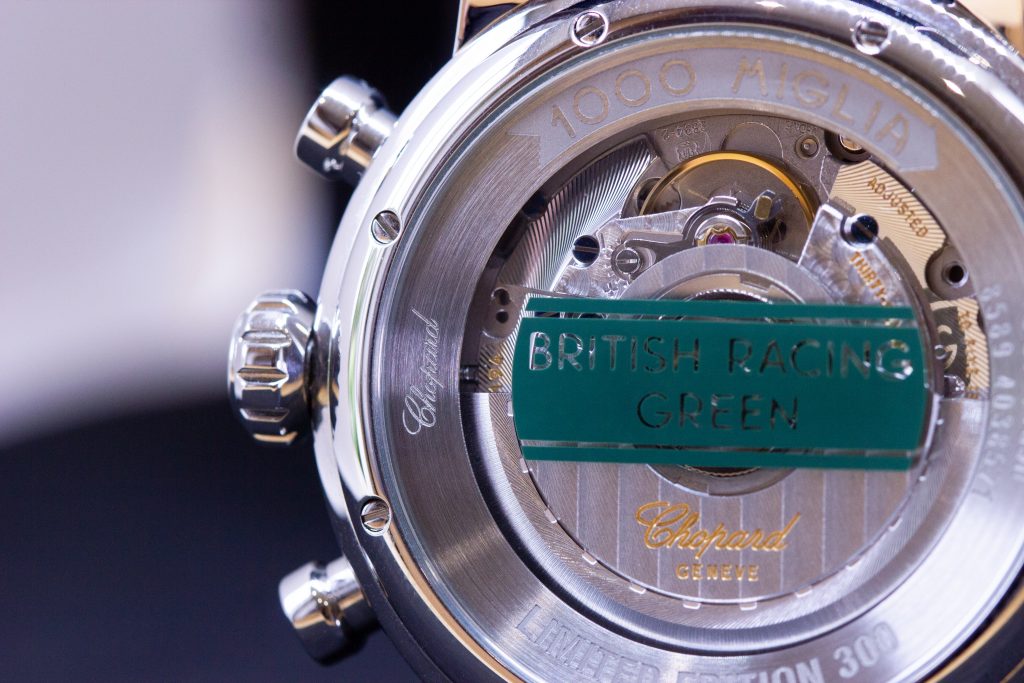 Inside the high polished case sits an ETA 2824-2 chronograph movement. One of the things I like about Chopard is that they are quite open about when they are not using their own manufacture sourced movements, for instance, they haven't given this one its own distinct calibre number, as we all know by looking it's an ETA. It's a good one too, as most already know, ETA makes all different levels of movements from the very basic ones you might find in $1000 watch, all the way up to the very top grade like this one which undoubtedly cost a bit more. It comes with a chronometer certification, not all ETA movements do. It's also been extensively decorated by Chopard. I've seen some watches with outsourced movements where the only thing they could be bothered to do was engrave the manufacture name on the rotor and call it a day. But this one's got polished edges, lovely crisp engine turning and a particularly attractive polished ribbing in the track for the rotor. It also had L.U.Chopard engraved on the movement, weirdly, I'm not entirely sure whether this is something relating to the decoration or whether it's Chopard's name. The company calls itself 'Le Petit-Fils de L.U.Chopard et Cie'.

Now I can wax lyrical about the decoration on this watch all day, but I know there are some stats geeks out there waiting with their pen and paper for the numbers, so here we go. As mentioned, the case is 42mm in diameter and made of polished 316L stainless steel. The movement is a chronometer grade ETA as mentioned, with an operating frequency of 4Hz, or 28,800 vph and has 37 jewels. The chronograph on this watch is modular and can record up to 12.5 hours, it is not a column wheel actuated chronograph, nor is it a flyback. The case of the watch keeps the movement dry down to a depth of 50 meters, but we do not recommend submerging this watch in water, please see our Lexicon page for more guidance on water resistance. This is a limited edition watch, and all colours are limited to just 300 examples available from Chopard boutiques for a price of $6080 or £4730.

Yes, that is a steep price to pay for an ETA chronograph, and the only reason I can think of as to why Chopard hasn't used an in-house movement made in Fleurier Ebauches is that it doesn't have the scale of production yet. Fleurier Ebauches is based in a separate building in the town of Fleurier (where there is a huge Chopard building that we have visited). The likelihood of running into one of these in the wild is not very high at all, but they are well worth a check out if you can afford to spend a bit of time in your local boutique.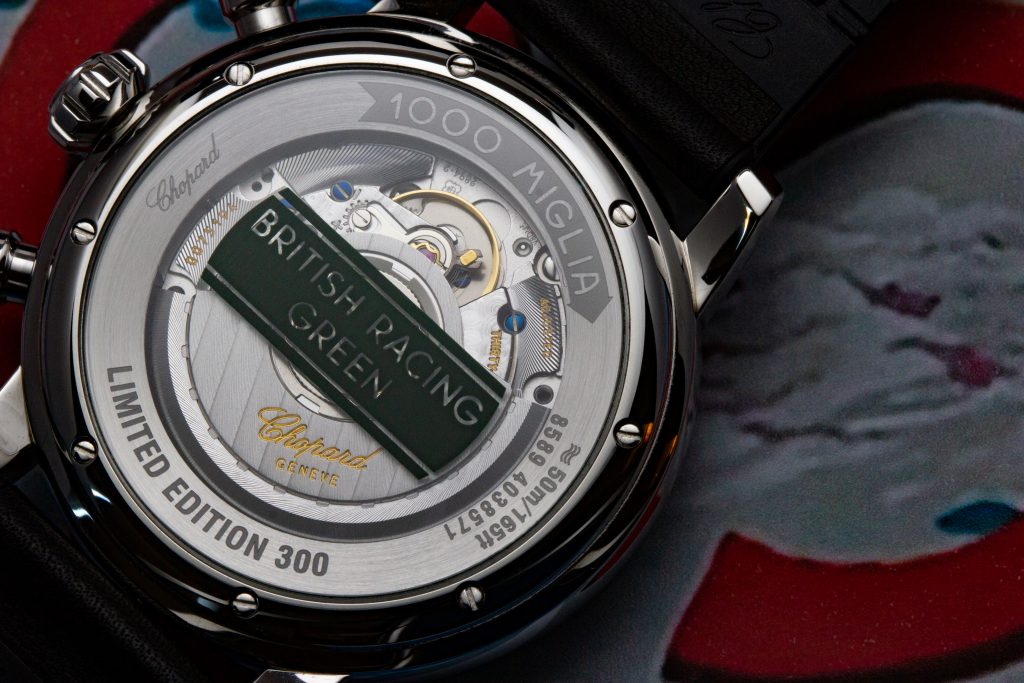 I don't consider this a downside, but it's worth a mention that Chopard likes to print stuff on the crystal covering the movement, we've seen them do this before such as with the Superfast Porsche 919 edition. In this case, each racing variant has a name associated with the colour on the back; this one has 'British Racing Green' on it. While the movement is nicely decorated for what it is, it's still an ETA, so I don't consider it to be a huge loss concerning viewing experience, you can still see most of the movement behind there. Chopard also uses the trick where it sits the movement in a bowl with a silver ring around it to make the movement look bigger, and to good effect in this case. In this instance, if you really were unhappy with the print on the crystal, then you could go with the standard black dial, and you likely wouldn't be able to tell the difference apart from a strap change. But, the other colours are more obvious, so if you want the yellow, for example, you'll have to put up with the print.

The overall wearing experience of this watch is very good. I thoroughly enjoyed the time that I had with it. The watch is solid and heavy, none of this 'ultralight' stuff for me thank you unless the purpose is to be ultra thin. I don't like my watches light. This watch has a presence on the wrist, and the polished case makes it appear to be very luxurious and expensive, both of which it is. The only downside to that luxurious appearance is when you start to get a few scratches on it it will lose some of that appeal. Still, it's a very appealing watch and a nice change from the standard Mille Miglia. I wonder what the other colours are like? Visit Chopard here.