I will be listing complications which all belong to ONE watch. All you have to do is guess which brand manufactured the timepiece. Ready?
Complications and functions of the watch include – Moonphase, Position of Sun, Equinox and Solstice, Sunrise, Sunset, Rise & Fall of Moon, Dawn & Dusk, Month, Day, Zodiac Sign, Cardinal Points & Temporal Hours, Solar & Lunar Eclipses, Analog & Perpetual Representation of Gregorian Calendar.
Any guesses? The most common answers I get are Patek Phillipe, Richard Mille, Jaeger LeCoultre, A. Lange & Söhne and Vacheron Constantin. Sadly they are all wrong. In fact, its manufactured by a watch brand which isn't that commonly known for these kind of complications: Ulysse Nardin (The watch I described was the Astrolabium Galileo Galilei).
Focusing on Marine Chronographs, Ulysse Nardin has been making watches since 1846, only 7 years younger than Patek Phillipe. Throughout its illustrious history, Ulysse Nardin has won more than 4,300 awards, 18 of them international gold medals, and registered the greatest number of patents for mechanical watchmaking. It is clear that Ulysse Nardin is a big fish in the game yet they aren't that well-known. It could be due to their designs which don't appeal to the current generation. For example, the 2014 Ulysse Nardin Marine Diver was not my cup of tea with the watch being engulfed with wave patterns. In all honesty, I found it ghastly. The new Marine Dive, however, is stunning.
Introduced during the Monaco Yacht Show, the new Marine diver brings its new design with it four brash new models in Ulysse Nardin's Diver Chronometer collection. The Diver has a new, contemporary and eye-catching appearance both outside and in. A supernova among mere stars, the new Diver Chronometer redefines functional elegance with its audacious design. The great white shark stamped on the case back is emblematic of the Ulysse Nardin philosophy. King of the oceans, the shark represents stealth, strength, and strategy and the Diver Great White embodies these qualities in contemporary adventurers of the land and sea. The Ulysse Nardin Diver Chronometer watches are available in four models, two being standard production and the other two, the white and rose gold models, being limited editions.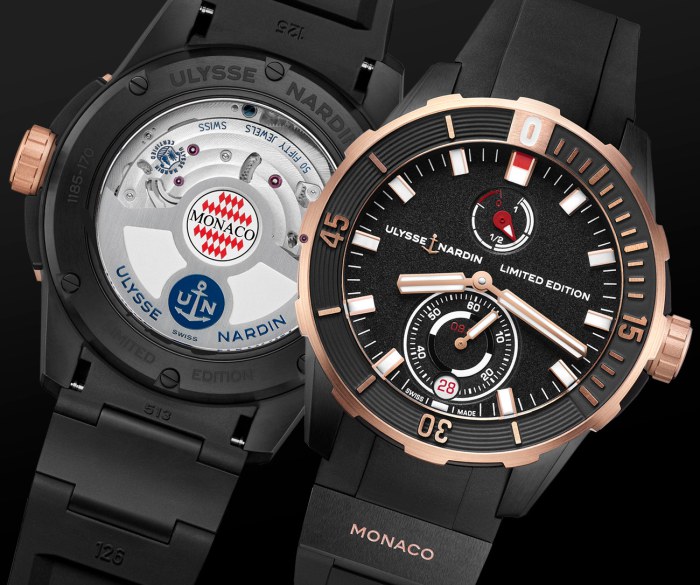 The watch is crafted to withstand up pressure up to 300m in water resistance, its inverted, concave bezel with domed sapphire glass is a breakthrough in exquisite watchmaking. The 44mm-wide cases are more angular and now in titanium rather than steel. The prominent rubber crown guards are also new Superluminova on the indexes and hands makes the hours and minutes visible not only in the dark of night but also at great depths. The face is adorned with a power reserve indicator at 12 o'clock and a date and small seconds at 6 o'clock, all nestled within the unidirectional rotating bezel. The watches are equipped with their in-house automatic movement, the UN-118 calibre featuring silicium technology with a massive 60-hour power reserve allowing it to last the whole weekend.

In continuing the development of its line of dive watches, Ulysse Nardin reaffirms its position of watchmaker of the oceans through its magnificent modern timepieces. It though will take a toll on your wallet though. The Black and Blue versions of the Ulysse Nardin Diver Chronometer will each retail for a price of $7,900, the Great White Limited Edition will retail for $8,900, and the Monaco Limited Edition will retail for $12,000. Visit Ulysse Nardin here.