You may remember a little while ago I showed you our hands-on with Glashütte Original's new Senator Excellence Panorama Date Moonphase watch, a spectacular timepiece for the modern gentleman. Well, that was actually organised as a sort of horological 'double whammy', as Glashütte Original sent us another watch at the same time, but this one I got to wear for two weeks. So, sit back, relax and enjoy my two-week review of Glashütte Original's Senator Chronograph Panorama Date.
I'm going to start the review by talking about the dimensions and wearability of the watch. Usually, I leave that until nearer the end, but I think it is important here as it was my first experience of a Glashütte Original watch. When you first pick it up you'll find that it's very heavy. The stainless steel case is a large 42mm in diameter, but it's thick compared to a non-chronograph watch, for obvious reasons, more on that below. The case thickness is 14.6mm and polished all over, that brings with it two thoughts of mine: the first is that because it's all polished up it will attract some attention, and the second thought is that if it gets scratched it'll show up easily, so I need to be careful! The combination of the brown leather strap, which manages to be both thick and supple, and the varnished matte white dial (made in the Pforzheim factory no less) make for a pleasing and modern look. It's definitely a heavy watch, both heavy horologically (as in heavy hitting, a technically extravagant piece) and physically, which is due to the complications inside. I'd like to get to try this watch on the bracelet at some point and see whether that balances it out.
The dial of the watch is made up of multiple layers which gives it a great depth of field, looking particularly attractive in closeup photography. The layout of the dial is somewhat unusual, at least in comparison to what we are used to, 3-6-9 chronograph subdials with a date squeezed in somewhere. Not here, though, the Panorama Date function is a longstanding tradition for Glashütte Original. Featuring two separate disks, one inside the other, the Panorama Date adds an attractive flair to the watch, and of course, extra complication. It's been made a prominent feature of the dial by being placed at the bottom, along with the logo. The two subdials, one at 12 O'clock and the other at 3 O'clock are for the chronograph and record up to 12 hours. The subdial at 12 O'clock is the running seconds subdial with a small but legible power reserve indicator hidden inside it, the power reserve of this piece is 70 hours +/- 5% for normal variations based on temperature and so forth.
Because of the high contrast of the dial, it is easily legible at a glance, and I should note that the blackened hands also have some lume applied to them. This was not the strongest lume; in fact, it's probably the weakest lume I've seen this year (though I have mostly been testing sports watches where it is more necessary, such as the Ulysse Nardin diver earlier this year). Also, bizarrely, there is some lume applied to the central seconds hand for the chronograph, but not on any of the subdials. Granted, there is some leeway here given there aren't many nocturnal activities worth timing, but one does wonder why it was made this way. No matter, it has no effects on the wearability of the piece, which is easy to wear with the right outfit.
Next, I want to talk about the movement inside. I should first point out that this is an excellent movement in here, we're talking a fully in-house designed and built automatic winding movement, with a chronograph function, as well as a power reserve indicator and the Panorama date. That would be great on its own, but they go further at Glashütte Original. The automatic Calibre 37-01 movement, operating at 4Hz, features a column wheel chronograph which has been dramatically simplified here. That means that instead of using cams to engage and disengage the chronograph like you might find on old Lemania movements, the chronograph instead interacts with the column wheel, the 'brain' of the system. Compared to the cams systems, a column wheel is more reliable, beautiful and also more precise. There is no juddering of the seconds hand before setting off, it just goes.
Also, the chronograph is a flyback type chronograph. Frequently used when fast reading of information is vital, such as with lap timing or navigation, the flyback chronograph allows the seconds hand to reset back to zero and restart the timing all from a single push. For a pilot without electronic instrumentation calculating their distance travelled, losing even just a couple of seconds fiddling with their chronograph watch could have dire consequences. You can also see the flyback function working away through the sapphire caseback, as the column wheel and the levers from the pushers are exposed.
There is one final trick up this chronograph's sleeve that I want to mention, but first I should show you perhaps my personal favourite part. Something I've never seen before on a chronograph is a start/stop indicator on the movement itself, so no matter which side I look at I know if I'm timing something. It's a neat little detail, which doesn't add anything other than a few 'huh, I've never seen that before' moments, which is more than enough.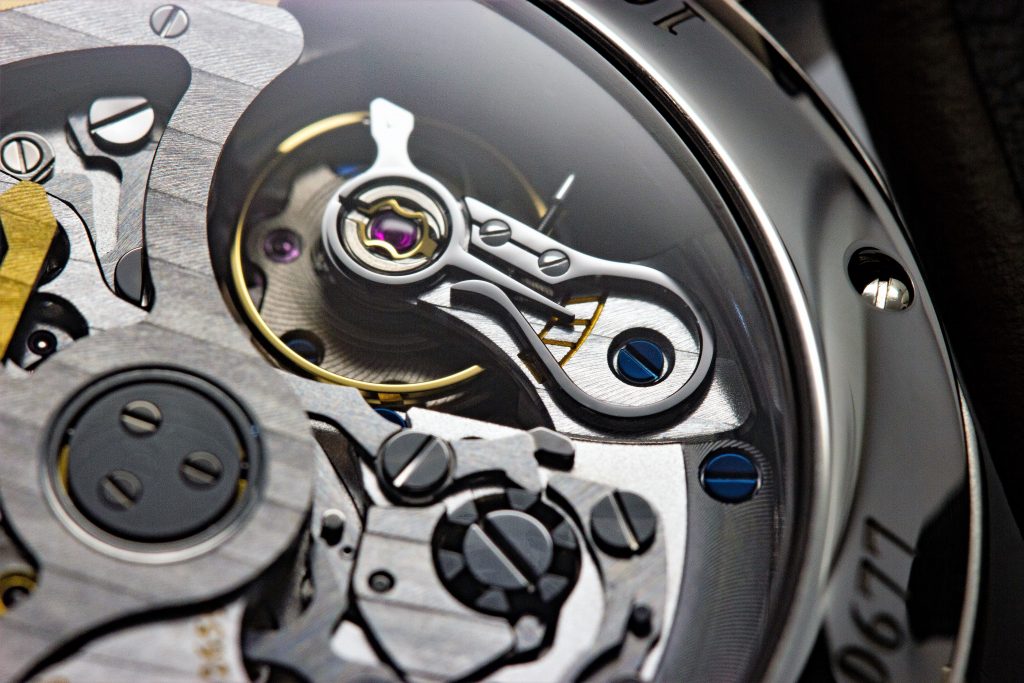 Now that I've got that little bit out of the way, the greatest trick about the Calibre 37-01 chronograph is that it is integrated into the movement. Most chronographs we see today are what's called a 'modular' chronograph, it's an easy way of making a more complicated movement. The ebauche has a chronograph function (which is usually made by an outside specialist such as Dubois Depraz, but some manufacturers make their own modules) attached to it like a Lego brick. That makes it simpler in construction, and therefore easier to service, but we horological fanatics love it when manufacturers go out of their way to make something different. Glashütte Original could quite easily put in a chronograph module and be done with it, but given they face stiff competition at their price level they need to do all they can to show they flex their horological muscles. An easy way to tell if a chronograph is a module or not is by looking at the placement of the crown in relation to the pushers. It is usually much lower down the side of the case in comparison to the pushers, but as you can see with this watch it is the same, so this tip doesn't apply to every watch.
While testing this Senator Chronograph, I put it through its paces when it comes to dress styles. I don't have the most remarkable or outlandish wardrobe, but what I do have are clothes for pretty much every occasion, which I wore at some point with this watch to see how versatile it is. Long story short, it handled everything with ease, even a relaxed business suit with larger cuffs works, though I'd hold off for anything like evening wear or black tie, the white dial does it a favour, but it's just too large to be unnoticeable. No, what this is suited to is smart casual, a polo shirt or maybe a nice button shirt worn with some quality jeans, like Wrangler or Lee. This daily wear brought out the versatility of the watch, even on the brown leather calfskin strap which I thought would be difficult to pair. For the photoshoot where you see me, I took it a step further and added a black waistcoat over my long sleeve shirt, the watch didn't look out of place here either, in fact, it was in its element.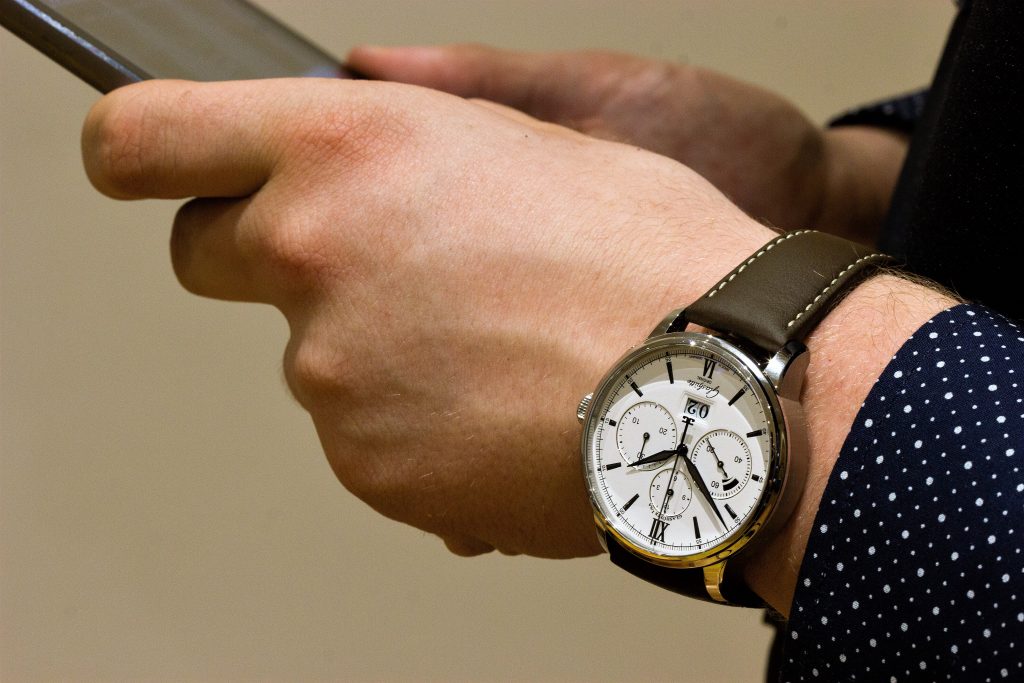 That sums up my view on the watch very well, it's a great piece and a genuine conversation starter. A left-field choice like a Glashütte Original is sure to get the attention of even the most seasoned watch collector, who will likely be interested and stop to ask you about it and how you got into watches. Let's face it, it's not exactly going to be a well-known brand outside of our watch sphere, so if someone notices it and asks be sure to have a conversation with them.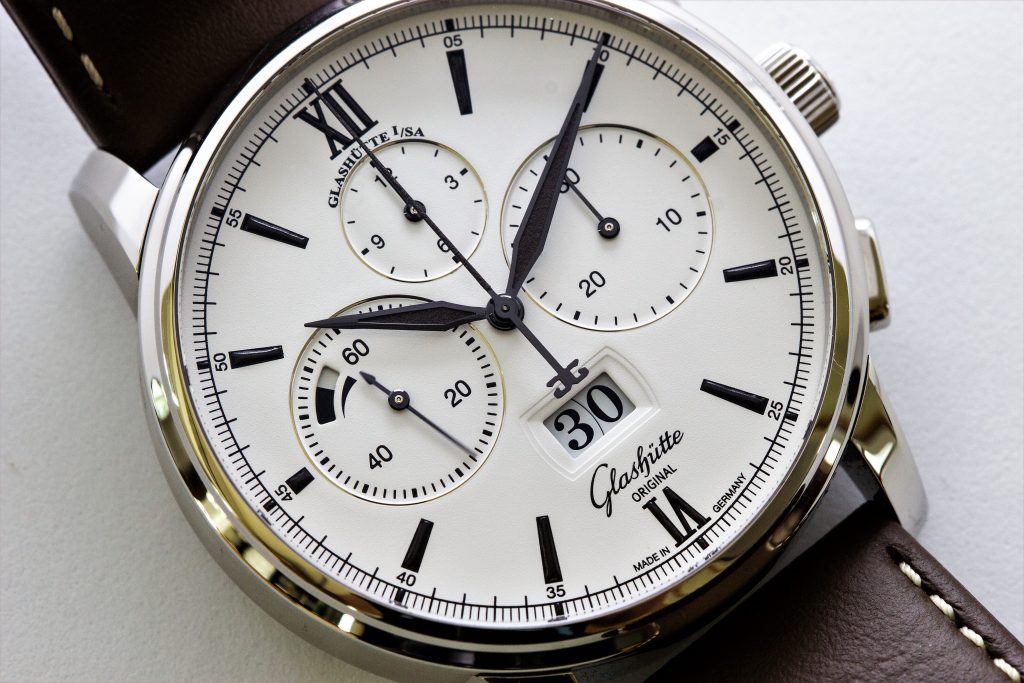 More than just a conversation starter, it's also practical and very stylish, I'd love to be able to compare it to the other coloured dials and try on the different strap options to really get a feel for it, alas, we simply cannot do it all. There are also the other metal variants too. As well as stainless steel, which is what I tried, there's also a version in luxurious 18k red gold, that one comes with a varnished silver-grainé dial like the steel watch, that also has blued hands. There's also an even more luxurious version of the watch which features a solid 950 platinum case, a sapphire cabochon in the crown and a tachymeter scale on the dial, why that's on this version but not the others is a bit of a mystery. If you want a different dial colour altogether, then the Capital Edition variant might be to your liking with its galvanised 'Bourbon Grey' colouration with blue rings around the subdials, commemorating the start of the 68th Berlin International Film Festival. There's even a platinum version of that particular edition with a silver dial and light blue highlights, so you are spoiled for choice with this model.
I can't think of a reason why someone wouldn't buy it, maybe if white isn't your thing, but then there are other dial colours to choose from. If you put this on a bracelet and have one very dressy watch then it could be half of a fantastic two-piece collection. The price for this watch is $14,600 which doesn't include VAT. Experience more about these rare pieces and Glashütte Original's Watchmaking Art.