Frederique Constant have been releasing timepieces for a while without really setting the horology world alight. Frederique Constant go about their business their way quietly releasing good honest classic timepieces with useful everyday complications like their classical styled smart watch or their new release the Index GMT.
The new index GMT will come in four different variations, two on stainless steel bracelets with either a crisp white or deep black dial, white dial with a black leather strap or a warm rose gold case coupled with a brown leather strap. With having four variations I'm sure there is always one version that people will say that Frederique Constant has made it perfectly and I'm no different as I really like the black dial as to me it has a very classic feel about it, but it's only available on a stainless steel bracelet. What I would like to have seen is a choice for it with either a bracelet or black leather strap which would give it a much more classic dress watch appearance. Personally I would have loved to have seen the deep black dial married up with the warmth of the rose gold plated case with black leather strap for the perfect combination of elegance and classic feel.
All four have identical cases and movement specifications. The case is 42mm in diameter so a nice size overall, not classic dress watch size which is less than 40mm but with a case size of this proportion makes it a perfect everyday wear either with office attire or dressed down with jeans etc at weekends.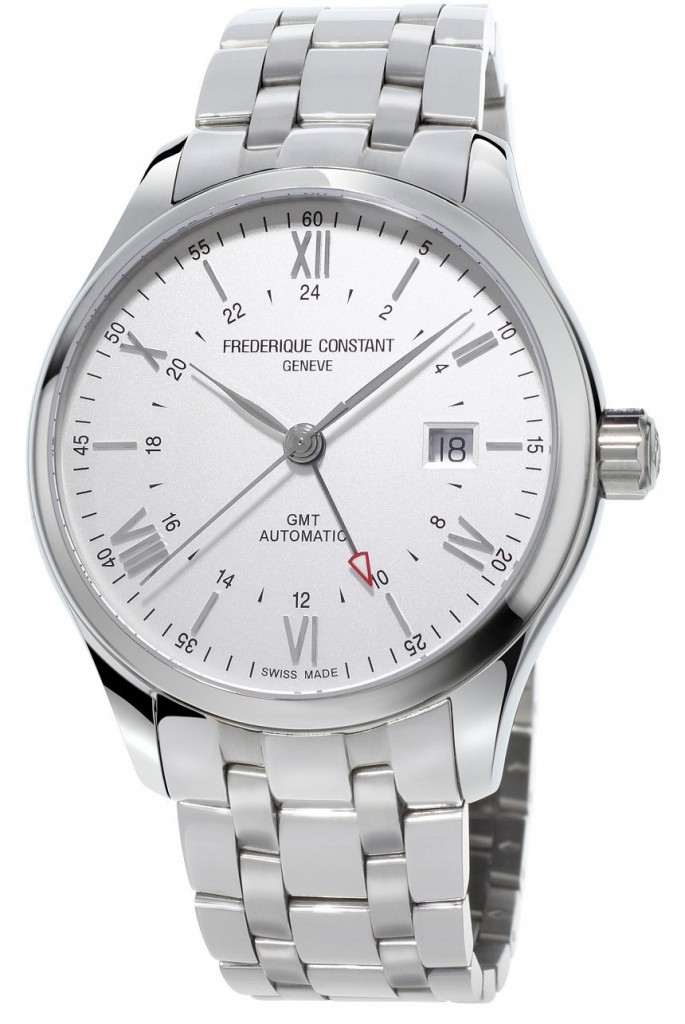 The thin case bezel gives way to the minute track with written numerals every 10 minutes that line up nicely with the slender raised Roman numeral indices with the GMT hours lining up also inside the roman numerals. With all three numerals lined up perfectly acts like a ripple effect from outside and give the dial great symmetry. The classic date window is at 3 O'clock position keeping the dial extremely legible.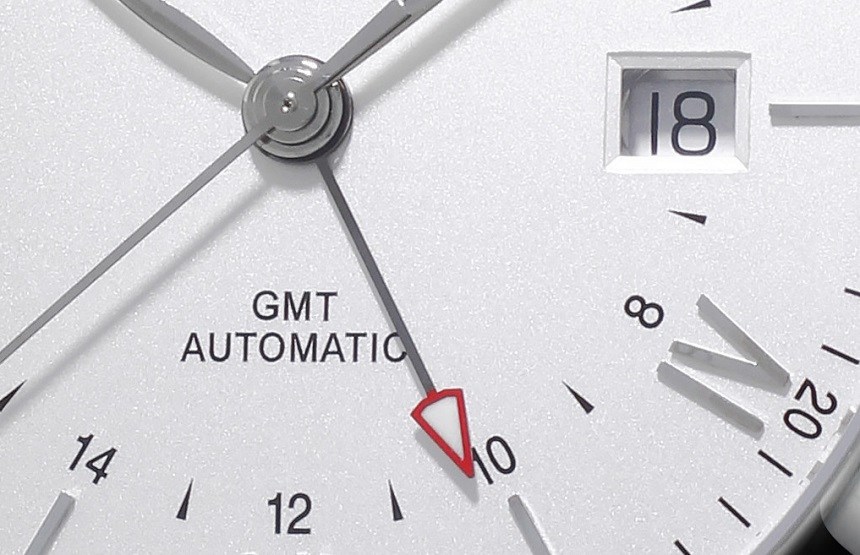 The main feature of this piece is the classic GMT function which is one of the more useful complication now in an age of travel and it has been done very well on this piece. It's not too bold that it shouts "look at me I'm a GMT!" and overpowers the dial but bold enough to be able to see straight away what the second time is.The slender GMT hand is in keeping with the thin classical slender hands of the piece, but Frederique have added a red triangle end to differentiate itself.
Turning the piece over there is an exhibition case back that shows the FC-350 calibre offering a power reserve of 38 hours, although this is an outsourced base calibre Frederique Constant have employed a module system for this classic index GMT which is actually produced in-house. A separate plate sits between the dial and the base module which adds the GMT complication to this watch. I have to applaud the Frederique Constant designers as it would have definitely been cheaper and easier for them to acquire a complete movement with GMT already added but they didn't, suggesting that they wanted to go back the basics and create something that has no bells and whistles on it but just works and does what it's supposed to do.
Prices for the index GMT start at $2,195 for the black leather strap $2,295 for either of the stainless steel bracelets and $2,495 for the rose gold.
Conclusion
Yet again Frederique Constant has done what it does best, it's made an interesting entry level piece with complications at an affordable price if you are looking to get into watches with complications that you will make use of then definitely check these out. For more info, please visit frederiqueconstant.com
JOHN GALT – CONTRIBUTING EDITOR
John Galt caught the horology bug back in 2010 on his first visit to a London watch show and has snowballed since; John has become an avid writer and blogger of timepieces of all kinds, from everyday timepieces to modern Luxury HauteHorology, his favorite brands being HYT and GreubelForsey that push the boundaries of modern watch-making. John keeps a keen interest in the UK watch scene with their many emerging brands and timepieces. John Galt currently contributes watch related articles for online publications in the UK and USA. You can follow him on Twitter Read his articles here