On Friday an annual event in the horological calendar ensued. The Grand Prix d'Horlogerie de Genève is an awards ceremony held once every year in Geneva and celebrates the greatest achievements of that year in style with trophies and an amphitheatre and the consumption of all sorts of nibbles, sorry, canapés is mandatory. Of course, we were invited to go to the awards ceremony; however, none of the team was in a position to be able to go this time around. Without further ado, let's check out the winners, there's certainly a lot of them!
Ladies' Watch
Winner: Chanel Boy-Friend Skeleton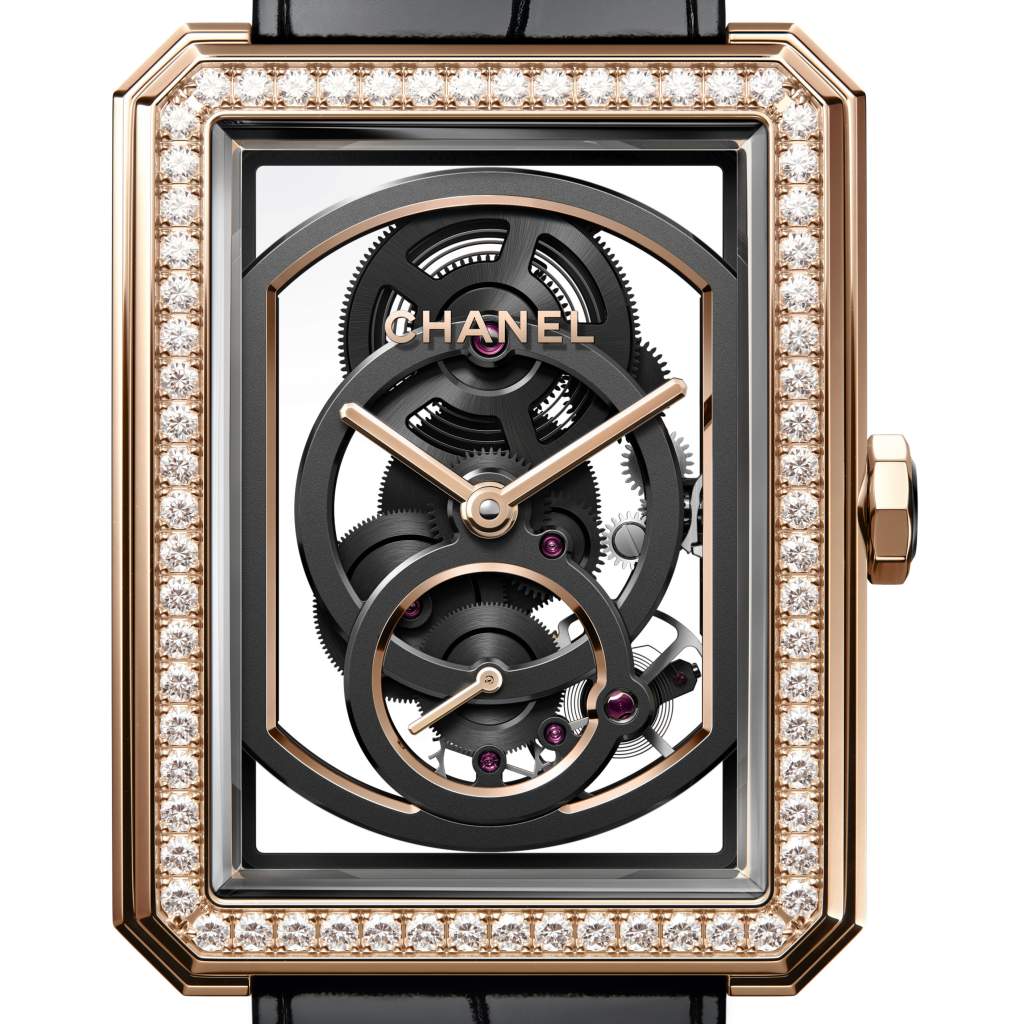 Last year's winning watch was also from Chanel, but this one is admittedly a lot less pricey than 2017's winner. It's beautiful and clean with the movement being kept to the absolute minimum which makes way for the diamonds.
Price: 53,900 CHF
Ladies' Complication
Winner: Van Cleef & Arpels Lady Arpels Planétarium
Van Cleef & Arpels has been making a planetarium watches for a while now, in fact, I remember that their first planetarium watch was the topic of my second article for this website four years ago! This piece is extraordinarily beautiful, which is matched by the high cost.
Price: 257,500 CHF
Jewellery Watch Prize
Winner: Van Cleef & Arpels Secret de Coccinelle
For the second time in a row today Van Cleef claims another win with the 'Secret de Coccinelle', or Secret of the Ladybird' watch. This watch includes yellow gold, pink gold and white gold and is covered in diamonds and rubies housing a JLC 101 movement.
Price is an astronomical 1,093,000 CHF, only 1 example has been made.
Special Jury Prize
Winner: Jean-Claude Biver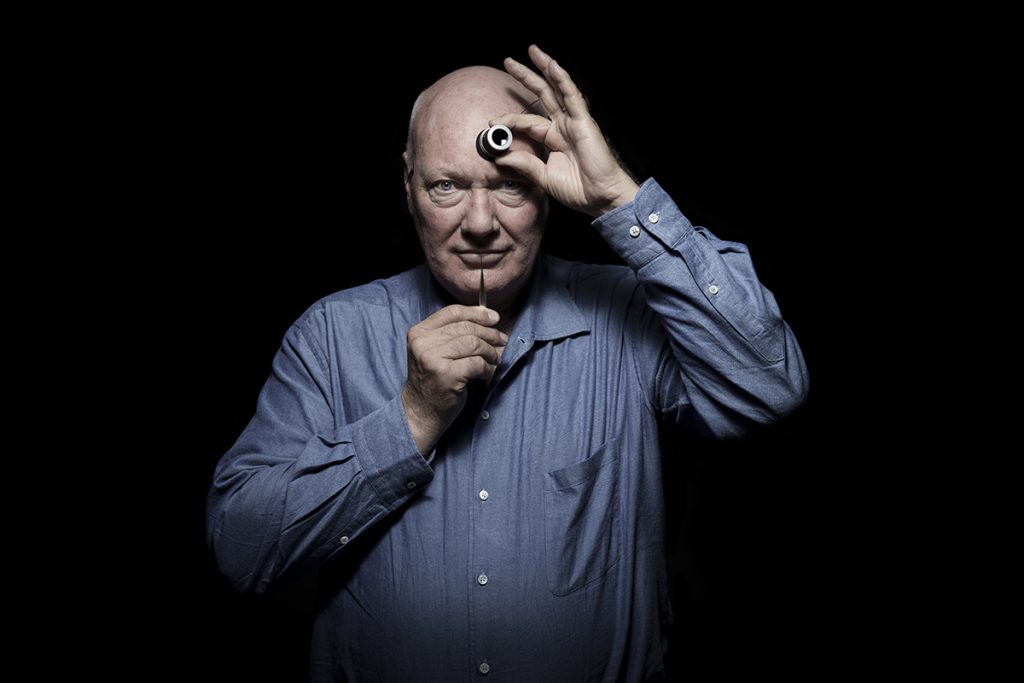 The Special Jury Prize is something of an oddity in this as it doesn't go to a watch or even a watch company. To quote the GPHG website: "This prize rewards a personality, institution or initiative that has played a fundamental role in promoting high-quality watchmaking." This year's winner was none other than Jean-Claude Biver, the man who saved the Swiss watch industry in the seventies and has been on a roll ever since.
Price: Priceless.
Revival Watch Prize
Winner: Vacheron Constantin Historiques Triple Calendrier 1942
The revival watch category doesn't conform to the traditional ideas such as who can innovate the best or whatnot. It instead looks at the company that recreates a past model the most tastefully and accurately, last year's winner was the superb Longines Avigation BigEye, this year it's Vacheron Constantin's turn with their Historiques lineup which wowed the watch media and watch lovers back at SIHH in January.
Price: 20,700 CHF
Artistic Crafts
Winner: Hermès Arceau Robe du Soir
The winner of this exciting category comes from Hermès with what is possibly one of the coolest dials ever. It's an image of a horse, which comes from Hermes' "Robe du Soir" silk scarf revealed earlier this year. The dial is made up of a mosaic of 2200 leather squares which required over 18 months of research to develop.
Price: 52,000 CHF
"Petite Aiguille" Prize
Winner: Habring2 Doppel-Felix
This Austrian made watch won the 'Petite Aguille' prize because of its cleverness in engineering, it sports a split-seconds chronograph, which is also known as a Doppel chronograph. The austere minimalist finishing of the movement lets the mechanicals do the talking. The 'Petite Aguille' category accepts watches retailing between 4000 CHF and 10,000 CHF including smartwatches.
Price: 8650 CHF
Challenge Prize
Winner: Nomos Tangente Neomatik 41 Update
A new category for the GPHG is the 'Challenge' category, where the watch must not cost more than 4000 Swiss Francs. The winner of this year's 'Challenge' prize is the Tangente Neomatik 41 Update from Nomos. The Tangente has been a bestseller for over 25 years and has only received minor updates to its intelligent Bauhaus design.
Prize: 3520 CHF
Innovation Prize
Winner: Krayon Everywhere Horizon
Costing lots of money and coming from a company that no one's ever heard of, the Everywhere Horizon watch can work out the time of sunrise and sunset, as well as UTC and DST. The extraordinary calibre is made up of 595 pieces.
Price: 775,000 CHF, only 1 example has been made.
Sports Watch Prize
Winner: Seiko Prospex 1968 Diver's Re-creation
One of the most affordable pieces on this list is one of the most historically significant as it recreates Seiko's, and indeed Japan's first hi-beat diving watch. It's got an automatic movement explicitly designed for diving (we aren't sure what that means) which was made by the staff of the Shizukuishi Watch Studio in Morioka, north Japan.
Price: 6500 CHF, limited to 1500 examples
Chronometry Prize
Winner: De Bethune DB25 Starry Varius Chronomètre Tourbillon
The Chronometry Prize is one of the new prizes for the year, eschewing out the travel-time prize from last year. The winner is the quirky DB25 Starry Varius from the nutters at De Bethune includes a titanium and white gold escapement wheel regulated by a De Bethune patented flat terminal curve balance spring, and that's just the tip of the iceberg.
Price: 197,000 CHF, limited to 20 examples
Audacity Prize
Winner: Konstantin Chaykin Clown
One of my favourite love/hate relationships is with the funny gurning watches from Konstantin Chaykin. I'm thrilled to announce that this year they won the 'Audacity' prize, which is awarded to one of the entrants which takes a different and unusual approach to the traditional, stoic watchmaking. This prize is awarded at the discretion of the jury and does not have to be awarded at all.
Price: 9800 CHF, limited to 27 examples
Men's Watch Prize
Winner: Akrivia Chronomètre Contemporain
A watch I really like the look of, the new Chronomètre Contemporain which bears the name of Akrivia's founder, Rexhep Rexhepi, is a handsome and smart timepiece. Check out the caseback if you don't believe me. Oh, and it's been certified by the Besançon Observatory.
Price: 59,940 CHF, limited to 25 examples
Chronograph Watch Prize
Winner: Singer Track1 Hong Kong Edition
The oddities keep on coming with this one, the movement comes from Agenhor, the AgenGraphe is one of those achievements you need to be there for because it's a big deal as Fabergé and now Singer can demonstrate.
Price: 47,927 CHF
Men's Complication
Winner: Laurent Ferrier Galet Annual Calendar School Piece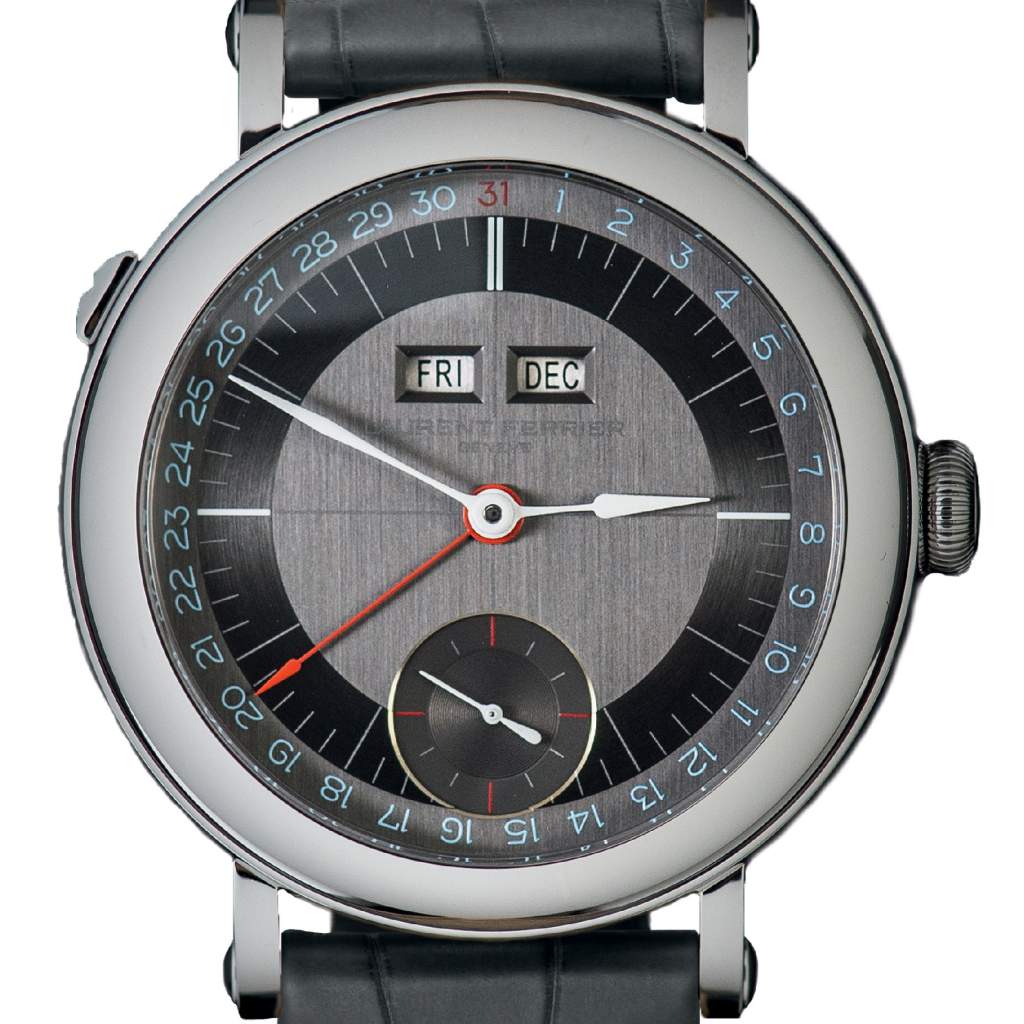 The Galet Annual Calendar is the winner of the men's complication category, combining subtle good looks with a movement clearly crafted by some higher being than us, we can't wait to get one of these under a macro lens and see what's revealed.
Price: 50,000 CHF
Mechanical Exception
Winner: Greubel Forsey Grande Sonnerie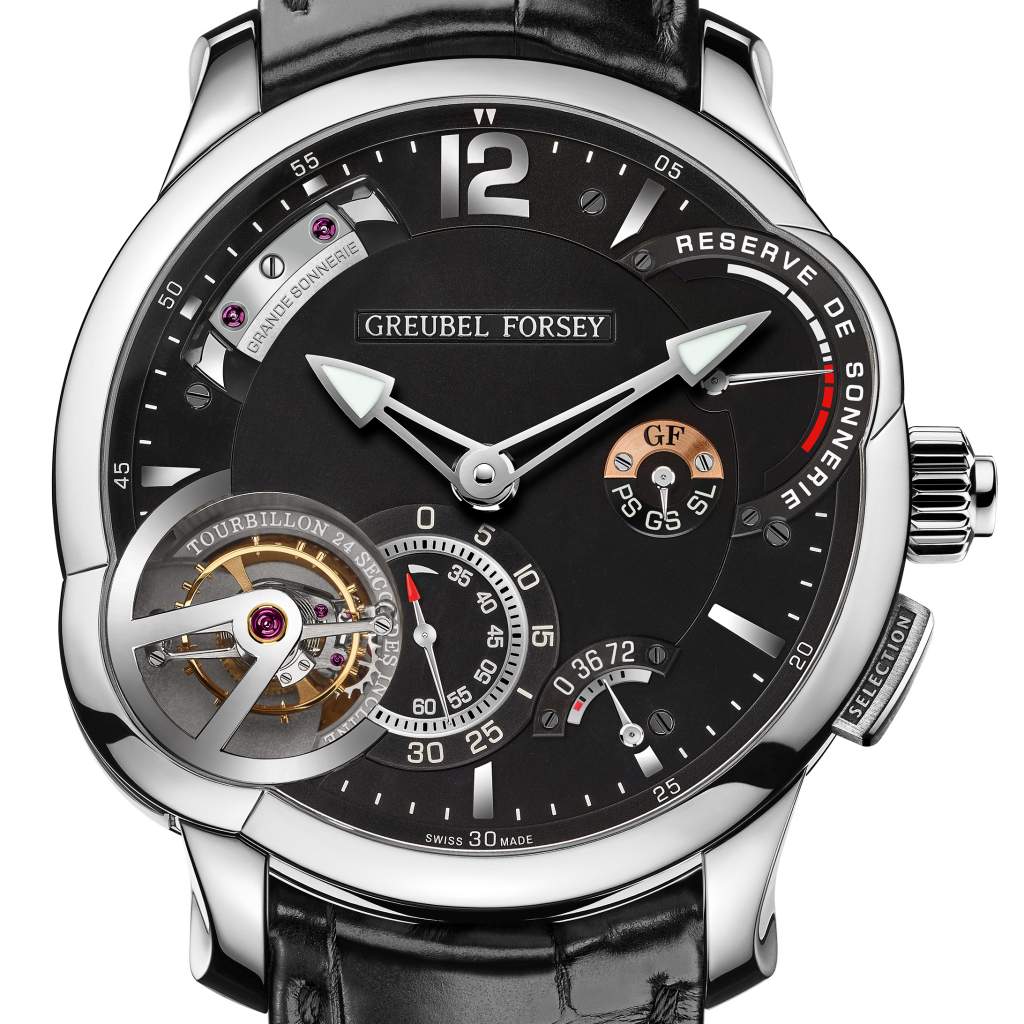 Greubel Forsey, pretty much everyone's favourite independent watchmaker right now, takes the crown for the Mechanical Exception category, which awards horological concepts we don't see very often. This watch is Greubel Forsey's most complicated watch to date, featuring a grand sonnerie, petit sonnerie, minute repeater, a tourbillon and the Tourbillon 24 Secondes, a unique fast rotating tourbillon which aims to cancel out gravity and overcome the problems of a traditional tourbillon.
Price: 1,238,550 CHF
Aiguille d'Or – The Grand Prize
Winner: Bovet Récital 22 Grand Récital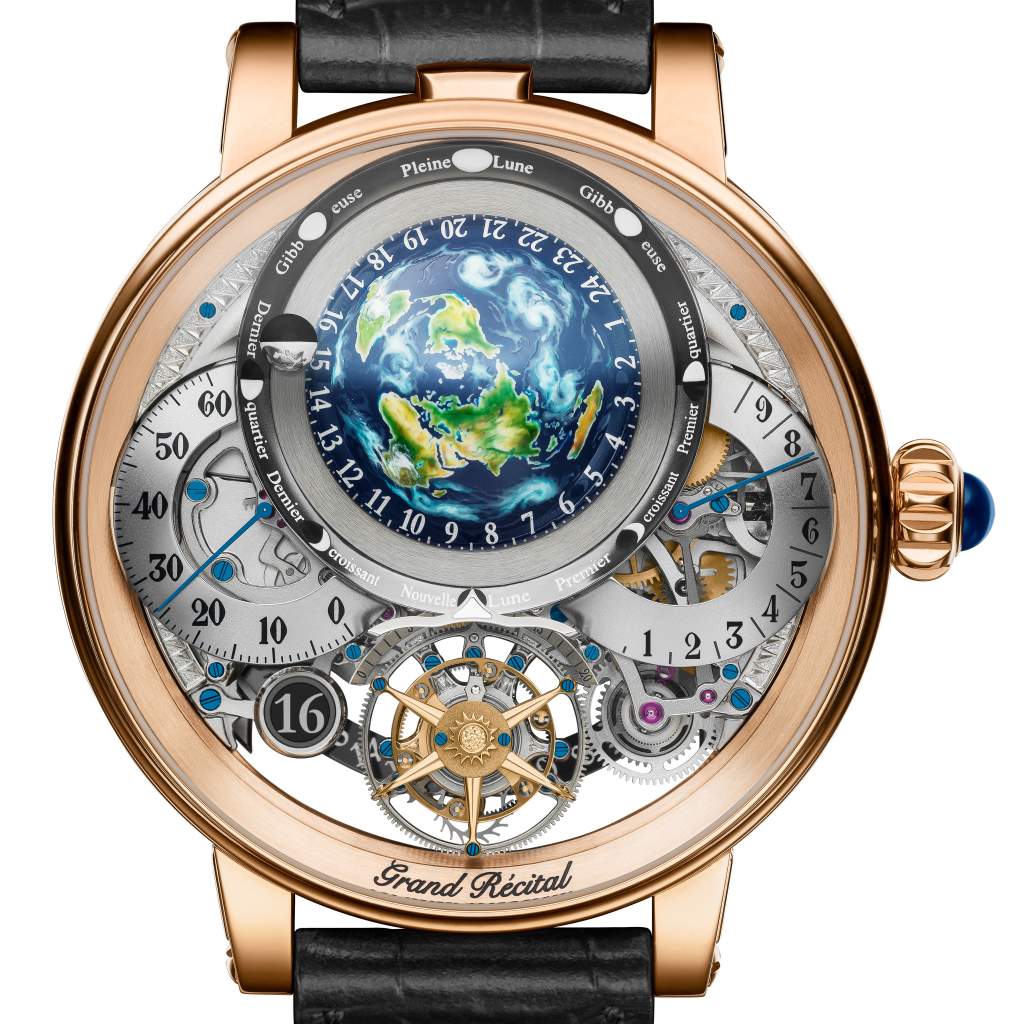 Snatching the Aiguille d'Or from under the nose of Grebel Forsey (the second time in a row that's happened, last year it was Chopard) is Fleurier based Bovet with their Récital 22 Grand Récital, a watch which blew the socks off everyone that got to see it thanks in part to the superbly detailed lume on the globe. As well as hours and minutes, the watch also features a day indicator, date, month, year, moonphase, power reserve with a perpetual calendar function and the Tellerium-Orrery. Congratulations to Bovet for winning this exclusive prize!
Price: 468,500 CHF, limited to 60 examples
Visit GPHG here.