Hamilton, normally a very straight-laced military, and aviation watch company has decided to show off its uncultivated side. With the introduction of the Hamilton ODC X-03 Watch, not only is Hamilton showing the audience that they can make crazy designed watches work, but they are also showing the audience a tribute to the movies 'Interstellar' and '2001; A Space Odyssey.' This watch is very similar to, yet is the next step up from the ODC X-02 which was released in 2009. Both pieces have very similar functions and features to them yet both have a completely different look of their own.
The case of the Hamilton ODC X-03 Watch is 49mm x52mm, playing off well for those wearers who prefer larger-faced wrist pieces. The case is made of titanium, covered in black colored PVD coating. Not only is the design of this piece very sporty, but it also has a very creative look to it and can even be worn as a formal piece.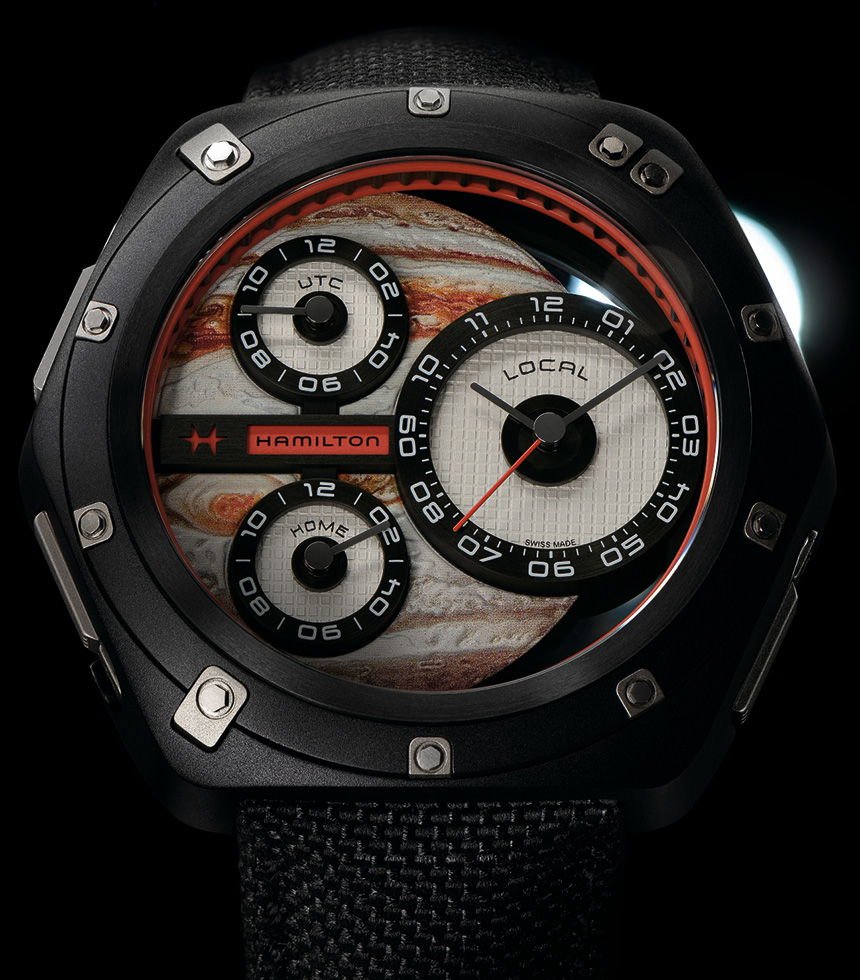 The black case and bezel of the watch encase a beautiful face featuring one main dial on the right side of the face and two other sub-dials on the left side. The main dial prominently displays the local time with the left dials functioning as a second a minutes timer respectively. A black rectangle with a red stripe proudly displays the word 'Hamilton' and the Hamilton logo in red as well. The placement of the logo in between the two left dials and on the side of the right dial gives the overall appearance of a satellite or a spaceship. The most important feature of the face is its background display of Jupiter floating in space. The very bright white, orange, and brown colors swirling across the planet's surface along with the black background of space give the planet a 3-D appearance. The satellite or spaceship created from the dials and the Hamilton logo gives an appearance that the background planet is being orbited.
At first glance, most enthusiasts look at the peculiar piece and wonder where exactly the crown or crowns are located. To answer your questions enthusiasts, there are three crowns usable crowns on this piece, each with a very important function. Two of the crowns can be found on the left side of the case and the last crown is found on the right side of the case, each one in control of the dial it is most closely lined up with. The crowns are folded into each side in order to preserve the hexagonal shape of the case.  This shape best depicts the both tribute movies. Use of each crown is as simple as popping out the crown and turning the crown.
Tribute watches usually come at a price, not only in the wallet, but also in the piece's availability. The Hamilton ODC X-03 Watch is limited in production to only 999 watches and can be yours for the 'out of this world' price of 3,500CHF. Although the average watch connoisseur isn't ready to fork over this much money for a watch, The piece is more than worth the price. For more info, please visit hamiltonwatch.com