Elvis Presley was instrumental in my love for Rock & Roll. I got all his albums (actually it was my dad but technically it's mine) and have seen all of his movies. When he died back in 1977, I was just young lad of 7 years and it was the first saddest day of my life that I can still recall. His legacy still reigns supreme. When I heard Hamilton Watch Company will be launching the Hamilton Ventura Elvis80 in Baselworld 2015, I was ecstatic. This watch will honor Elvis Presley's 80th birthday, if he was still with us today.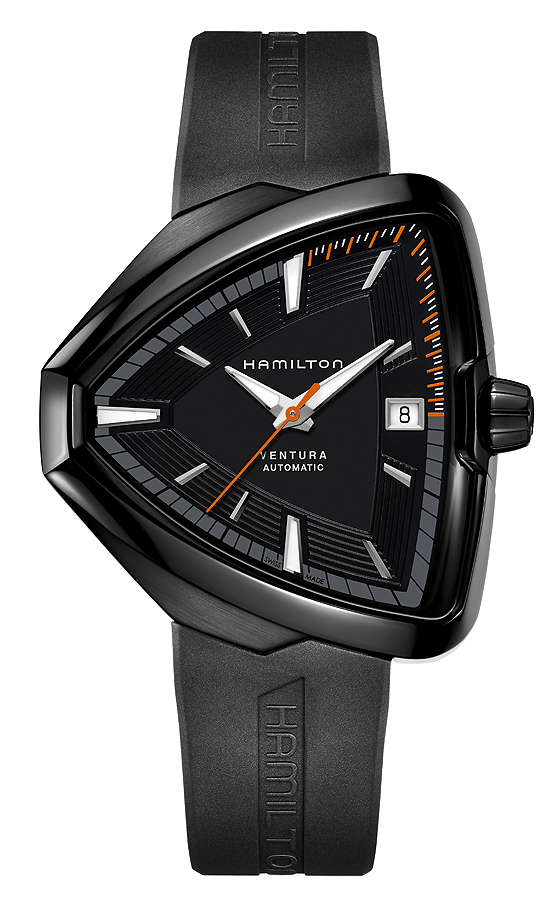 The story of the Hamilton Watch Company and Elvis Presley started must early on. The tie became synonymous with his movie Blue Hawaii back in 1961 when he wore a Hamilton Ventura watch with a triangular case. From that point onwards, that Hamilton Ventura watch became widely known as the Elvis Watch. That watch is relatively large (the XXL version) and has been in my sights for some time now.
This latest rendition has a similar feel to it. The black PVD-treated steel case measures 42.5 mm by 44.6 mm and has a number of brushed and polished surfaces. The color orange is used for the seconds hand and the minute markers on the dial from 12 o'clock to 3 o'clock. A series of parallel lines surrounds the triangular dial creating the perspective of depth. A date window is provided at the 3 o'clock position when the hour marker should be. The use of a white background for the date is smart of Hamilton as it replaces the job of the hour marker that has been displaced by the date window. The polished hour and minute hands are treated with Super-LumiNova paint. All of this is protected by sapphire crystal with non-reflective coating. Although not mentioned by news reports or any other pictures, I suspect the case-back is also transparent and protected by sapphire crystal.
The engine that powers this watch would be Hamilton's H-10 movement. With a double main spring barrel, it is capable of sustaining 80 hours of power reserve. Meanwhile, the winding crown has an engraved pattern.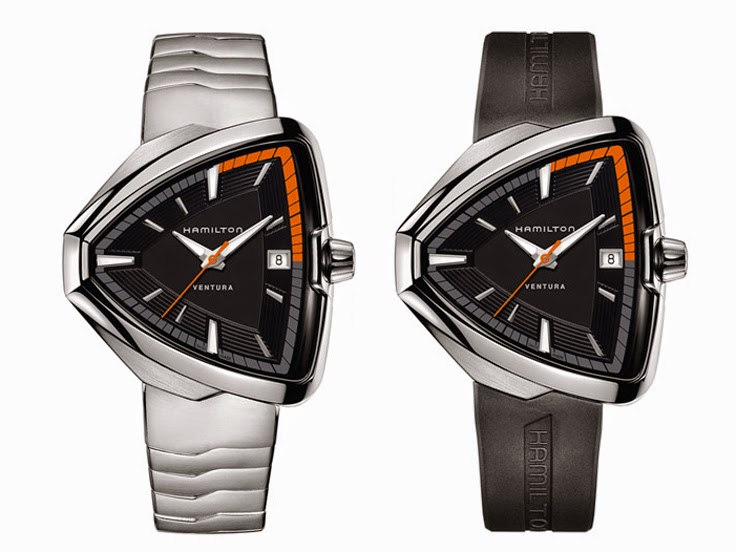 The watch comes with a unique rubber strap due to the triangular shape of the watch case. Hamilton Watch Company also highlighted that a quartz version with a stainless steel case and available on leather, rubber, or steel bracelet will also be made available.
This was has nothing extra or special apart from the unique design and tie-in with the great Elvis Presley. It just tells the time and the date. However, what this watch has is style. The panache that sums what Elvis Presley is all about. This latest offering by Hamilton has made me reprioritized my wants. I want this one!!!
For more info, please visit hamiltonwatch.com

Meor Amri Meor Ayob – Contributing Editor
Meor Amri is a passionate watch collector from Kuala Lumpur, Malaysia. Having bitten by the horology bug in 2010, he has written extensively about the watch scene and has assembled a large collection of watches (excessively!!!) on his own free time. His blogs on the same subject are: Eastern Watch & Western Watch Read his articles here.