When watch brands are young these days, they're often referred to as microbrands as they leverage crowdfunding sites like Kickstarter, rely on outside vendors and have relatively low production. Fleddermann von Rieste is a perfect example. That's certainly not a bad thing and doesn't imply a lack of design prowess or quality (and you've got to start somewhere). If successful, a brand inevitably reaches a point of maturity where it's no longer considered a microbrand and that's how I see Farer – a bona fide independent watchmaker. The Stanhope II is their latest watch and sequel to the very popular, hand-wound Stanhope that could go toe-to-toe with the best from Hamilton, Tissot and other established brands.
Farer is a London-based watchmaker with a reputation for colorful, even whimsical dials that have fun yet sophisticated designs. It was founded in 2015 and started with a small batch of Swiss quartz models, but it wasn't long before unique collections emerged with mechanical ETA movements. GMT, chronograph and even Super Compressor dive models joined the portfolio and Farer quickly gained a loyal following. A distinctive, recently discontinued line was the 37mm hand-wound collection (most models are automatics), featuring three watches separated by dial design. The most popular of the group was the Stanhope with an impressive mix of dial colors and textures, although with a white base dial, it was the most subdued of the three. This dial returns for the new Stanhope II, but changes to the case design and hands make for a very nice upgrade. Unlike the first model, the Stanhope II stands alone and is not part of a three-watch collection, which shows how popular the original was.
Farer watches have interesting histories to go with their names. The Stanhope was named after British aristocrat Lady Hester Stanhope, born in 1776 and among the most pioneering women in history. She traveled throughout the Middle East, often alone, and led an expedition to Ashkelon in 1815, which was the first modern excavation in Holy Land archaeology. This was a century before the famed Lawrence of Arabia went to the Middle East. All watches are designed at Farer's London studio and production is completed by Swiss partner Roventa-Henex. A small handful of quartz models are currently available, but most Farer watches are mechanical with either ETA or Sellita movements, and all are Swiss made.
The original Stanhope launched in 2018 and I got a lot of hands-on time with it, and it was arguably my favorite of the brand's portfolio. Needless to say, I was excited when the Stanhope II was announced. There were a couple of minor gripes I had with the first model, starting with the case diameter of 37mm. I wouldn't say it was too small and it wore a bit larger than the dimensions suggested with a 20mm lug width and all dial design. I did, however, wish it was a bit bigger. The Stanhope II solves this with a diameter of 38.5mm that feels almost like 40mm on the wrist (43.8mm lug-to-lug). For me, it's perfect. Thickness is 10.5mm, compared to the svelte original at only 8.3mm. I prefer the added heft and weight as it feels a bit more substantial, but remains compact and classy. The 316L stainless steel cushion case is again polished, but the changes go beyond an increase in size.
The original had a conventional round bezel, while the new model sports a much larger and shaped bezel that leaves only the lugs underneath exposed. It's a cool, multi-layer design that's subtle on the wrist. I was worried it might look a bit busy when I saw initial pictures, but it doesn't and adds a sophisticated touch. It's a three-piece case with the case back, barrel main case body and the large, beveled bezel. A curved AR sapphire crystal protects the dial, while a sapphire exhibition case back displays the custom-finished Sellita movement. The push/pull crown has a unique bronze insert with an embossed "A" that's a signature design element for Farer's hand-wound watches. Automatic counterparts have all bronze crowns. Water-resistance is rated at 50 meters. 20mm strap options include a wide variety of leather and rubber straps with a Milanese bracelet as well.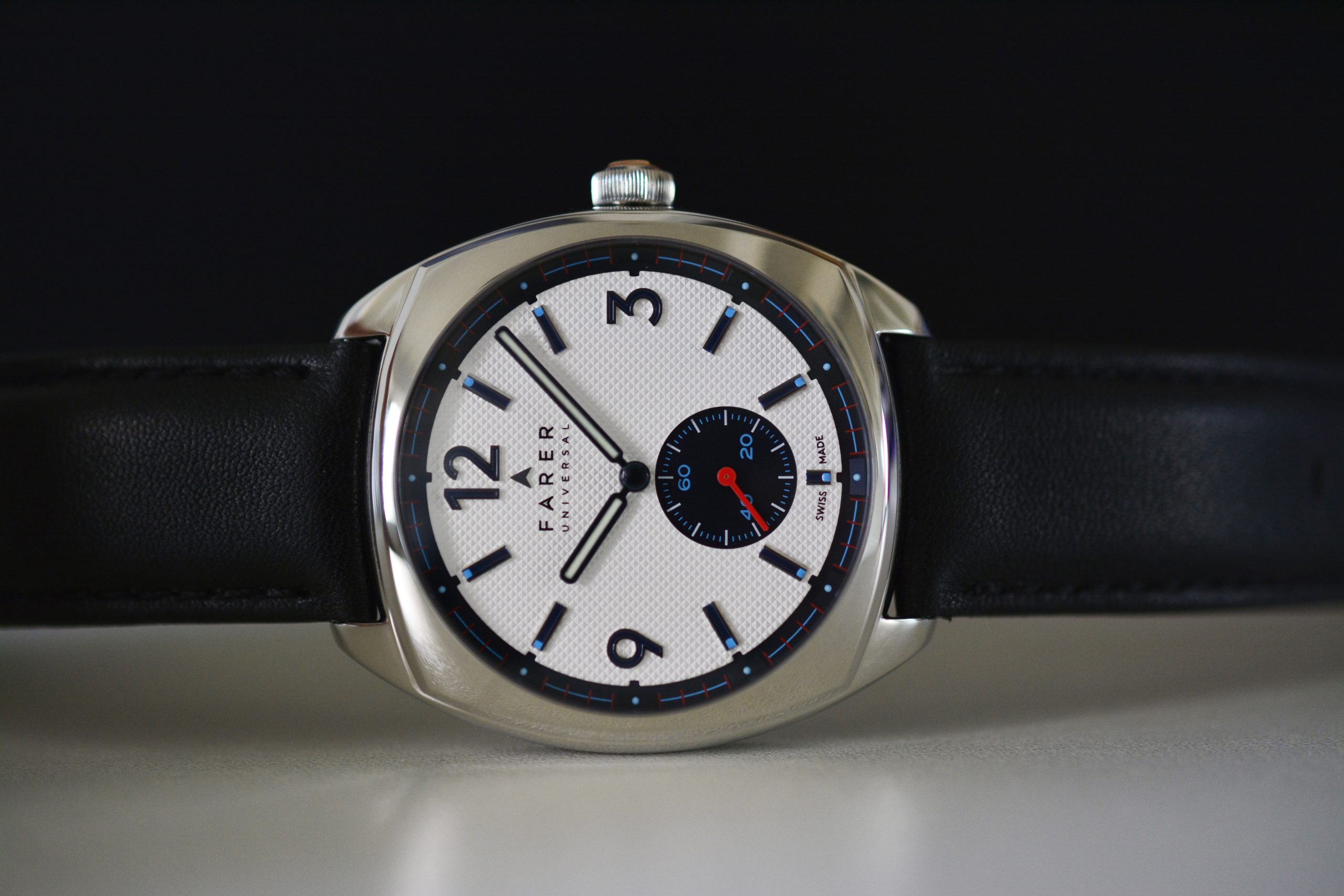 The dial is nigh identical to the original Stanhope, which is exactly what fans were asking for (myself included), but there's one key improvement. The hour and minute hands are now black with Super-LumiNova inserts – they were silver before (with lume) and weren't the easiest to see. Overall legibility was never an issue, but it's definitely improved and the hands just look better as well. The small seconds hand is again a bright red. There's a piqué textured off-white base dial with notches at each index. The small seconds sub-dial at 6 o'clock is recessed and sits within a punched hole in the main dial, and the darker bottom layer extends to the outer perimeter to show a red and blue minute track. Within this track are raised markers with a spot of Super-LumiNova every hour, complementing the steel hour indices on the main dial. Those indices and large applied Arabic numerals at 12, 3 and 9 o'clock are infilled with non-luminous midnight blue. Each index has a spot of non-luminous light blue at the outer end. This colorful, multi-layer design is deceptively complex and legibility is excellent, and it's still among my favorite Farer dials.
The engine inside has changed with the new model. The original Stanhope had an ETA 7001 Top Grade, hand-wound movement with blued screws and Côtes de Genève. The Stanhope II has a Sellita SW216-1 Elaboré Grade, hand-wound movement with blued screws, perlage and a custom embossed Farer pattern. Seen from the exhibition case back, I prefer the look of the Sellita, but both have refined and interesting aesthetics. The SW216-1 has 24 jewels, beats at 4Hz with a 45-hour power reserve. There's also a date complication that wasn't utilized by Farer to keep the dial clean. This particular movement was introduced in 2017 and is adjusted in three positions for an average accuracy of +/- 7 seconds per day.
It's great to see the Stanhope dial return in a new and even more interesting package. The case size is now perfect with a larger, slightly heavier design. It's still compact, however, and easily slips under a cuff. I also appreciate the unique three-piece construction and stylish bezel. The 20mm lug width allows for a wide variety of aftermarket straps if you're after something above the healthy selection offered by Farer. I have a comfortable black leather strap that I tend to use on new watches (it's on the Stanhope II), but the Navy St. Venere leather strap provided is well made and looks great with the watch. I remember hearing a few complaints about the silver hands on the original model and the new dark hands make a big difference. It shows that the brand genuinely listens to its customers and there's really nothing I'd change on the Stanhope II. I hope a Stanhope III is on the drawing board – maybe a Stanhope GMT? One can dream…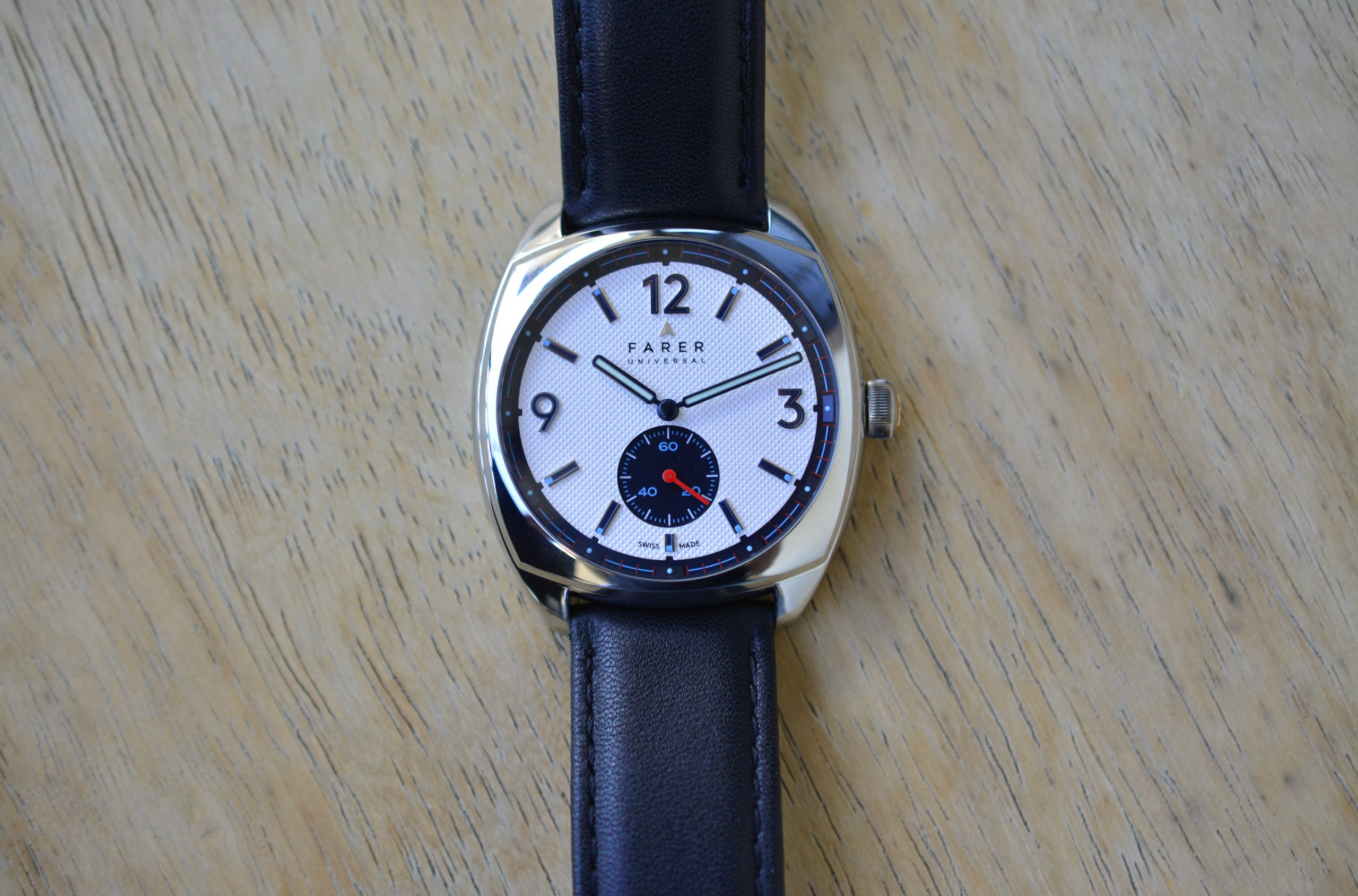 The Stanhope II is currently limited to 200 watches and individually numbered, and a free engraving is offered on the case back. It retails for USD 995/EUR 985 with a leather strap, but climbs a bit for the Milanese bracelet and drops a little for rubber straps (the price differences are minimal). It's an excellent price for what you're getting and certainly unique when compared to something from Hamilton, Longines and the like. You should also check out Farer's entire portfolio as there are chronographs, divers and GMT models, all with the brand's unique and colorful aesthetic.
Visit Farer here.