Scratches on watches can be the bane of some watch fans' existence. For me, scratches show that a watch has a history; it's been places and done things and had a life. However, some see scratches as blemishes on their otherwise perfect watch. Other people see scratches as detractors from a watch's grey market price. While I'm ambivalent to the idea of people using watches as alternative investment forms, I hope people get some pleasure out of their watches and not just keep them in a safe forever. Luckily, having a relatively scratch-free watch doesn't need to mean keeping it in a drawer or somewhere out of sight. WatchShells has a solution to this problem.
It all started in South Korea with a watch dealer called WhataWatches. They had an influx of customers looking to change the strap or bracelet on their watch but were concerned with damaging the timepiece. A fair question if you're not someone who's particularly handy with a screwdriver and some tweezers (both of which are pointy and capable of scratching the watch).
The WhataWatches team found their solution in the world of motoring. It's common for owners of pricier cars to have the front of the vehicle wrapped in a special plastic film. This helps protect the paintwork from stone chips, a reasonably moderate risk for most drivers worldwide. The team from WhataWatches saw this being used and figured it could help safeguard watches from marks when having their straps changed out. They tried this plastic film on some watches but found it went yellow and gross too quickly, so they went back to the drawing board and worked on it for two years.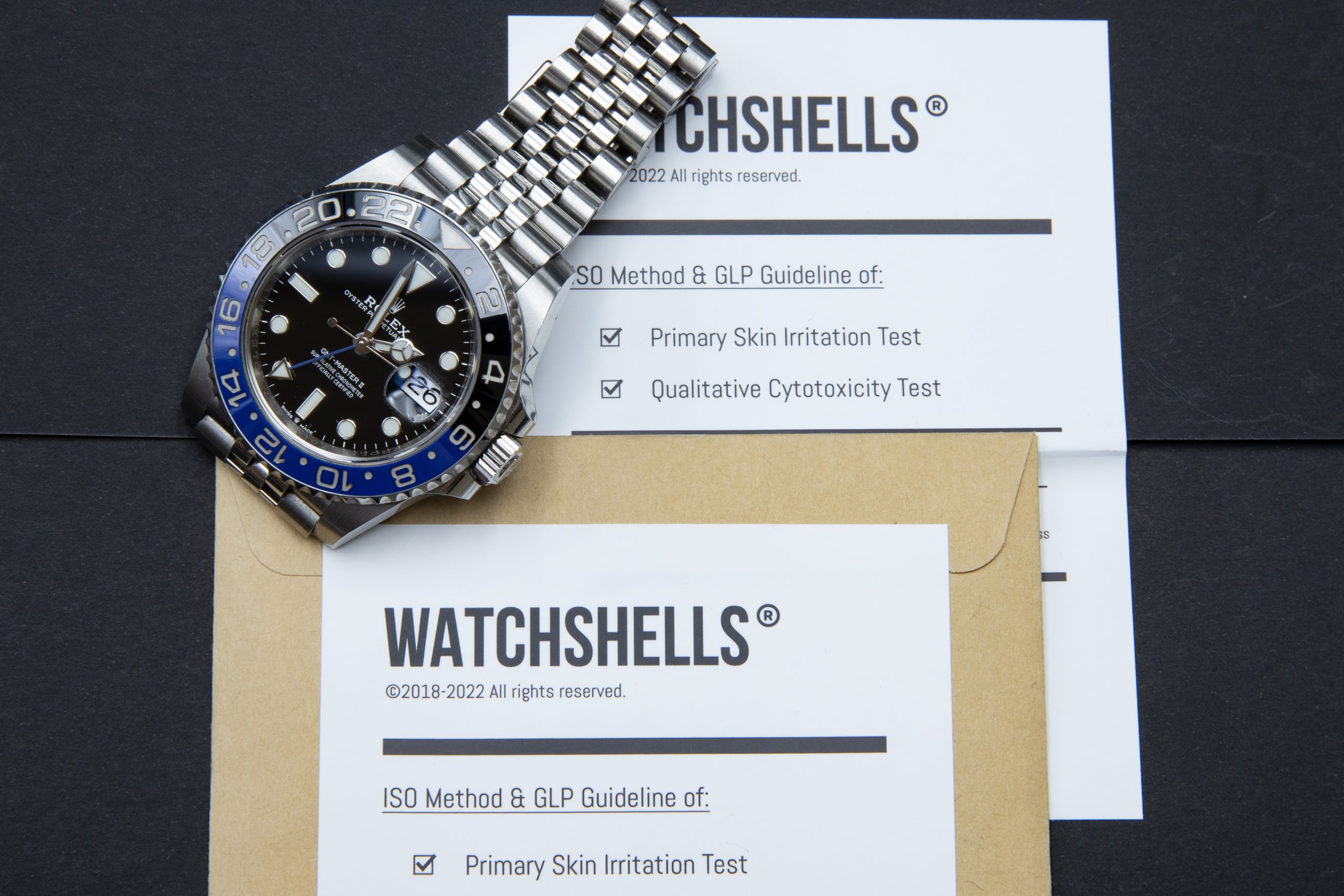 The result of those two years is what you see today. WatchShells are self-applied plastic film protectors for your watch. Their design has been patented, and a laboratory tested their products in New York to ensure they wouldn't react with or cause any problems for your skin. That means you can wear a WatchShells protected timepiece all the time and don't need to worry about any chemicals affecting your wrist.
To test this, the team sent me three packs to apply to a watch, in this case, the Rolex GMT-Master II 126710BLNR from our Long Term Review. It already has scratches, but the hope is that there aren't any more after the WatchShells have been applied.
WatchShells offer three levels of protection for you depending on your budget. The area most likely to be scratched is the clasp which spends its days face down against desks, laptops and other hard things, so WatchShells supplies a "clasp-only" pack which includes two sets of front and side protection. This costs $50 excluding shipping. The next level up is the Standard Pack, which provides clasp protection as well as protection for the case sides and back. This costs $70 before shipping. The Premium Full Package offers the most protection and includes the previous two packs plus protection for the crystal (including a magnifier if the watch has one), bezel, lugs, end links and the inside of the clasp. There are also some spares for you. This costs the most with a pre-shipping price of $95. All watches are sent with tweezers, glass cleaning wipes and a spray bottle.
Applying the WatchShells was easy and therapeutic. I was sent all three packs mentioned above, but I used the premium plus pack on the watch and kept the others for photo use, and as spares, in case I messed up. Thankfully, once I got my eye into it, it was easy to apply the protection to the watch.
The envelopes containing the shells also had an instruction sheet and a QR code to a video which shows you how to apply the WatchShells. All packs come with a glasses cleaner, some tweezers and a spray bottle. It's recommended that you have some purified water, such as de-ionised water, for the spray bottle to help the shell stick better.
Application is easy, but first, you need to clean the watch. I recommend a soft bristled toothbrush and a wooden toothpick, which will be used to gently brush and pick dirt out of nooks and crannies. Next, use the tweezers supplied to peel off the plastic cover from the blue sheet, then spray the sticky side with some water from the spray bottle. Carefully apply to the watch using the tweezers. I found it was useful to have some kitchen roll handy to hold down the piece while it adheres to the watch. You can then work around the watch methodically or apply things willy-nilly until you run out. It's your call. In some ways, it was quite relaxing to sit and just apply some plastic pieces to a watch. I was listening to an interesting podcast called Scotland Yard Confidential, which detailed some of the most interesting and gruesome cases investigated by London's premier policing squad. The time went quickly.
Once you've applied the WatchShells, you need to do your best not to wear the watch for 24 hours at least. I know the temptation can be hard to fight, but it's for a good reason. That 24-hour period will allow the covers to settle in their position, allow the water to evaporate, and adhere correctly. Don't worry if you think there are some imperfections when applying the covers. If you get any big bubbles out, the covers will be fine and look completely different after the waiting period.
I left the watch for three days, which is when I took the photos you see now. I can say from the off that the covers dried well and blended in. You wouldn't notice them unless you know what you're looking for. The WatchShells don't cover the edges of the case, so if you're particularly rough with your watches, you might want to consider this, but they cover most of the surface area. One thing to note is that while WatchShells offers covers for over 200 watch models, the Jubilee bracelet does not have a cover. I know I said applying the plastic pieces was relaxing, but I think it would stretch to tedious very quickly if I had to cover every single part of the bracelet. The documents included with the WatchShells claim they don't leave any residue when being removed, this may or may not be due to the adhesion method using water rather than a sticky glue substance. As far as I could see I agree with this statement, but I'll also be looking in the future to see if time has any effect on this claim.
It's funny having this watch in plastic covers. It's more reflective now and feels different under my fingers. I can't give a full comment on the protection just yet, I think we'll revisit this in a month or two and see how things are. I want to see how the covers perform with some daily wear testing. The guide said these should last a few months, and they've been tested for 1000 hours with a xenon lamp to see whether they fade to yellow (they don't, but we'll see what some sunshine does).
Overall, these WatchShells present an exciting idea. I was aware of using plastic to protect certain parts of watches before, and I even mentioned doing it with sticky tape in my BLNR review. It's nice that there's an option for those who want to use a little more than tape. The application of the product was easy, so now the real test begins.
If you decide to buy the full protection then use the following discount code: A0A487EA0591C