It seems like yesterday that Bulgari broke the thinness record with the Octo Finissimo Ultra, an incredible achievement that unseated Piaget's Altiplano Ultimate Concept. Those watches were 1.8mm and 2mm thick, respectively – impossibly thin. It was just a few months ago in March that Bulgari revealed its record holder to the world, but that record has already fallen. Richard Mille has created the RM UP-01 Ferrari, which not only breaks the thinness record at an insane 1.75mm, but does so with an independent movement not integrated with the case back. It's generally a toy for the billionaire's club at almost USD $2 million, but also a marvel of watchmaking for the rest of us to appreciate.
Unlike the prior two record holders, the overall appearance is rather unconventional (head on, anyway). It has a wide rectangular form with rounded sides (a tonneau shape) and the time aperture is very small in relation to the overall watch face. Hours and minutes sit in a central sub-dial at the top with the exposed balance at right, both protected with sapphire crystals. The watch celebrates a partnership between Richard Mille and Ferrari that started in 2021, so the Italian carmaker's logo is naturally (and prominently) at the bottom.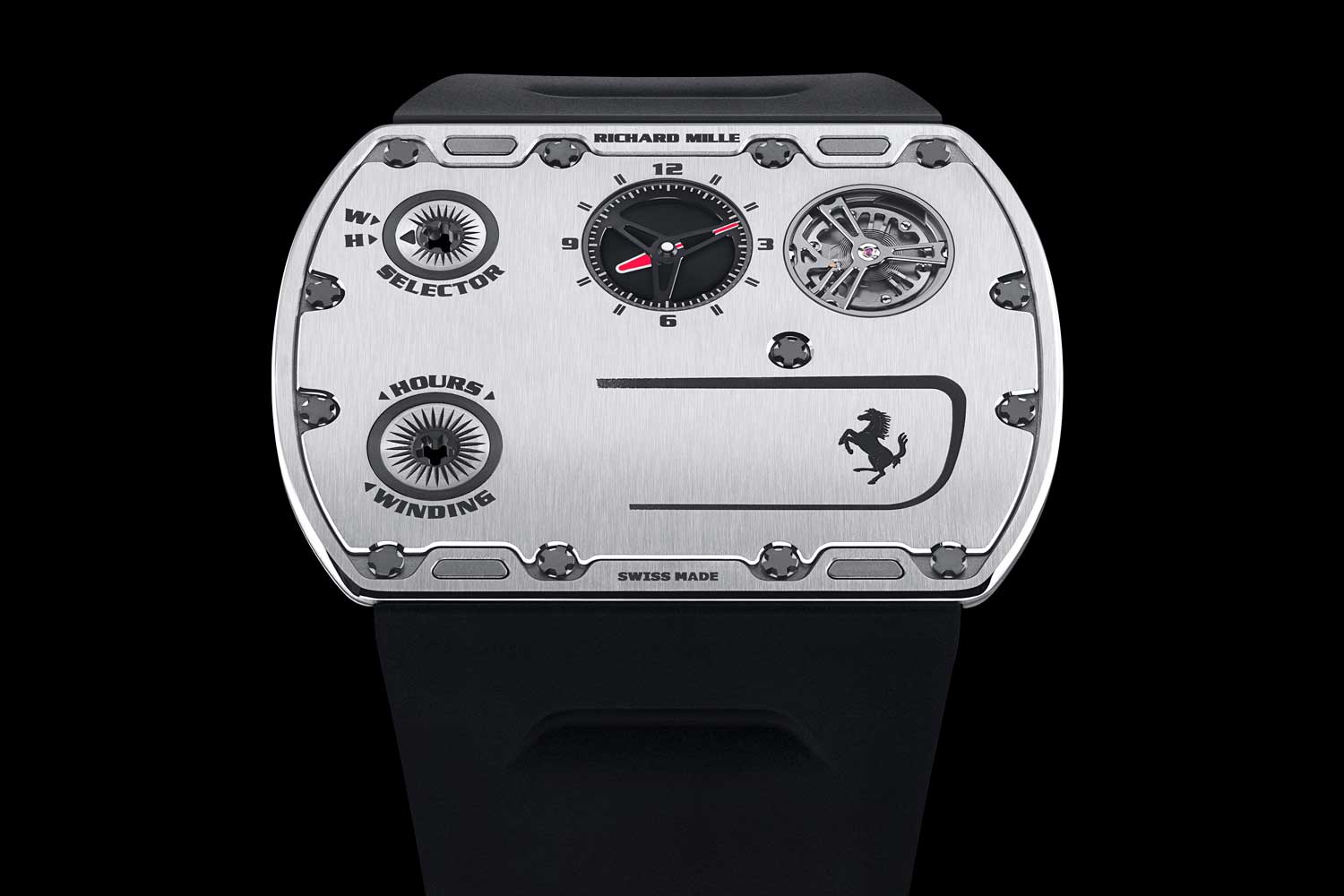 You're not going to fit a crown on a 1.75mm case, so an interesting solution involves two steel "crowns" on the face. At the top left is a switch of sorts that toggles between winding (W) and setting (H), while the winding crown is underneath that also sets the time. Special keys are needed to operate these mechanisms. Both have black ceramic rings to reduce friction and ensure water resistance, which is 10 meters. The case itself is 51mm x 39mm and made from grade 5 titanium for strength.
Unlike Bulgari's and Piaget's approach to designing ultra-thin movements, the case back doesn't act as a baseplate. Richard Mille's 1.18mm hand-wound RM UP-01 caliber is independent like a traditional movement, installed into the case instead of being integrated. The case is held together by 13 spline screws, which also secure the movement. The balance wheel and escapement had to be rethought to make it flat enough.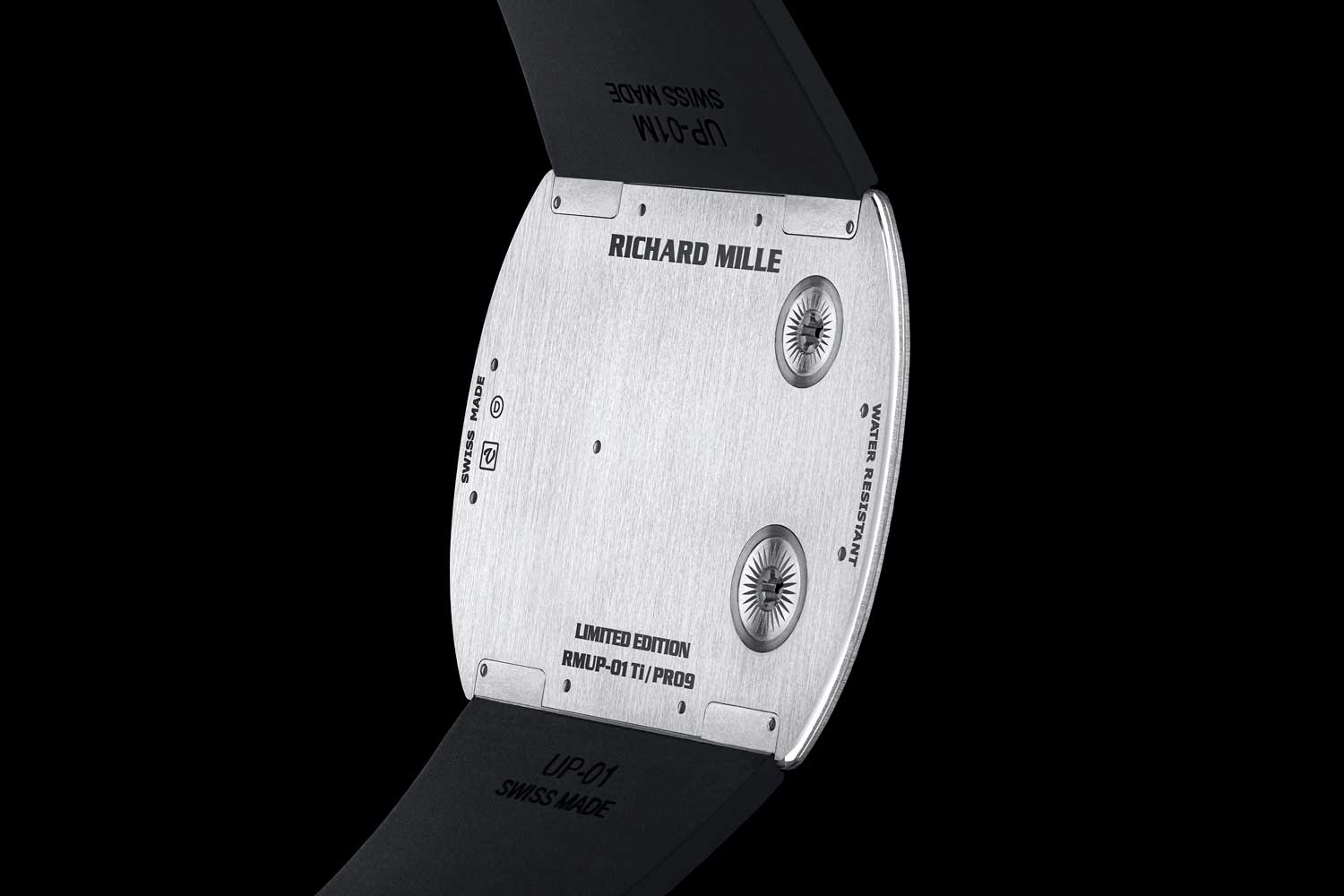 The patented design has a titanium balance wheel and modified anchor fork, and the gear train is arranged horizontally with no stacking. Much of the movement is made from titanium and can resist accelerations of over 5,000 Gs, so the watch is apparently durable enough to wear. The movement is also surprisingly capable for such a slim profile, beating at 4Hz with a 45-hour power reserve. It was design in partnership with Audemars Piguet Renaud & Papi.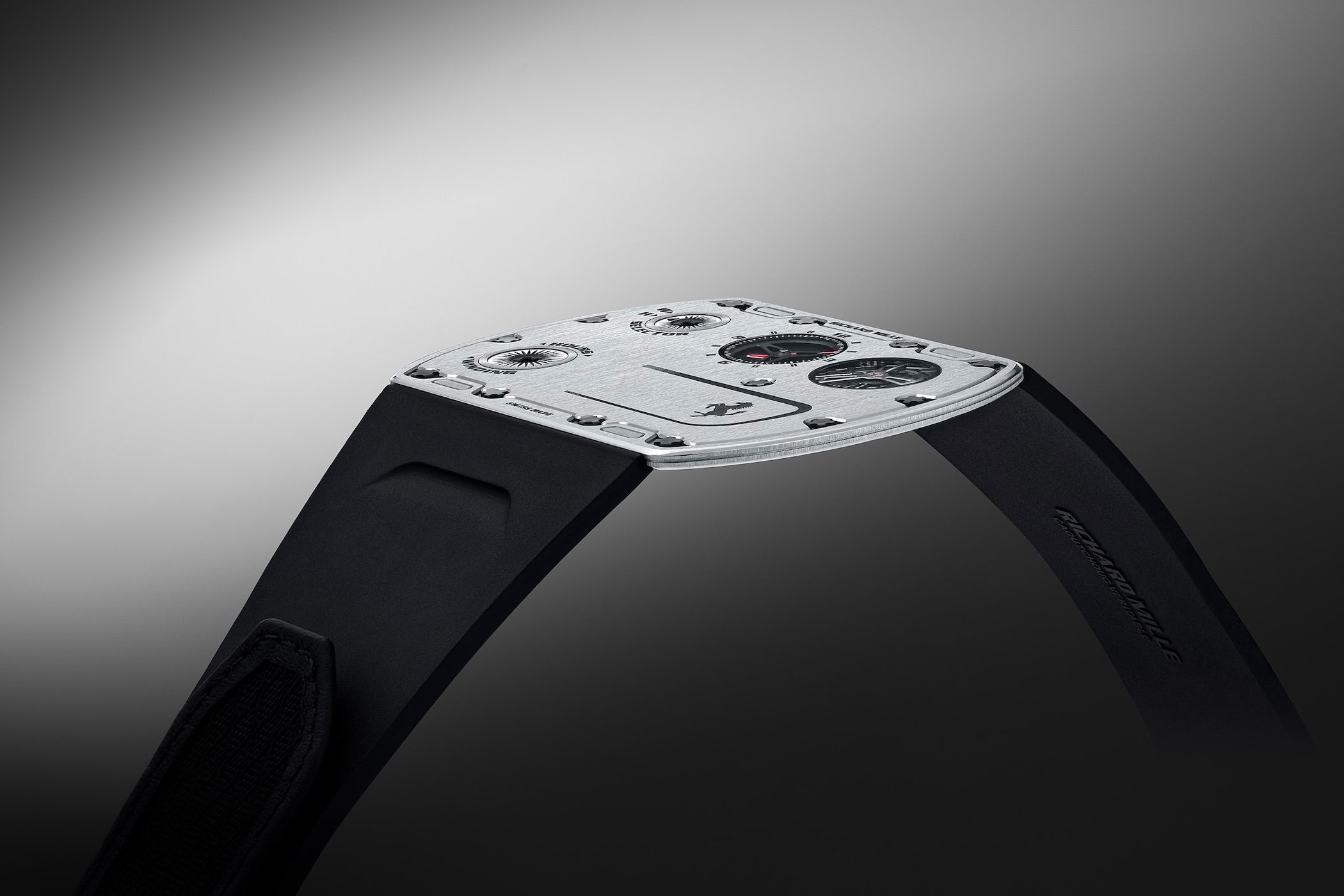 This latest marvel of engineering comes with a marvel of a price tag. CHF 1,700,000/USD 1,888,000. I'd personally buy a nice Ferrari and an airplane, but this is more of a proof of concept and collector's piece than something to wear. Most will be locked up in safes. Although it's limited, there's a surprising amount being produced – 150 pieces. I was guessing more like 5 or 10 pieces. There's no doubt these will sell out quickly to the mega-wealthy, grossing USD 283,200,000 for the company (over a quarter billion).
Visit Richard Mille here.