Music is one of the essential arts humans have developed over their time on this planet. All genres have something to contribute to the ever-expanding tapestry documenting our species (except screamo), so it's only right that other forms of art pay tribute to music. The other arts have documented our musical creativity well, whether it's paintings, sculptures or songs based on other songs. The same can't be said for the art of watchmaking. There have been some musical-themed pieces before, sure, but none quite like these new Royal Oaks from Audemars Piguet.
Five Music Editions are coming out, and they feature some of the things you might not see at a club unless you're backstage. For example, the crown guards have been replaced by the faders you'd see on a mixing desk. The four lug connectors which give the Royal Oak its distinctive flair have been engraved with a clous-de-Paris reminiscent of audio jacks. The most apparent detail, however, is the dial where the tapisserie has been used to recreate the appearance of an equaliser/VU meter display. This effect is different depending on the variant you buy. The titanium and ceramic models all have it painted on the dial, while the gold models use applied coloured gems for a dazzling display.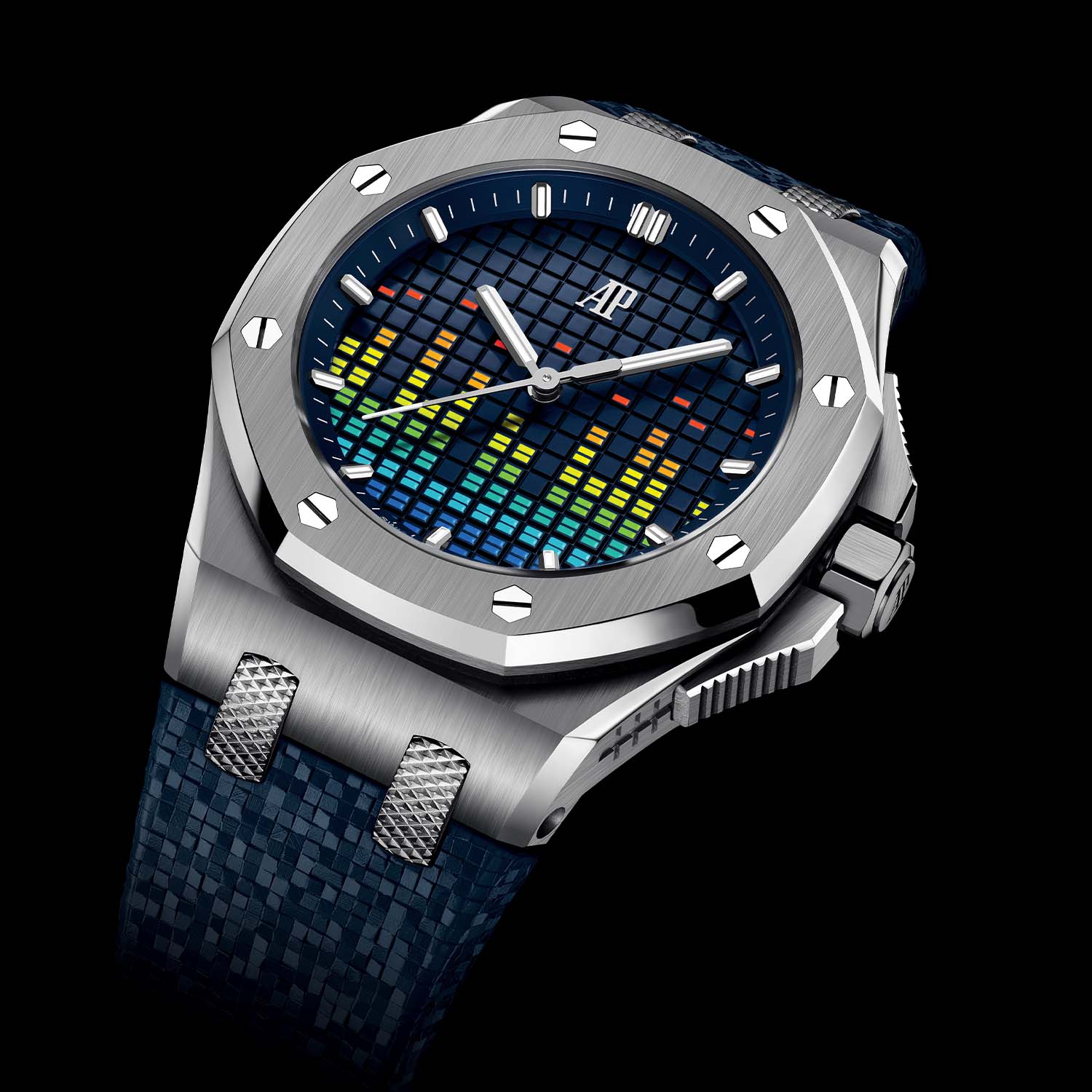 Speaking of the cases, there is a range of choices. Titanium models come in two case sizes: 37mm x 12.1mm or 43mm x 14.4mm. The same is true of the solid white gold models. Meanwhile, the black ceramic watch only comes in 43mm. To further distinguish them, 37mm models come with a "mosaic" effect rubber strap which, when seen in pictures, becomes apparent why it's been named as such.
All models feature the same in-house calibre 4309, which is proudly displayed around the back of the watch. With a 4Hz beat rate and 60-hour power reserve, it's got more than enough juice for any party scene, it'll easily keep going if you end up having your own version of The Hangover.
The white gold models quickly look the best, but with their gem-set dials and bezels, you'd expect that to be the case. They're also going to be the most expensive, but we don't know precisely how expensive as they're POA. We can tell you the prices of the other watches, though. The two titanium models' prices are similar, with the 37mm costing EUR 28,200 and the 43mm costing EUR 30,700; these are limited to 500 examples each. The ceramic model is even pricier at EUR 39,200 and is limited to 250 examples. Strangely, the white gold models aren't limited at all, but I wouldn't expect Audemars Piguet to be making them in a great hurry.
Visit Audemars Piguet here.