If I lived in Family Guy and I had my own horology-focused version of the popular news segment "You know what really grinds my gears", one of the top ones for me would undoubtedly be the people who continuously claim that Hublot's Big Bang watches copy Audemars Piguet's Royal Oak. As soon as anyone puts anything that ever so slightly resembles a screw onto the bezel of a watch, half the world's horology fanbase jumps up and down squealing how they are knocking off the Royal Oak. 
Here are the facts, people, Hublot is a French word which when translated means porthole, that thing you look through on the side of a ship so you can see out. A porthole needs to be waterproof, to stop the salty seawater getting in. Therefore, they usually employ a series of exposed screws and a catch system with a lock to prevent the porthole from leaking or flying open in choppy seas. The Royal Oak was conceived to resemble a porthole, but it's missing the latch system on either side. Patek Philippe's Nautilus also used the porthole as inspiration, except it kept the latch idea and ditched the screws. Hublot, that company named after a porthole, does both. So, if both the Royal Oak and the Big Bang draw their inspiration from a separate entity, is the Big Bang a copy? Rant over.
The Big Bang Meca 10 watch is my favourite model in Hublot's lineup. I love the fact that it's so different from their other models, it genuinely occupies its own space in the range thanks to the unique hand-wound movement, which is on display for all to see. Also, the case seems more proportionate than the flatter Big Bang Unico Chronograph with the strap swapping system (the new Big Bang Integral Unico solves this issue, however).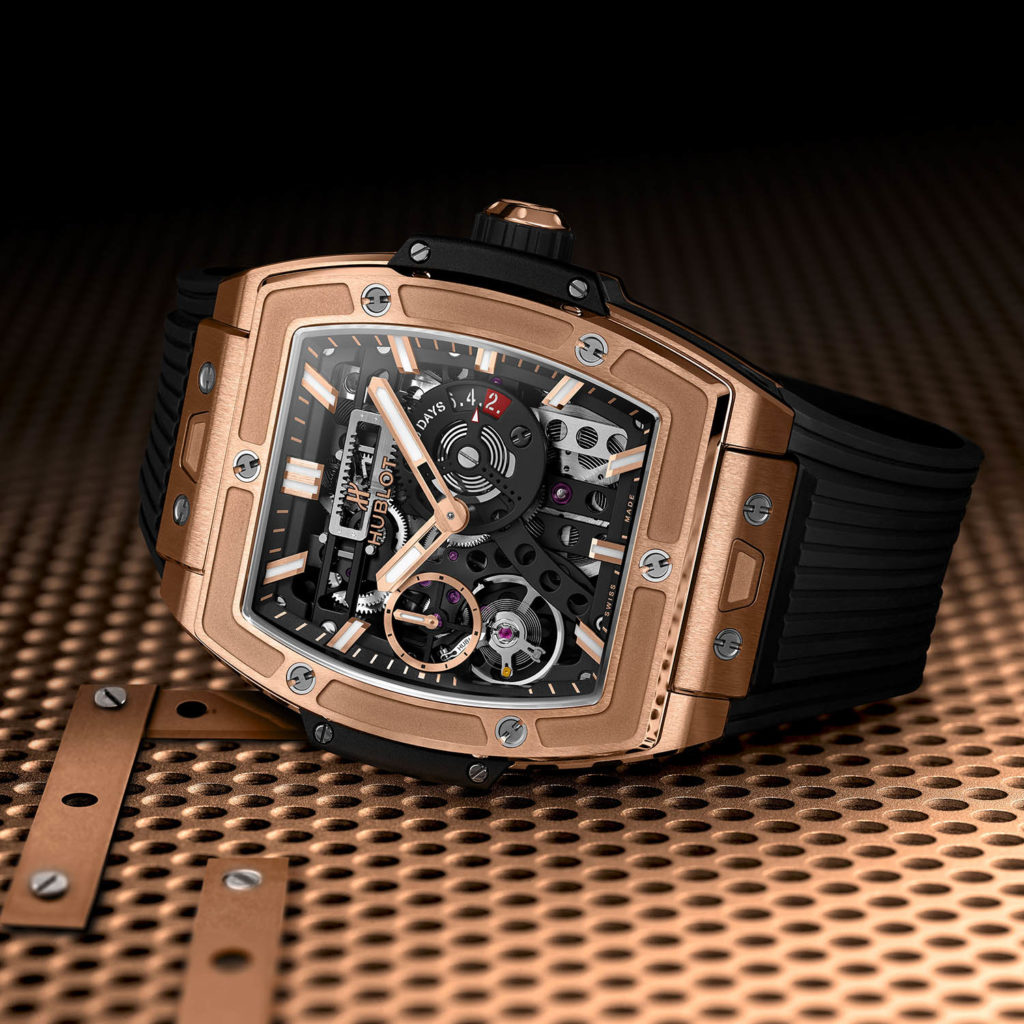 Hublot has offered several variations and coloured materials for the Big Bang Meca 10, but this is the first time we see it in a different case shape. To install the movement in tonneau-shaped Spirit of Big Bang case, it had to be redesigned from the ground up and yet keep the same layout as the round versions. Luckily, Hublot didn't slide down the slippery slope of putting a round movement in a shaped case, they've done it properly.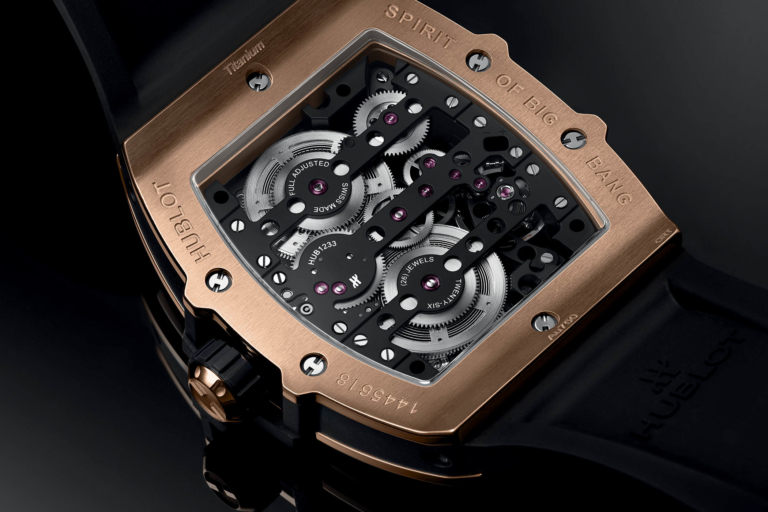 The movement has a 10-day power reserve indicated both by a ring on top of the twin barrels and also by the weird saw-toothed thingy that connects to it. I know there's a technical term, but saw-toothed thingy seems much more appropriate. If you're interested, it's got a beat rate of 3Hz, is made of 228 components and has been designated the calibre HUB1233.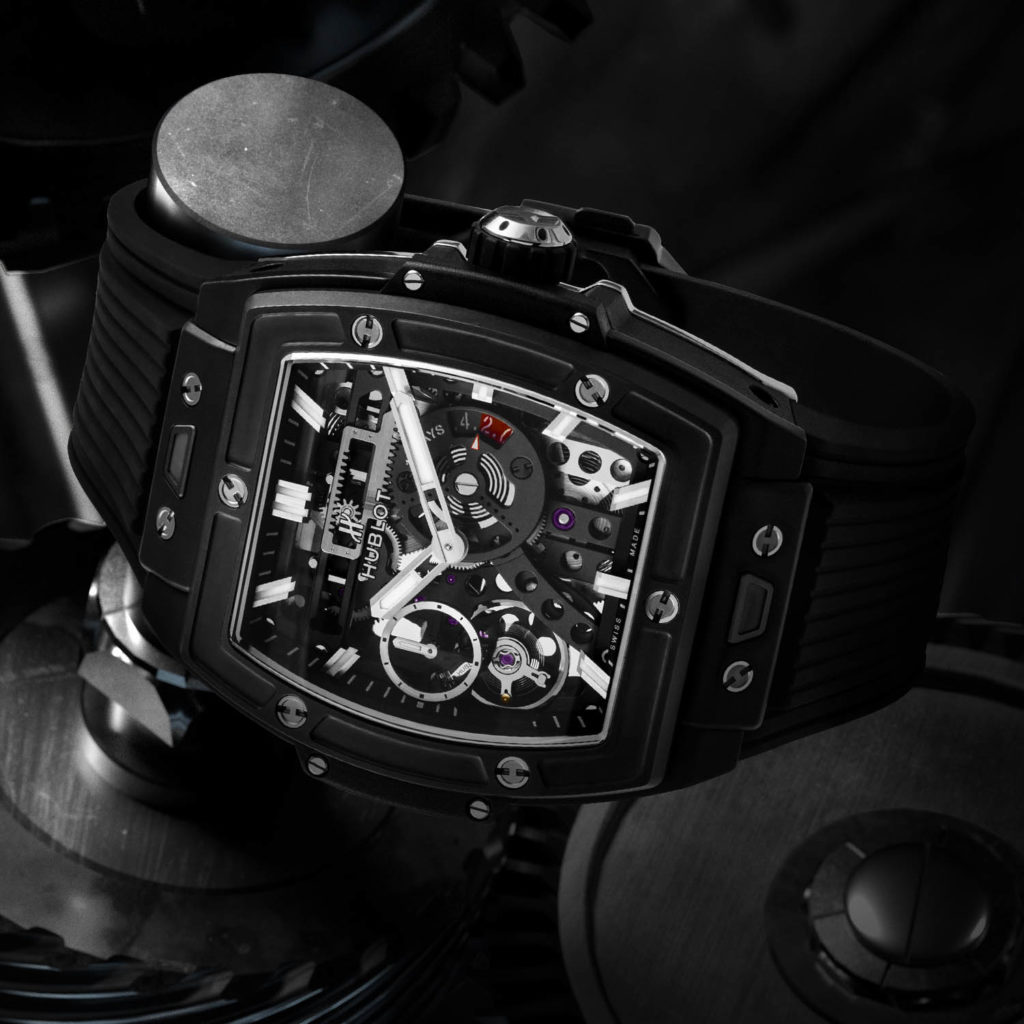 The case measures in at 45mm at the widest point and 14.45mm in height. You have several options including a titanium version (ref 614.NX.1170.RX) which will cost €22,700. There's also a version made of King Gold (ref 614.OX.1180.RX), Hublot's proprietary blend of rose gold which will not fade over time (like Rolex' Everose Gold), that one will cost you €43,500. The final version is the Black Magic version (ref 614.CI.1170.RX). Made of micro-blasted ceramic, this version will set you back €26,900. Does it look like a Richard Mille? It has the same tonneau shape. What do you think?
[button color="black" size="big" alignment="center" rel="follow" openin="newwindow" url="https://www.exquisitetimepieces.com/watch-brands/hublot/spirit-of-big-bang.html"]BUY YOUR HUBLOT HERE[/button]