Only Watch, you might have heard of it. It's the bi-annual charity auction for research into Duchenne Muscular Dystrophy. It would, in some ways, be cool if lots of charity events had things like this from watchmakers, as there are so many different things that need funding for research, the big C being the most prevalent. With that said, it's a long way off, but what we have here is in the present, so let's dive in.
Hublot's stand at Watches & Wonders this year was a hive of activity, with the brand launching over thirty novelties in one go. We covered the watches that are likely to be popular with men because, well, they were more popular with me, but there was a lot of interest in some peculiar flowery watches which piqued my interest.
In 2023 Hublot has been working with Japanese contemporary artist Takashi Murakami. His work on colourful pop art styles is said to be on the level of Andy Warhol and is just as influential in Japan, with his flowers being the most recognisable. I was given some flowery socks at the show and, to be honest, I think they're great.
For Only Watch, Hublot is taking it several steps further from the Murakami Big Bang models that were going around Watches & Wonders with their MP-15 Takashi Murakami Tourbillon Only Watch piece.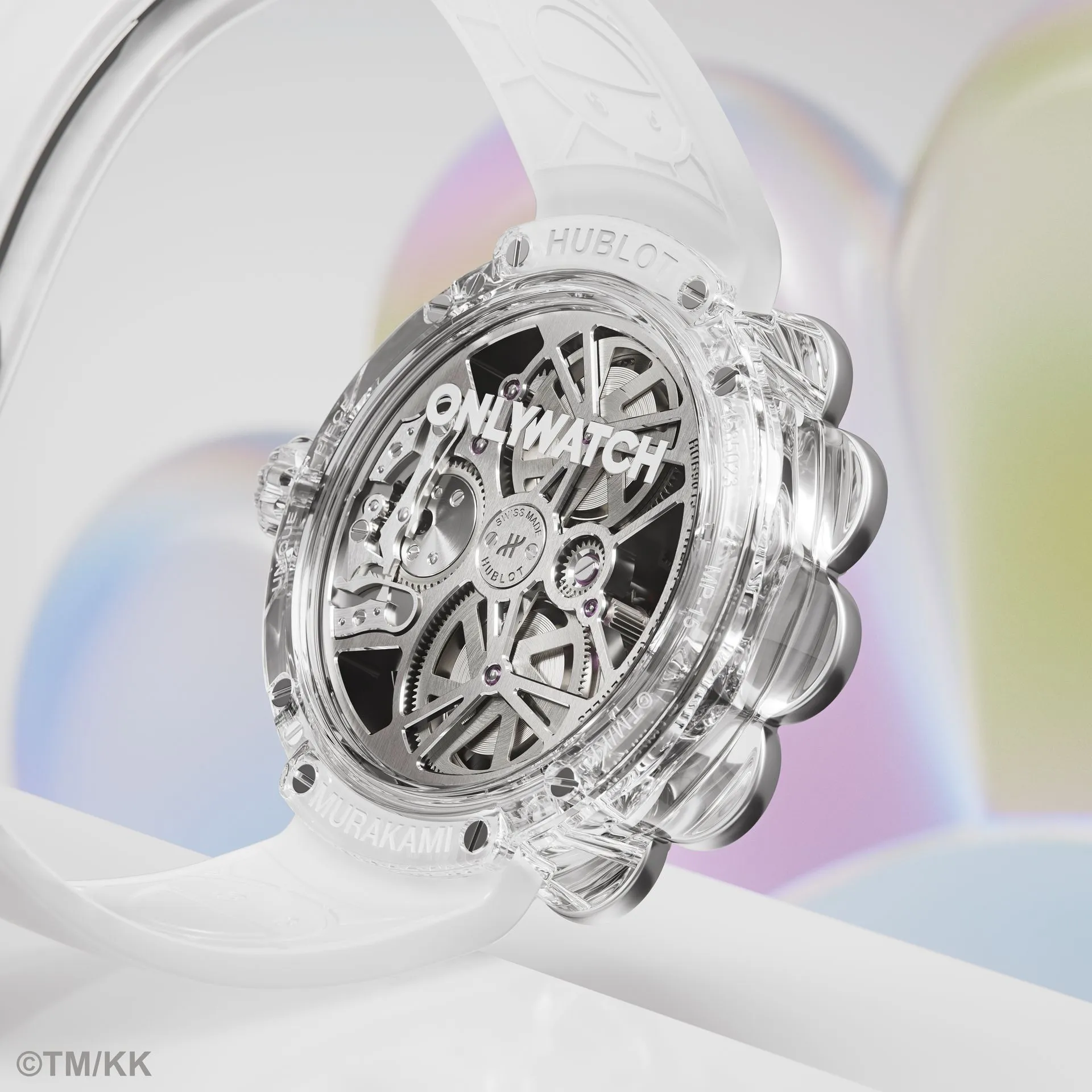 This is the very first time a central tourbillon has been used on a watch from Hublot with a brand new manually-wound HUB9015 calibre at the centre of it all. The movement has an impressive 150 hours of power reserve, wound via the sapphire crystal crown. The time is indicated by two white hands which sit under a sapphire crystal bubble, onto which is the iconic smiling face at the centre of Murakami's most popular design.
Surrounding the face are the flower's petals and there are 444 gemstones set across them in a radiating colour pattern. I would like to draw your attention to the back of the watch where the sapphire crystal flows into each petal. In case you didn't know, sapphire crystals for watches are grown in laboratories and are extremely difficult to work with due to their hardness and their ability to shatter. The fact that Hublot has gotten its crystal into an elegant flower shape speaks to the amount of work that's gone into this one-off. It's beautifully matched to a translucent rubber strap.
The 'experts' reckon this will sell for between 350,000 and 400,000 CHF, but I think a million might not be so outrageous. The buyer will also receive a unique 'Time of Rainbow' sketch by Takashi Murakami which has been done on coffee filter paper.