Those of you that regularly read my reviews will know I am a big fan of HYT and their stunning creations and this, the H1 Cigar, is no different. To quote Vincent Perriard, CEO of HYT, "all our creations are unique and now we will see even more".
For more than 2 years, HYT and its partners have been working together to create a high-tech resin capable of being strong enough to be used on the exposed bezel  but also be able to be altered by adding different elements to it without affecting the reliability or technical properties of the piece. This new high tech resin when moulded can offer countless customisations. We have already seen the H1 Sand Barth with the inclusion of sand from the golden beaches of St Barth, but the H1 Cigar really shows the full potential of this resin by creating a stunning limited edition by incorporated cigar leaves into it to produce a visually stunning piece.
Developed with La Casa Cubana cigar bar in Singapore using leaves from Rodolfo Vitola Cuban cigars caught and seemingly suspended forever in the resin.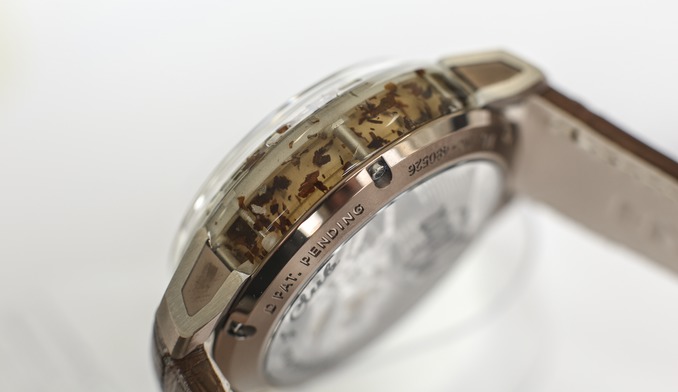 HYT didn't stop with just the bezel being customised, the titanium parts of the case have been treated to create a beautiful brown PVD make over as well giving them a gorgeous soft bronze look perfectly complementing the cigar leafs. The hour ring on the open worked dial has been transformed from silver to warm brown in colour which accentuates the sub-seconds dial even more. The minutes dial is circled in gold proudly displaying the logo of La Casa Cubana bar as well as both the flag of Cuba and Singapore.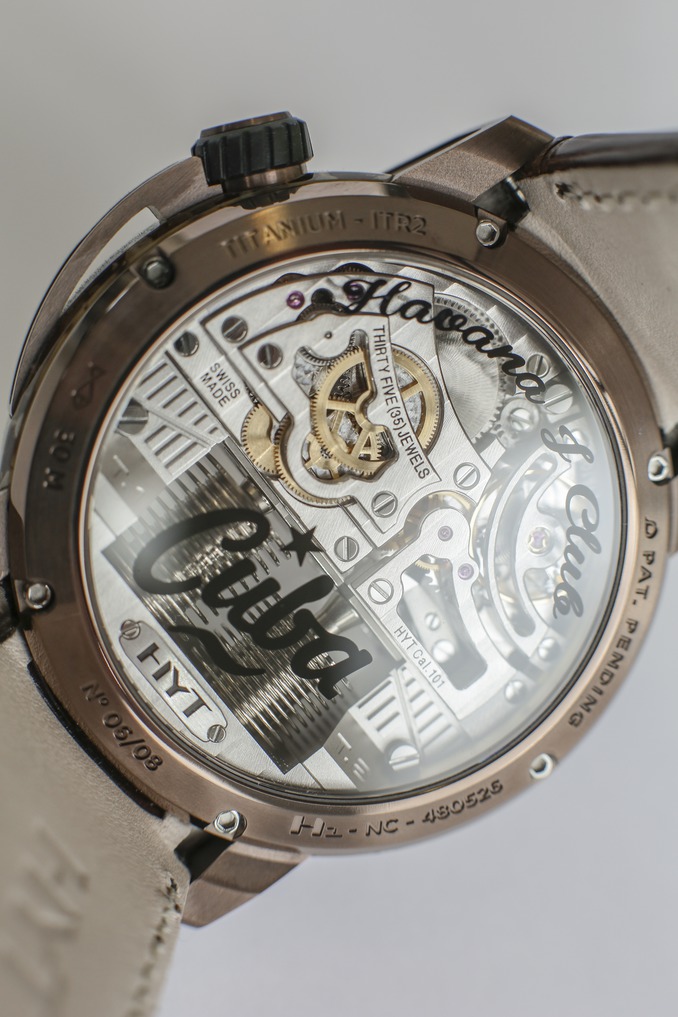 Turning the piece over you are greeted to an exhibition case back showing the superb HYT calibre 101 and those bellows which I could watch for hours. A print on the case back depicts the origin of the cigars.
In true HYT fashion the type of strap has been thought through with a deep brown alligator strap blending perfectly into the bronzed case lugs.
This watch is limited to only 8 pieces worldwide.
Conclusion
I have been a fan of HYT ever since they wowed the horology world back in 2012 with their many coloured liquids and indeed this is no different with its cigar leaves and warm brown colour. HYT now have a brilliant concept and base with their high tech resin to create some truly exciting and unique pieces. I will personally await the next creation but in the meantime will look forward to trying on this exceptional piece at Baselworld in a few weeks time. For more info, please visit hytwatches.com

John Galt – Contributing Editor
John Galt caught the horology bug back in 2010 on his first visit to a London watch show and has snowballed since; John has become an avid writer and blogger of timepieces of all kinds, from everyday timepieces to modern Luxury Haute Horology, his favorite brands being HYT and Greubel Forsey that push the bounders of modern watch-making. John keeps a keen interest in the UK watch scene with their many emerging brands and timepiece's. John Galt currently contributes watch related articles for online publications in the UK and USA. You can follow John on Twitter @johng73 Read his articles here.