I'm sure by now most of you avid readers will know of my admiration for HYT and this new special edition is no different. But what is so special with this I hear you shout? It's just an evolved H1 with different colour scheme! Partly you would be correct as this shares the same movement set up as the H1 with its two-part movement, mechanical and in-house fluid module, so let's see just what is so special about this piece.
The case is 51mm and made from carbon so given it'll size it still feel light on the wrist. With the central and lug parts machined from a single block of super-rigid 3DTPTM carbon with its threads woven to a maximum diameter of 7 microns which means, depending on the view and angle, it will show a straight pattern on the sides and randomly set fibres on the bezel and lugs. There is no dial persé on the H4 as the movement is covered with a sapphire crystal on which HYT print the indications so allowing the wearer to peer into its heart.
Again like the H1 we find their signature twin bellows that push the two liquids round to indicate the hours, with the customary minute dial at 12 O'clock which now has white inscriptions on the dial with the sub-second dial just offsetting it which is covered with the Alinghi racing logo, the sailing team that HYT sponsors. Also, HYT has changed the 12 numeral to red with the dome at 6 O'clock also now in red lacquer. The strap is also new on this special edition which is now a black rubber base with stunning integrated silver sail canvas and red stitching.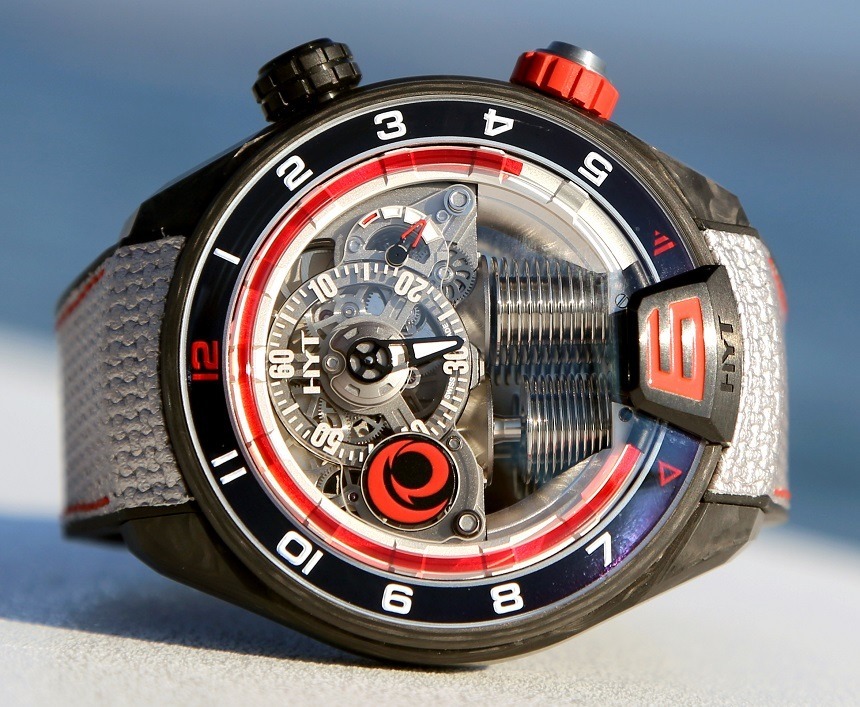 I'm sure by now you have noticed that there is a second crown on this special edition positioned between 4 & 5 which other HYT pieces do not have. But you're looking at the dial trying to work out where the complication is that needs another crown! In a way, the crown is the complication as it is used to charge a small generator hidden between 4 and 5 o'clock when wound is used to power,  for the first time by HYT, a light source and it's spectacular.
Under the dome at 6 O'clock HYT have concealed two minute LEDs which once activated via the crown illuminate the whole dial bathing it with white light for 5 seconds with the red liquid susceptible to it most, making it seem to jump from the dial with its new found energy. The industrial look of the movement also lends itself to the white light perfectly picking out every detail of the movement. You would assume that normally there would a battery involved BUT thankfully no as this is HYT and with HYT normal rules to not apply to them. It is, in fact, mechanical which works much like a dynamo, by rotating the crown it will in turn wind the generator which is then activated by pushing the crown to activate the LEDs. This truly exquisite mechanism has been added to the existing movement but is visible from the dial side.
Inside it is powered by the HYT exclusive calibre with a power reserve of 65 hours.
The HYT H4 Alinghi is limited to only 25 pieces and priced at $99,000.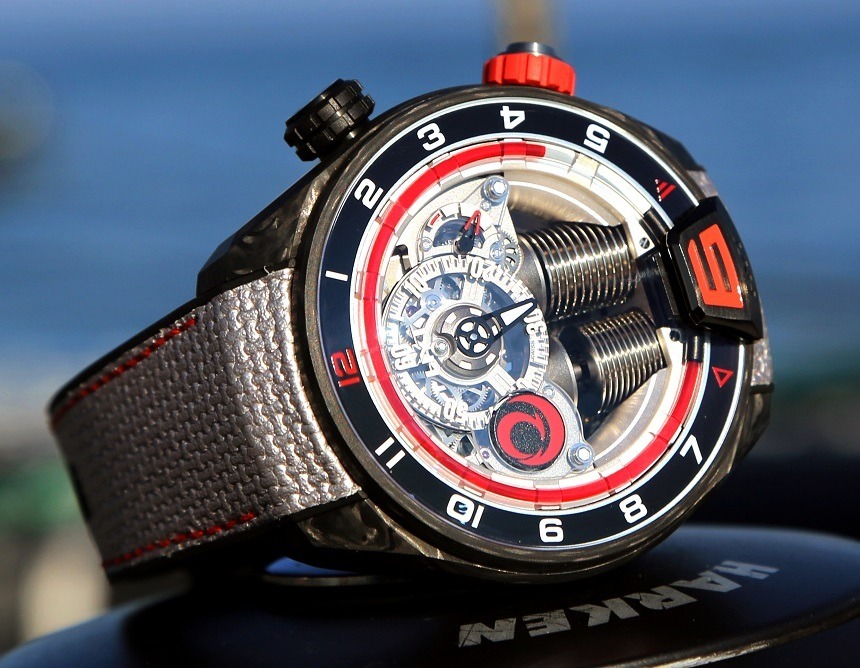 Conclusion
I am a self-confessed HYT fan, I really like their pieces, their "we'll do it our way and not the conventional way" attitude really speaks to me and now they have added a light source to bathe the coloured liquid and make it pop at night, will they use other colours? Only time will tell and HYT being HYT who knows what they will come up with next, so for the time being well-done HYT you have excelled yourselves again as always.
For more info, please visit hytwatches.com
JOHN GALT – CONTRIBUTING EDITOR
John Galt caught the horology bug back in 2010 on his first visit to a London watch show and has snowballed since; John has become an avid writer and blogger of timepieces of all kinds, from everyday timepieces to modern Luxury HauteHorology, his favorite brands being HYT and GreubelForsey that push the boundaries of modern watch-making. John keeps a keen interest in the UK watch scene with their many emerging brands and timepieces. John Galt currently contributes watch related articles for online publications in the UK and USA. You can follow him on Twitter Read his articles here