At this point in time, watchmaking brand Aventi has produced various watch models that are infused with their unique design philosophy and even more unique watchmaking techniques. What differentiates Aventi from traditional watchmaking brands is that once a watch brand has a few hits under their belt, it's not unusual for that brand to get "locked-in" to the ideas of their successful hits. What sets Aventi apart from them is that no creative idea is off limits at Aventi, the creative and innovative ideas are welcomed and worked upon. One word appears to be able to capture the essence of the Aventi design philosophy: innovation. Aventi prides itself on creating everything from scratch and doing so in the most innovative manner possible, therefore one won't find them duplicating what others are doing. This brand philosophy certainly reflects in all of their watches. Last year we introduced Aventi's A13-01 Ghost, then in the April of this year the variation of it in the form of A13-02 Ghost Tyamine®. Talk about innovation, let's take the use of Tyamine® as a case coating, for instance, it's their proprietary amorphous carbon formulation with the purpose of maximum durability in mind and it's not something we've ever seen before in watchmaking. It appears that each new model from Aventi brings new innovations. Now Aventi has just announced their latest offering in the form of Aventi Wraith A15-01 Saphite™ Ice Blue which we'll take a look at below.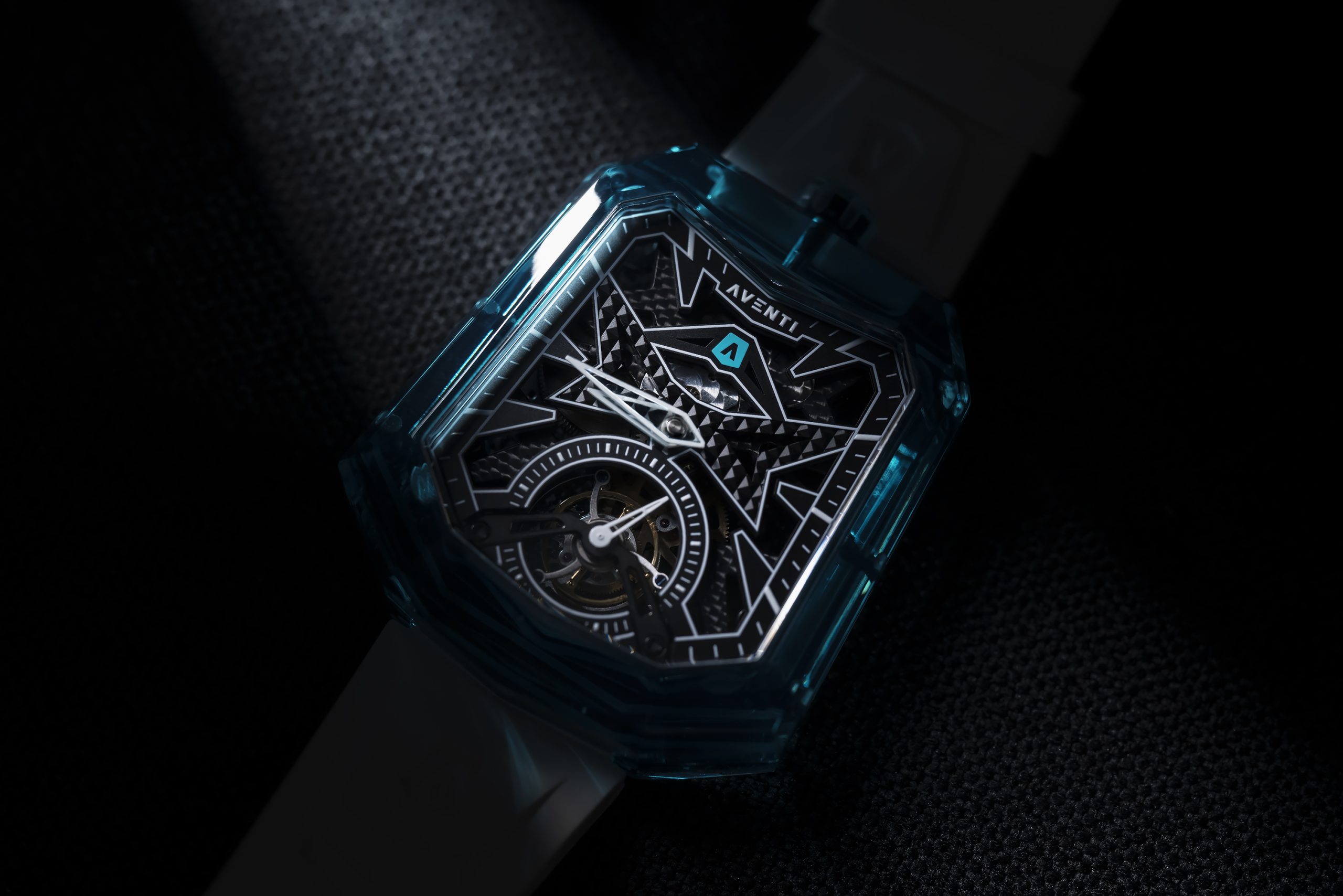 Aventi likes to work with new materials, this much is evident. Just as A13-02 showed us that Tyamine® can be used as a protective coating for a watch, for A15-01 they're showing us that sapphire crystal can also be improved upon for a watch. The case is literally forged from their proprietary sapphire crystal which they call "Saphite™". It is a crystalline structure that is encapsulated in a glassy matrix, which enhances its traits and properties.
While it remains to be tested in long-term real-use scenarios but Aventi has stated that compared to ordinary sapphire glass, Saphite™ is far more scratch and wear-resistant: Another perk of Saphite™ is that compared with the traditional sapphire which has the refractive index of 1.76, Saphite™ has just 1.65, making it much more transparent and less prone to optical deformation. What's more interesting is that Saphite™ can be colored in virtually infinite numbers of hues compared with conventional sapphire crystal; if A15-01's delicate blue color is any indication. Naturally, this hue is only found in tourmalines mined in Brazil's Paraiba region.
The dial, or if I say "watch face" then it's more precise, is a work of finesse and intricate micro-engineering. With an accuracy of up to 0.01 mm, the brass is etched with a guilloche hobnail pattern, and the exterior reliefs are polished and coated in SuperLuminova BGW9. The transparent, thin hands are finished with a rim coated with SuperLuminova BGW9, and are also made entirely with sapphire crystal. Aventi has stated that thousands of hours of research were required to achieve such a result. The 7 layers of anti-reflection to the inner and 7 to the outer surfaces provides a crystal-clear view of the time and the movement.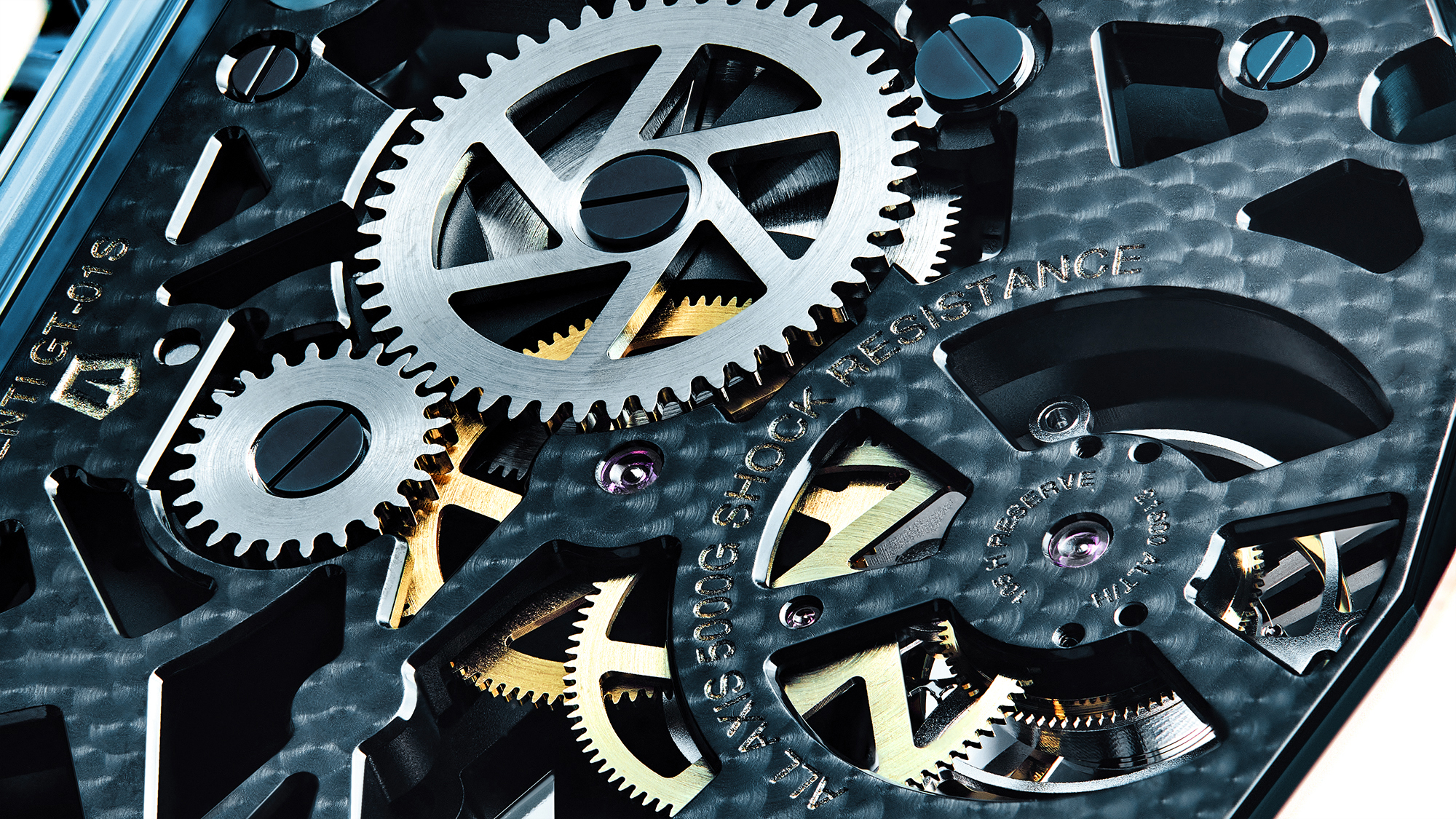 The unique wholly in-house watch needed a tailored movement for it, so Aventi crafted one in the form of GT-01S skeletonized movement with an in-house tourbillon. It is made entirely of Grade 5 black Titanium with carbon coating protecting every element of the calibre. The movement delivers chronometric performance, thanks to the calibration done on every movement by Aventi's master watchmaker Olivier Mory. The movement has superior magnetic resistance of over 2,000 Gauss and shock resistance as much as 5,000 G.
The FKM rubber strap with steel and titanium butterfly clasp buckle is what binds the watch to the user's wrist. With the user's wrist comfort in mind, it's made with a special high-density compound (1,800 kg/m3) and the optimized design provides breathability of the skin.
Aventi's future seems bright, and that future is 'now,' so anyone who appreciates bold and aggressively designed timepieces should keep an eye on this one whenever it's available.