JK: As an artist you realize true masterpieces that only a lucky few can acquire and admire from close quarters and that's the impression I get from you of what you want from Arthur Oskar Stampfli Watches.
How do you imagine these pieces? Do you have any other projects on the go we don't know about yet?
Roland Stampfli: I don't necessarily have a technique to imagine these watches. It's above all an idea at a moment. I'm faced with a blank page and I started to draw and write.
We have a few projects on the go, some of the current range and some of those pieces are still in the study or the state of design stage.
The most recent and notable addition to AOS is the 2021 Riders, with a very special time display on a fairly sporty design.
We are also working on a women's version, smaller, which will be available later this year.
Similarly, while keeping the existing designs, we'll create throughout the year, some limited editions a little more colourful. That's why we have already presented a 1916 blue and also a green one. Also some unique timepieces including dials that are hand painted or hand-engraved. Of course, on the early designs we also used white dials, giving the watch a freshness and allowing the eye to ventilate. But we can work at the request of other colours or with other materials, dependant on the customers own choices.
By going further with 3D printing technology, we are creating a unique piece whom the strap and dial will be printed in stainless steel.
Finally, we will finish the job on the "The Wheels of Time".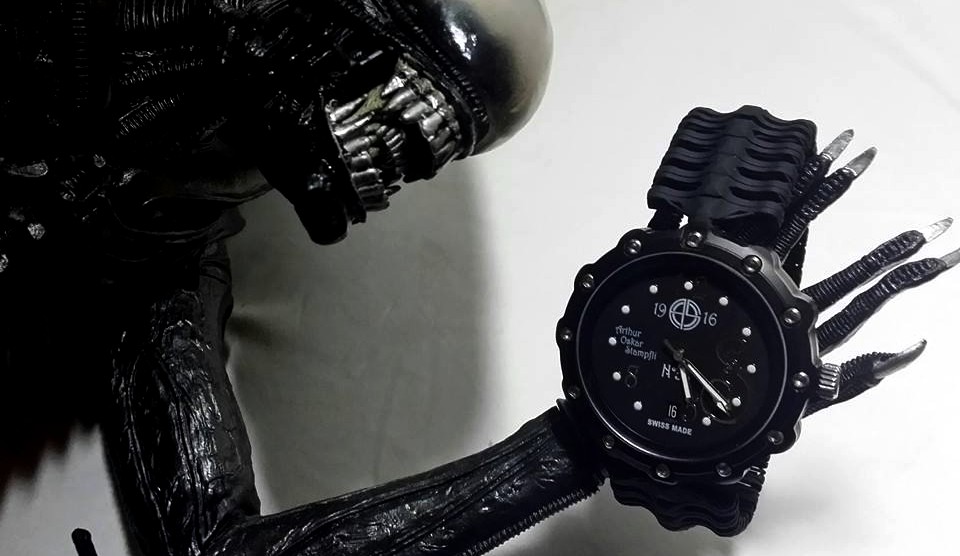 JK: If we just talk about "The Wheels of Time", when will it be available?
Roland Stampfli: These timepieces are currently under subscription and will be produced in a limited edition of only 28 copies each. Prospective purchasers are already aware, so you have to hurry for your chance to wear this timepiece.
JK: Let's talk about the technical side of this timepiece. Could you please describe in a step-by-step format how the mechanics of the Wheels of Time works?
Roland Stampfli: The Movement – RT01 is our first in-house movement. It consists of a Prayer wheel style case with a fully encased Flat Motor Mechanical Movement. Independent moving hour and minute cylinders with single marker/hand for reading of time.
It delivers a power reserve of 40 hours.
It's a flat movement with, reference by angular gears, on the wheels display, from the bridge timer. The wheels are mounted on bearings, with sapphire balls, to minimize friction. The crown is screwed standard winding mechanism. It has two positions, one for winding and one for setting the time. The inventiveness of the movement is located in the additional module for transmission on the wheels.
JK: What will this timepiece offer to people that other watches don't?
Roland Stampfli: All the timepieces in our market offer something special to the owner. Even the more simple watch, the quartz watch… etc.
But in the case of this timepiece, I think this piece offers simplicity at the level of time reading, compared against other major complications… We're launching the first "Time Diffuser", which is a watch complication but with ease of reading in mind. Where the fact of working with an invisible movement that is at the heart of the machine.
Moreover, we chose an original design, an innovative time reading system… something that does not exist in today's watchmaking landscape… So, obviously, this watch offers a novelty, which I will hope appeals to collectors.
And as I said before, this watch will be a limited edition of only 28 pieces per model worldwide. A search of scarcity, for enthusiasts and collectors.
Mentioning also that the timepiece is completely customizable… both in the colours of the case and wheels, inscriptions on the wheels and the materials used.
JK: What are your plans going forward?
Roland Stampfli: Obviously, entering the international market and continue to create product lines which allow people to access high quality at affordable prices. Of course, everything is relative when I use the term "affordable prices". Take into account the uniqueness and also that everything is finished and assembled by hand. Not to mention that the pieces are all 100% Swiss Made.
In addition, we aim to create a women's collection and a jewellery line. Finally, we are looking for high-end distributors which would be ready to embark on the adventure with us. Retailers who seek to have a brand, a collection, completely different from what they usually sell. Today it's quite complicated because you have to see and try our watches to have a good opinion. When you see a picture on internet you can think that they are big and heavy.
But they're not… All the people who tried our timepieces have the same impression. So for us, it's really important today to find retailers and distributors to give a chance to the collectors and to the people who are interested in AOS to try them.
The brand has experienced in recent months an increase in terms of visibility, and now we would like to have visibility worldwide.
AOS has a slogan – "When Time Becomes an event? Your life is like a legend"… So let's do this.
JK: To conclude I'd say that the tribute to your father Arthur Oskar Stampfli is already a success and his image has been succeeded by a brand built from the heart.
Thanks a lot for your time Mr Stampfli.
You can follow the brand on it's Facebook page at facebook.com/AosWatches
For more info, please visit arthuroskarstampfli.com
Pages: 1 2

Jonathan Kopp – Contributing Writer
Jonathan Kopp has an avid enthusiasm for timepieces of all genre, from vintage timepieces to modern Luxury Haute Horology. His preference goes to small and independent high-end watchmakers. He loves the difference rather than classicism, although if he admits to being in love with several ultra-classics pieces. Jonathan was caught by the passion for watchmaking there are almost 6 years. For about 5 years, he wanders in this industry and was Communication-Marketing-PR Consultant for several brands. He has worked for over 2 years as a freelance for the development of the Swiss brand Arthur Oskar Stampfli (AOSWatches). To keep in touch with Jonathan you can follow him on the various social networks: Instagram,Facebook and Twitter. Read his articles here.