What is it about the Manuelle that I like? I think the question you should ask is what don't I like and the answer to that is nothing. I like all of it and here's why.
There are different versions of this watch, one has a red-gold with a black dial, and there's a limited edition platinum version too. But in hindsight that's not what's important about this watch. In fact, even the movement's not that important with this watch.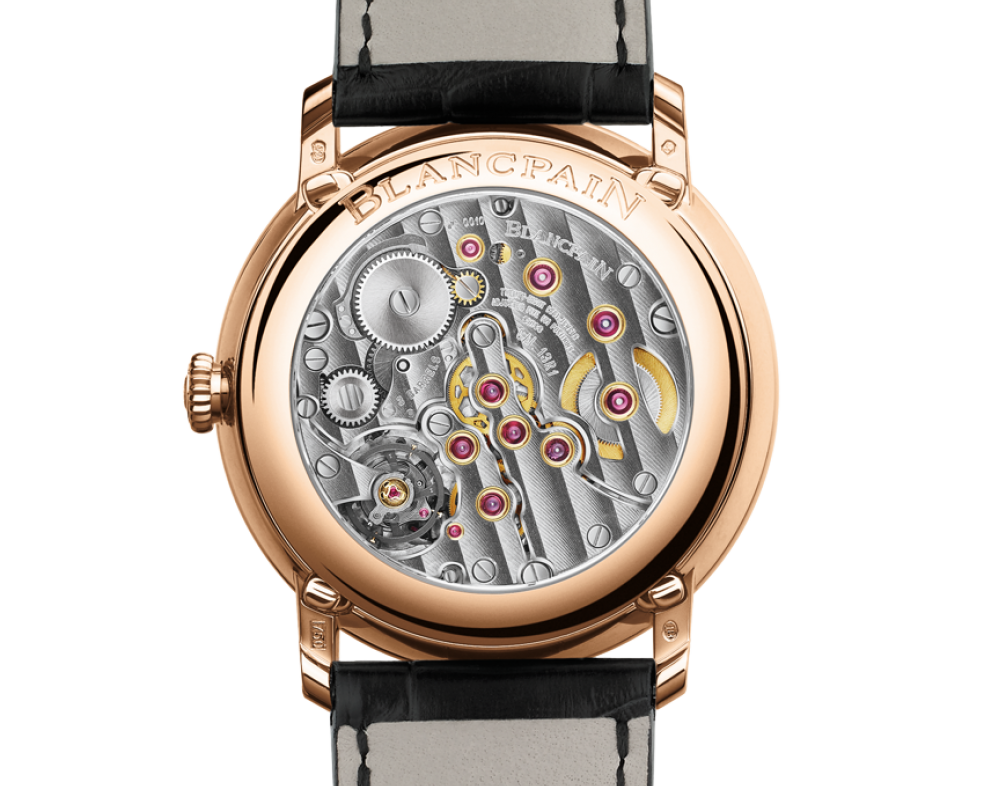 But I'll cover it anyway. The movement is a Calibre 13R1 from Blancpain, it's a manual calibre that in this model utilises a sub-seconds dial, a date window and a power reserve indicator. Unlike the last dress watch I got personal with, the Rolex Cellini, the Blancpain has an open case back. The movement is mostly silvered with a striped appearance, but there's also some lovely gold parts visible and jewels too which really add a dash of colour to the movement. One of my favourite things about both most Lange manual calibre and the Omega Speedmaster Moonwatch calibre (when it's visible) is that they have a certain appearance to them, then they're put on an angle you can clearly see a 3D IMAX sort of thing going on there, but because this movement is using an anchor plate at the back, while it's cut out to see the parts it's not got the lovely depth effect.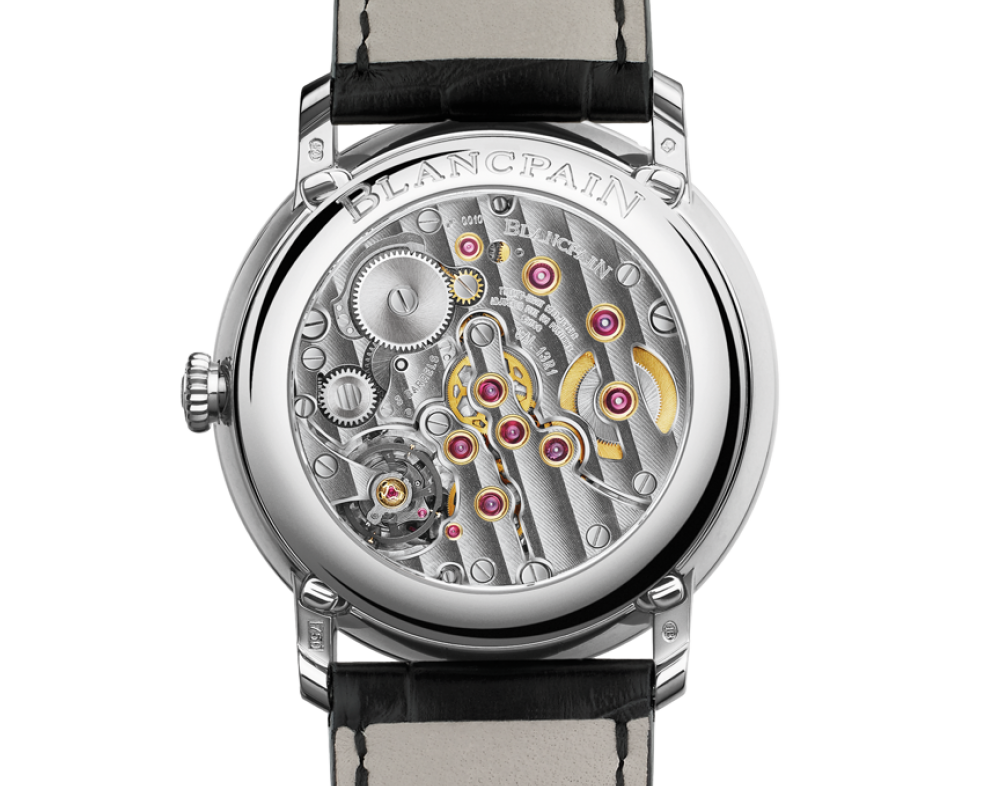 The case and dial of this watch is where it's at right now. Staying with the back, there's a simple Blancpain engraving around the sapphire crystal back. It's a good thing too as it means that you can have it engraved with whatever you like, I'd maybe go for a sort of art deco engraving thing there, art nouveau doesn't suit this piece but you could try it. Like the Blancpain Villeret Pulsomètre the whole watch avoids a term I coined last year, unlike so many modern dress watches the Villeret doesn't suffer from bezelbulging. This means that it's got thin edges to it which maximizes dial real estate.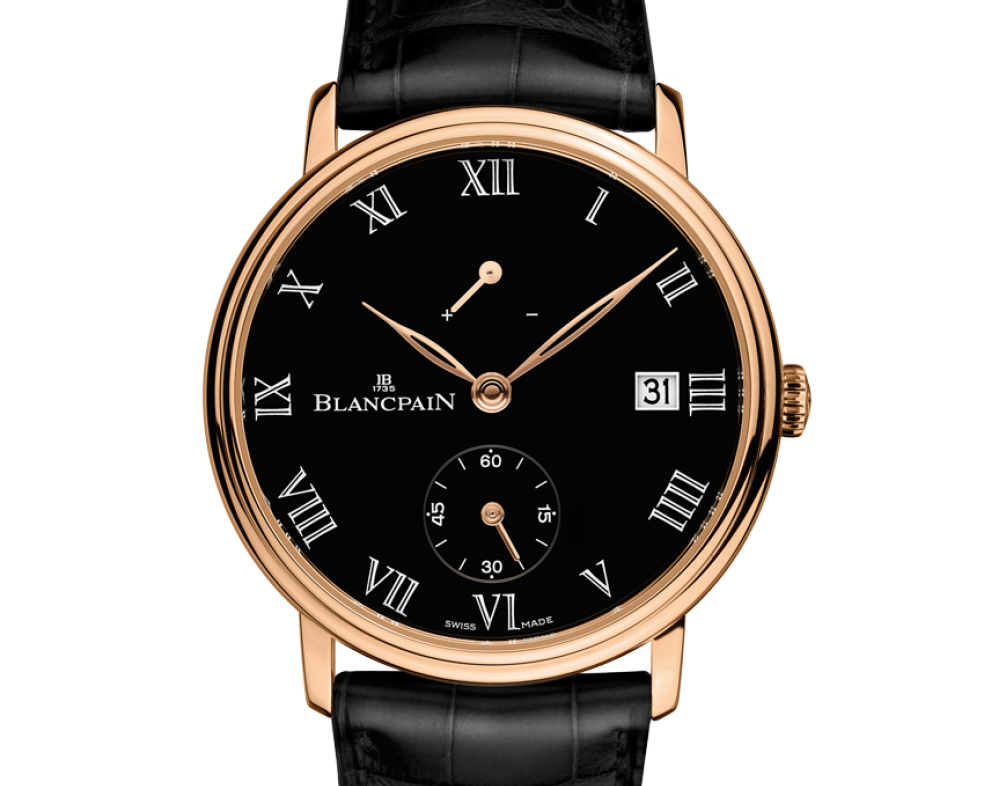 The dial itself has Roman numerals instead of, say, Arabic numerals on it. There's also the sub-seconds dial at 6 O'Clock, the Blancpain logo at 9 O'Clock, the power reserve indicator at 12 O'Clock and a date window at 3 O'Clock. Both the sub-seconds hands and the power reserve indicator have simple stick hands, similar to what you find on a modern Rolls Royce. In fact the whole piece has that sort of air about it, a modern watch (it is 42mm after all) with classical additions to it. These come forward in the form of the hands, which are long and thin with a cut out through the middle, the thin bezel case, the small and thin case lugs and perhaps most noticeably the guards crown.
These touches make the watch a true member of the Villeret collection. What also makes it a member is the 192 hour power reserve, "how does that make it a member?" you ask, unusual complications for a dress watch are so very Blancpain. That's why we love it and that's why in platinum it costs $30,000 new. For more info, please visit blancpain.com
Harlan Chapman-Green – Contributing Writer
First introduced to horology with the Patek Philippe Calibre 89 by his father two years ago, Harlan enjoys his passion for fine horology. He prefers to spend his time in the boutiques of upmarket brands, trying out new pieces constantly. His preferred 3 brands are A. Lange & Söhne, Breguet and Vacheron Constantin. Although not much for the smaller brands, he still finds the complications intriguing and wishes to own one watch from each of his three favourites. Read his articles here.