It's quite fascinating when few watch enthusiasts ventures on the most adventurous scale of business. I am talking about Haldor Watches established in 2013 by a team of watch enthusiasts from Slovenia which had strategically partnered with the big boys in the watchmaking business notably the Swiss, Italians and the Germans. As such, the brand is most notable for its precise and extremely durable watches which of course is mostly seen on a divers watch. So without any further ado, let us welcome the Haldor Abissi which will certainly brighten up your day.
When it comes to professional divers watch we know that reputable companies never compromise or settle for mediocre materials or engineering. They always employ the best in the trade which of course results to an upsize on the price point. Well, my good friends, I think it is about time for a divers watch enthusiast to shaken up the market a little bit. The Haldor Abissi is going to be crowd funded with an interesting pre-order price of 500€. Honestly, that is a value price considering the watch at stake. So for you to understand what really it is that you're vying for, read on.
Haldor Abissi is a non-compromising divers watch. Haldor's portfolio is succinctly punctuated by their remarkable foray into higher-end mechanical engineering techniques. As such you can expect robust and fully functional timepieces. Being a divers watch, Haldor Abissi sports a 45.5 mm marine grade 316L stainless steel case featuring a top of the line unidirectional ceramic bezel made of zirconia (ZrO2) capable of withstanding extreme pressures at 1000 meters deep. The design is definitely handsome with utmost clarity.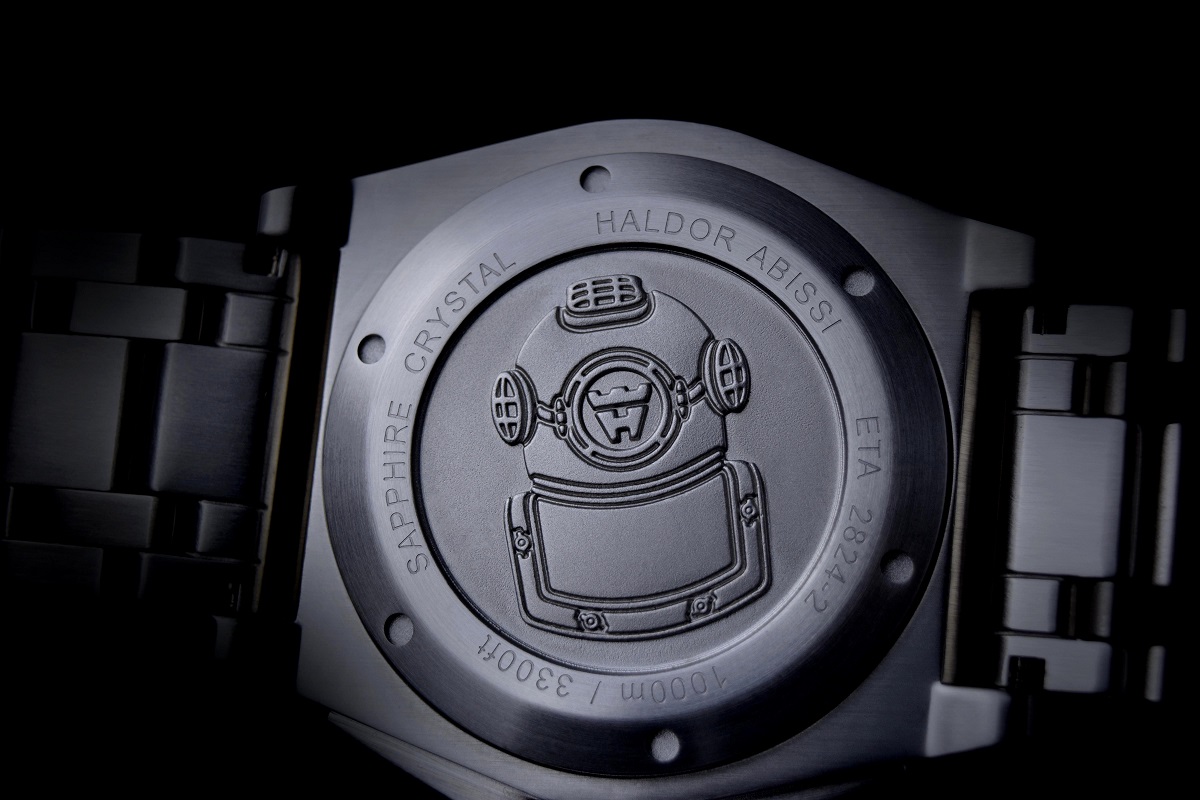 The 7.5 mm screwed down crown compliments the divers watch persona with a high quality embossed logo and although you may not see the movement on its reinforced caseback, you'll be happy to know that it's made that way to survive extreme depths.
The Haldor Abissi's dial is pleasing on the eyes and for professional divers, the clarity is definitely superb underwater. The applied indices and the numerals are large with a coat of Swiss Superluminova C3 for maximum visibility. Plus the red 12h dot on the bezel also signifies urgency and, of course, remarkable precision. The sapphire crystal is also bumped to a higher spec at 4 mm thick featuring an AR coated anti-scratch crystal. The overall watch height is 15.5 mm making it quite thin for a divers watch but the moment you look at its dial, it's definitely a professional divers watch.
Underneath the hood is a top grade Swiss Made ETA 2824–2 movement most notably known for its extreme precision. Based on lab tests conducted on the movement which you can easily search online, by the way since it's quite boring to include here, the movement has a variation of +/–15 seconds/day or an average rate of +/–4 seconds/day.
Well, it is a Swiss movement so nothing new here except the incredible automatic helium valve located at the 9 o'clock position. This gives the Haldor Abissi its professional appeal because it gets activated only when you take it down to greater depths. You won't see the helium particles released from the valve to regulate pressure, but you'll definitely feel it every you gaze at the precise time display. It also comes with stainless steel bracelet sporting massive buckle with security buttons.
Links
JOVAN KRSTEVSKI – FOUNDER, PROPRIETOR & EXECUTIVE EDITOR
Watch collector, aficionado and an Event profile in the Swedish nightlife. He launched Watchgeek back in 2011, which is now known as WristReview and is one of the most widely read watch blogs on the Web. He quotes 'WristReview is a site to help people find, explore, discover and enjoy wristwatches.'  The passion for horology jump started in his early teens when his father bought him an Omega Seamaster which he still has in his collection. Since then he has always been in love with wristwatches! Besides WristReview, he also writes for a number of publications. P.S. He is also a huge fan of The Man of Steel. Read his articles here