With a new brand seeing the light of day on an almost daily basis, the world of microbrands is an exciting space within the Horological universe. On that note, I would like to introduce you to the Italian brand, Myth Watches which is ready to launch its first watch collection on Kickstarter. Featuring dials made from natural gemstones Lapis Lazuli, Malachite, and Tiger eye, Myth Watches aim to offer consumers a unique time-telling experience at a compelling price.
As mentioned above there are three distinct visually exciting gemstone dials on offer. But before we look at them, let's talk a little about what these new Myth Watches have in common. First and foremost is the dial layout. All watches feature a gemstone center that is surrounded by a white chapter ring that houses silver minute and hour indices. Between 4 and 5 is a circular opening that gives way to the balance wheel of the movement. Mounted at the center are uniquely shaped hour and minute hands and the simple stick style seconds hand. Next, we have the case that has been crafted from stainless steel. It measures 42mm in diameter, has a wearable lug to lug distance of around 48mm, and is just 10mm in thickness which should make it slide under a cuff with relative ease. Sitting on top of the case is a fixed bezel which like the dial features a gemstone construction. The case is water-resistant to a meager 30 meters. Finally, we get to the powerhouse behind these watches, the Miyota 90S5. Visible through the exhibition glass, the Miyota 90S5 is a Japanese automatic movement that operates at 4 Hz and offers a respectable autonomy of around 42 hours.
Lapis Lazuli
The deep blue dial with abstract white patterns on this watch has been crafted from Lapis Lazuli, a gemstone that was favored in Ancient Egypt. The hue of blue on this watch is quite vibrant and provides a nice contrast to the brown strap that would accompany this watch.
Malachite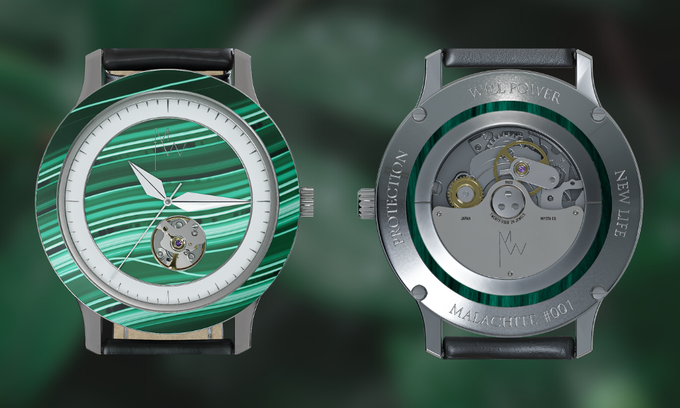 Malachite is a stone that goes back to Aztec culture and was used as a protection against evil spirits. Comprising a vivid emerald green color with a white wave pattern, the Malachite dial on this watch showcases a stunning nature-inspired landscape. This watch would be accompanied by a black leather strap.
Tiger Eye
Emulating the colors of the eyes of a tiger, the Tiger Eye is another stone that is known to have protective qualities. Featuring a yellow base with black stripes the Tiger Stone dial on this watch stands out not only among its two cousins but also otherwise, as yellow dials are still quite rare and uncommon. This watch would once again come mated to a black leather strap.
The new Myth Watches are limited to just 500 pieces per gemstone and would be available to purchase through the brand's Kickstarter campaign starting today. Super early bird pricing starts at USD 299 which would save you USD 127 off the final retail price of USD 426.