Ah, finally, my favourite brand. It's been a while since I've covered a timepiece from this brand, not out of some kind of laziness but merely the wish to not go overboard and full WristReview with Breguet only stuff. Luckily, Breguet has released yet another version of one of my most favourite tourbillon watches. I say one of my most favourite as my real favourite is also a Breguet, the Classique Complications Double Tourbillon. This might be a bit gushy, but nothing resonates with me like Breguet.
Based on my previous experience with this model (namely the excellent 5377), I can guarantee without even touching this model that it will be as unique if not more so. The guilloché dial version of the watch is weighty, substantial and feels like it should be double if not triple the price it is. We love Breguet for the fact that they take an old style which, to be fair, is quite uncommon (neoclassical) and make it seem thoroughly modern, despite using the highly decorative approach.
While modern trends favour less-is-more style minimalism, Breguet goes the opposite way with the more-is-more approach that somehow works every time. The dial of the watch, or rather what's left of it, is undoubtedly the focus here. Gone is the guilloché that Breguet is so known for, and there's no enamel either. The ultra-thin tourbillon is left suspended on its own, accompanied only by a spring barrel and some gears. The entire left side of the dial is gone completely, leaving only a bridge supporting the Breguet plaque in its place. You can just about make out the track that the solid platinum peripheral winding rotor sits on too.
The long, thin and delicate Breguet hands on the watch stand out against the backdrop, something a lot of skeletonised watch designs get wrong. They point to a sapphire disk which has Roman numerals printed on it. Anything that isn't polished or functional has been given a Clous de Paris guilloché treatment, leading to an attractive movement that sparkles under the light.
It's not like this watch is all art and no poke, though. The balance spring, for example, is made of silicone for greater accuracy. It runs at 4Hz, comprises of 325 parts with 33 jewels and has a long power reserve of 80 hours, which you can roughly gauge the status of with the exposed mainspring.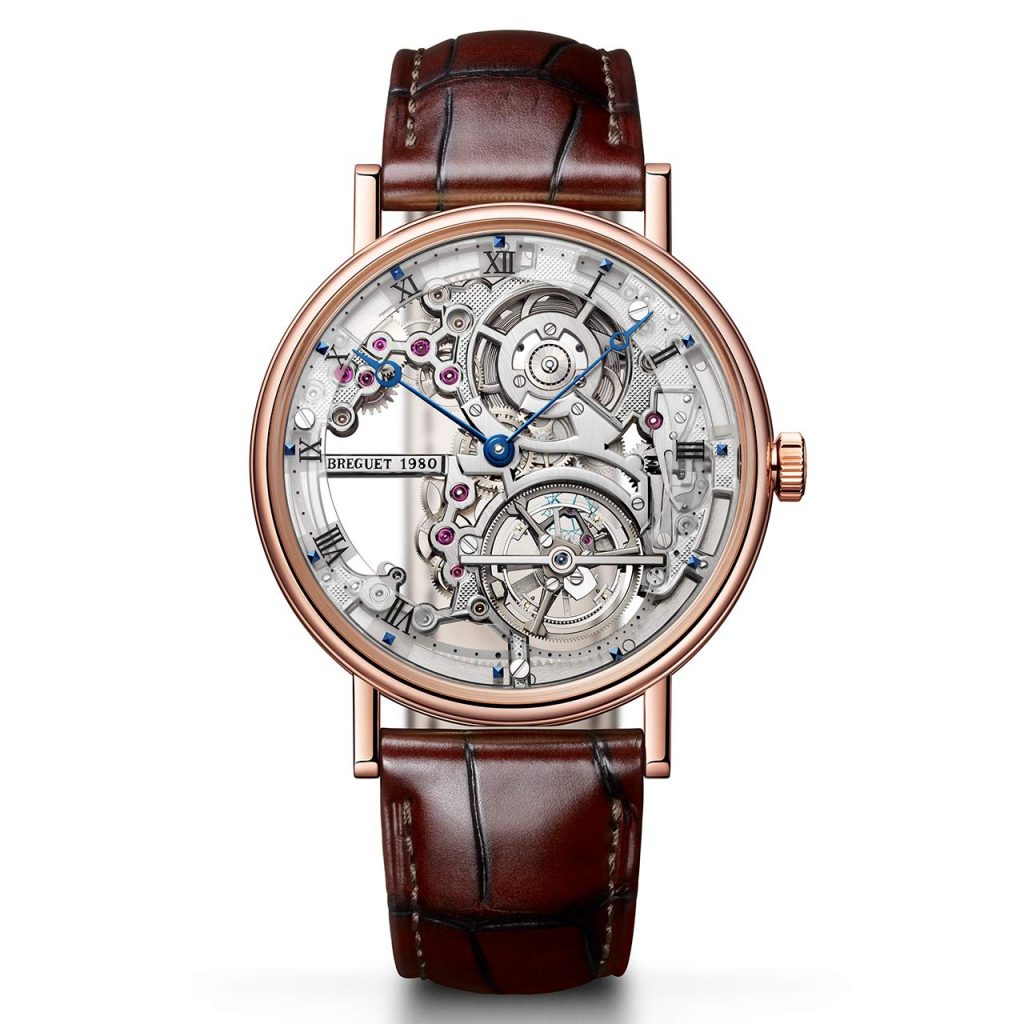 The case is 41mm in diameter but is only 7.7mm thick and, thanks to a beautiful cold-rolled coin edge, appears even slimmer still. It comes in either rose gold, which costs 220,000 Swiss Francs or platinum, which sees the price increase to 235,000 Swiss Francs.
Now and then Breguet likes to make itself a watch which reminds us that the brand is still as relevant today as it was when its namesake was alive. The last time they did this was with the Marine Équation Marchante 5887 watch two years ago (which is also absolutely stunning). While both neoclassicism and Abraham Louis Breguet have long since passed, it seems that they are very much as relevant today as they were in the 18th century.
Visit Breguet here.