For a long time now, Chopard has been steadily increasing its reputation amongst high-end watch enthusiasts with its L.U.C. line of watches, named after the company founder and namesake Louis Ulysse Chopard. In the 20 years, this line of watches has been going its won countless awards and recognition across the globe, but the people working there are very keen to point out that they are still young and have loads to learn. This new unique one-off watch is a symbol of the brand's ever-increasing set of skills, this time it's all about hand engraving.
While you would expect a company like Chopard to make special engraved editions of its watches, competitors like Patek Philippe and A. Lange & Söhne have been known to do it, what you wouldn't perhaps expect a company like Chopard to do is adorn a watch with all kinds of skulls. No, Chopard is not embracing the American culture of Halloween and what that entails, instead, it celebrates the 'Día de Los Muertos', the Day of the Dead. This Mexican celebration marks a national day of remembering and praying for family members who have died, as well as celebrating the cycle of life itself, this year it's being held on Friday the 2nd of November.

One theme of the event which is quite apparent is the skull or 'death mask', which covers most of the dial on this watch. I'll admit, it is a little bit creepy, especially the eyes which are represented by the subdials for the perpetual calendar. That's right, this one off watch isn't some affordable one-off they can make quickly and be done with. No, the watch which this is based around is one of the brand's most complicated models, a perpetual calendar with tourbillon. If you look closely, you can see the tourbillon peeking through the nose hole of the skull, and just below that is the black bridge which holds it in place, Chopard calls it a moustache but I've never actually seen a skeleton with a moustache, so who knows.

Inside the case is the L.U.C. calibre 02.15L which is one of the most complicated and well-decorated movements around. This watch, like so many others from Chopard, has been awarded the prestigious Geneva Seal which guarantees that the components have been exquisitely finished and nothing has been left untouched, though the caseback only reveals some pretty Geneva stripes and the power reserve indicator. For more information on precisely what the Geneva Seal examines, check out our Jargon Buster article on it.

As well as being very well made and decorated, this movement is also very practical. Chopard uses a system of four spring barrels which it calls Quattro to extend the run time of its complicated watches. This one is hand wound, but only needs to be wound up once every nine days! Bear in mind there that although the power reserve indicator only goes up to 8 days, Chopard adds in an extra day just in case. It's also a COSC certified chronometer, too, which verifies its accuracy and is something that Co-President Karl Friedrich Sheufele is very attached to.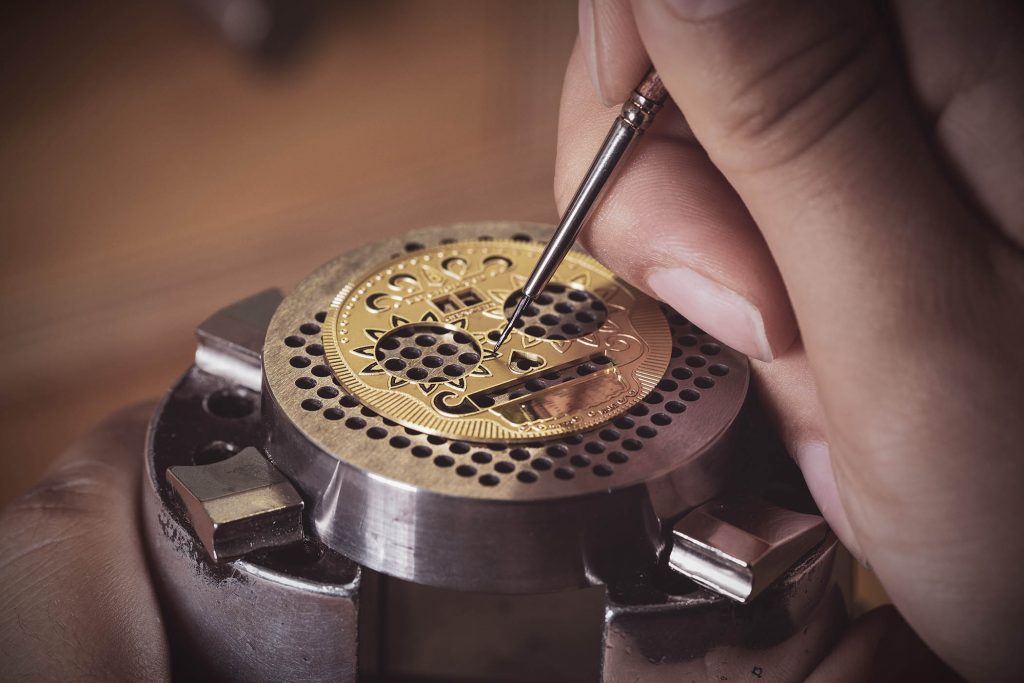 I love this 18k rose gold hand engraved piece. Granted, the Día de Los Muertos theme means very little to me, which can only be expected seeing as I don't live in Mexico. Instead, I'm more appreciative of the hand engraving that covers the dial and case, literally the entire case is engraved with something. I hope Chopard keeps making special one-off editions like this, and I hope that we can get a hands-on with it too, we really tried hard with this one but it sold about 6 minutes after being revealed, so there wasn't much chance anyway. The price? Chopard doesn't necessarily mention it in their press release, but sources claim it to have cost someone 244,500 Swiss Francs. I'd nudge that up to a nice round 245,000 myself. Visit Chopard here.