A true tour de force, Czapek & Cie is a Swiss watchmaker that has been producing some of the world's most interesting and complicated timepieces for the past few years. This year, they have created yet another spectacular watch that exemplifies what this company is all about: sleek, complicated watches that gives the wearer an eyeful. Most recently revealed, we have the newest addition to their second collection: The Place Vendome Tourbillon Suspendu 'Ici Et Ailleurs'. There will be two choices of differently engraved cases, providing a regal look to an already elegant machine.
The Place Vendome Tourbillon Suspedu 'Ici Et Ailleurs' has already been on Czapeks roster since the early part of last year. It was a well-received release, and it also showed us that Czapek was trying more experimental designs that lean towards the futuristic rather than the classical. It was also a very impressive technical feat, with the movement providing a tourbillion, a dual time display, day/night indicator, hour disc, and a power reserve, all while keeping a tidy ratio that is pleasant to look at on the dial. It truly is a magnificent timepiece.
Coming in at 43.5mm, the buyer will have a choice of either Platinum PT90 or 5N Rose Gold. The engravings that grace the cases were done by Michele Rothen Rebetez, a legend that has done work in the past for AP, Vacheron Constantin, and others. The engravings are that of Acanthus leaves, which were prevalent in Roman architecture and design and have been adapted to this modern day example of art. No detail was left undone, with even the pushers having engravings present.
The dial is an impressive layout, to say the least. I cannot think of many more watches that have this amount of complications and yet still manage to give the user a completely legible glance. This watch does just that. The enamel ring has been adorned with Roman numerals to further perpetuate the classic Roman influence that is clearly present here. The hands are a stunning fleur-de-lys blued gold, providing for an extra pop of character while reading the time. Within this ring is the power reserve indicator, which is a thin disk with bar indicators. At the 4:30 position is the home time feature, but Czapek chose to use a lume tipped bridge to be the hand that points to the home time disk. Pretty nifty design if you ask me. Moving down to the six o'clock position you'll find the day/night indicator on a small disc that moves counterclockwise, interestingly enough. Finally, at the 7:30 position, we have the tourbillion itself, another majestic sight. Cradled by a polished upper bridge, this 60-second tourbillion uses a blued screw in lieu of a seconds hand, yet another smart feature that you don't hear about very often.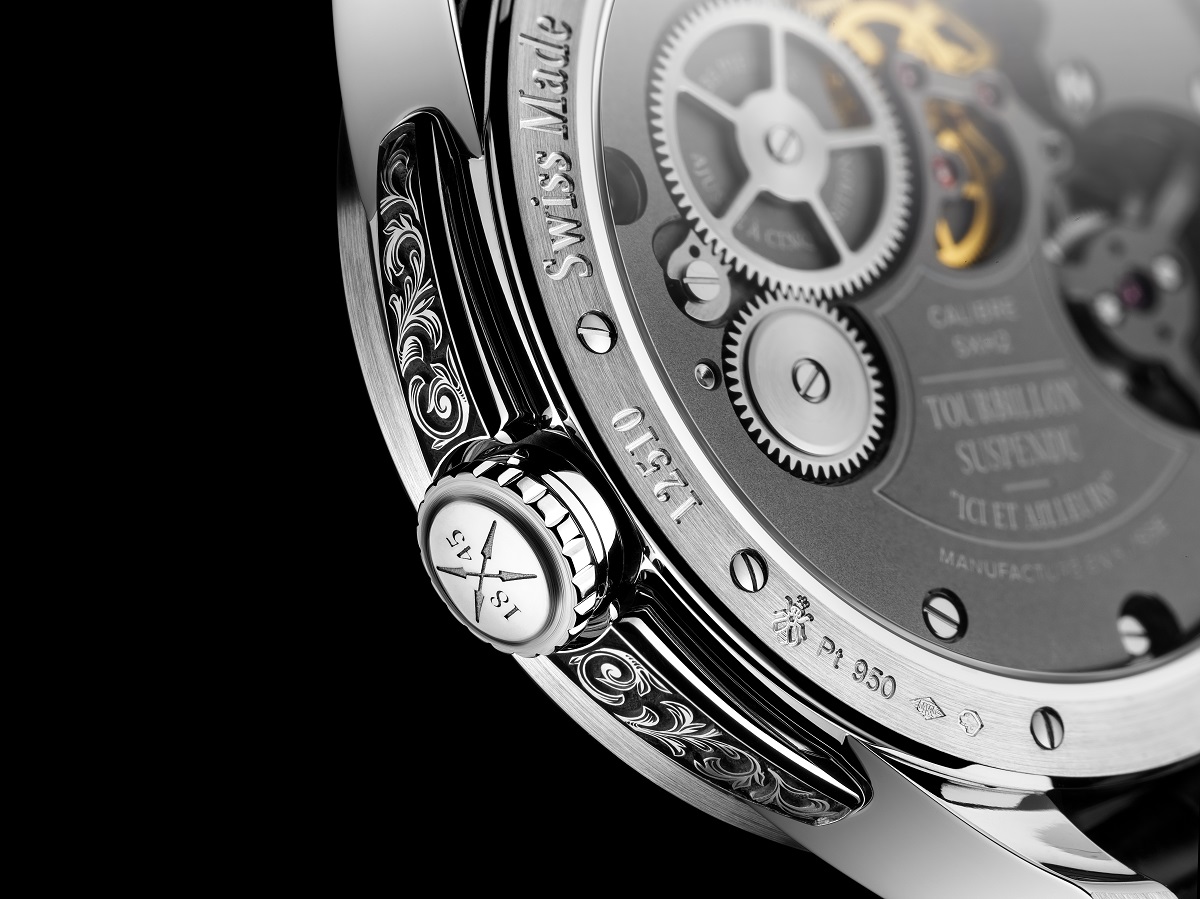 Czapek uses the Caliber SXH2 "Haute Horlogerie" hand-wound movement that was created in a partnership with Chronode. All of the little mechanisms inside are easily viewed thanks to a sapphire caseback. Here you will see the 3Hz movement hum away for 60 hours on a single barrel. That's right, a single barrel!  Almost all of the finishing on the movement has been done by sandblasting, creating a very industrial look. All the edges have been finished with circular beveling, just to bring it all together.
Overall, I would say that Czapek has created something that is quite attractive and made it even more so with the addition of tasteful engravings from a legendary figure of the craft. These will only be available by special order, so if you plan on getting your hands on one of Czapek & Cie's Place Vendome Tourbillon Suspendu 'Ici Et Ailleurs' with Acanthus Leaves, be prepared to set aside 120,000 CHF in the option of platinum, or 107,000 CHF for the rose gold option. Either way, this is a splendid timepiece with so many awe-inspiring features. For more info, visit Czapek & Cie online.