The classic GMT watch is a marvellous thing, simple to use, simple to interpret and dashingly handsome. Also, it's pretty similar in appearance to less complicated watches, so if you want to be better than your watch friends but be subtle about it, you can. New for 2018 is the Bell & Ross BR (life's too short to type that, but you know what I mean), and it looks pretty sexy.
I'll be honest, it's hard not to compare this watch to the original GMT timepiece, the Rolex GMT Master. It's also hard to make a GMT watch that doesn't look similar to the Rolex either, Bell & Ross has kind of got it, but the look of the shoulders reminds me of the GMT as mentioned above Master. Still, it's a handsome watch. I like the eye-catching numbers on the dial, they are massive, curvacious and legible, as well as providing a point of interest. The other aspect of interest? That would be the 24 hour hand, which for convenience has been given an orange broad arrow tip which matches the only additional splash of colour on the timepiece, the GMT writing on the dial.
The bezel is thin and lacking in colour, using a greyscale to indicate day or night. This isn't my favourite feature, but it's not too bad considering. I like the domed sapphire crystal, though, it goes with Bell & Ross' theme of pilot watches and vintage watches, most of which had a domed crystal or plexiglass, creating distinct contrast. The date window has been squeezed in but, as it should be with a watch like this, has not been given any unique styling or an angled slant. In low light conditions, this watch will still be readable thanks to SuperLumiNova coating the hands and the indices on the dial, which is optimal if you want that 'fighter plane' feel.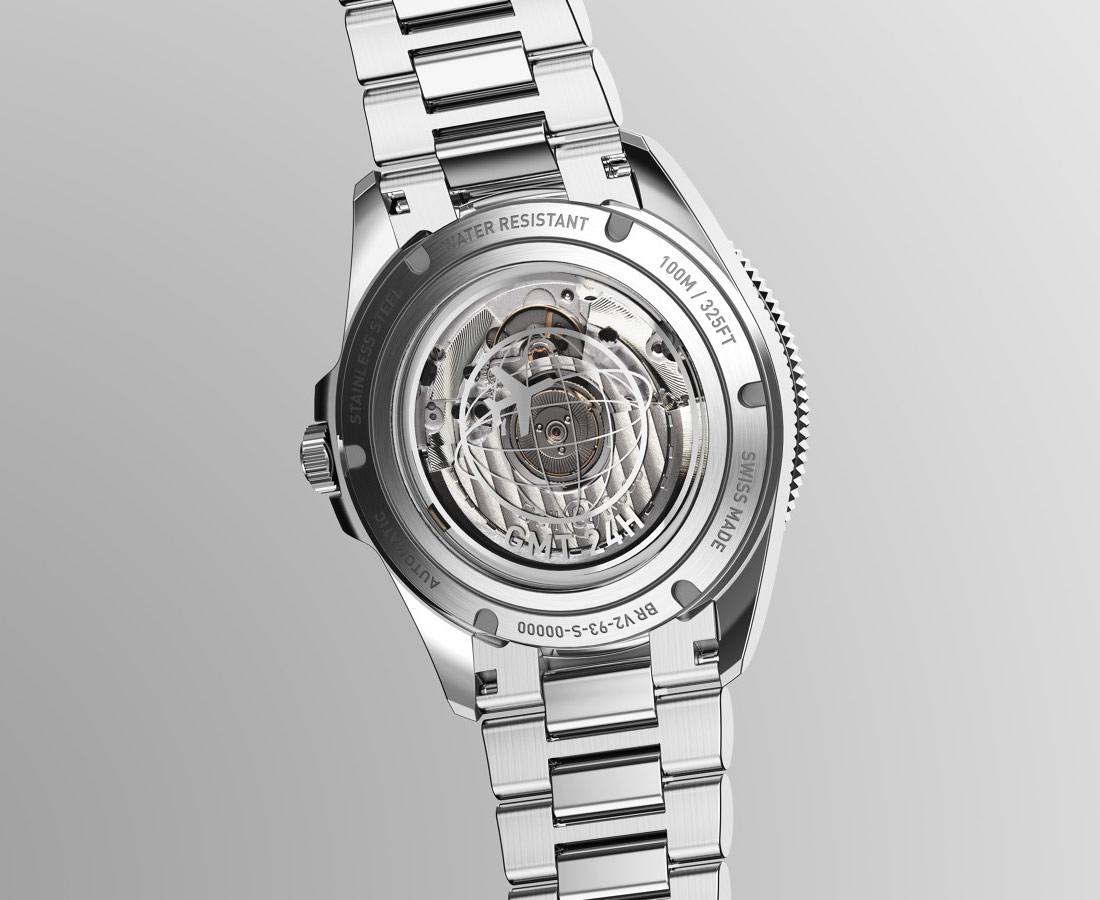 Inside the watch is a modified ETA calibre, the 2893-2 to be precise, which is automatic winding and will last for 42 hours. Usually I dislike it when companies print all over the crystal covering the movement, but in this case, we aren't missing anything. The case ensures this movement will keep on ticking to a depth of 100m. I wish Bell & Ross would introduce more in-house calibres now, they've been around long enough to get to grips with it, if Oris can make decently priced in-house watches then there's hope for others too.
If you want the Bell & Ross on the 'tropic' rubber strap it'll set you back €2900, but if you want it on a lovely looking bracelet (probs to B&R for that), the price increases to €3200. For more info, visit Bell & Ross online.