Grönefeld is one of our favourite non-Swiss makers of haute horlogerie. Hailing from one of Europe's flattest countries with some of its tallest people, the Netherlands, Grönefeld has been delighting us for years with exquisite watches with even more exquisite designs. Until now, the horological brothers have made watches with many complications except chronographs.
Named the 1941 Grönograaf, a play on Grönefeld and Chronograaf (the Dutch word for chronograph), the new watch is gorgeous. I have no qualms about spending the remainder of the article gushing over this thing. In fact, I think I might do just that.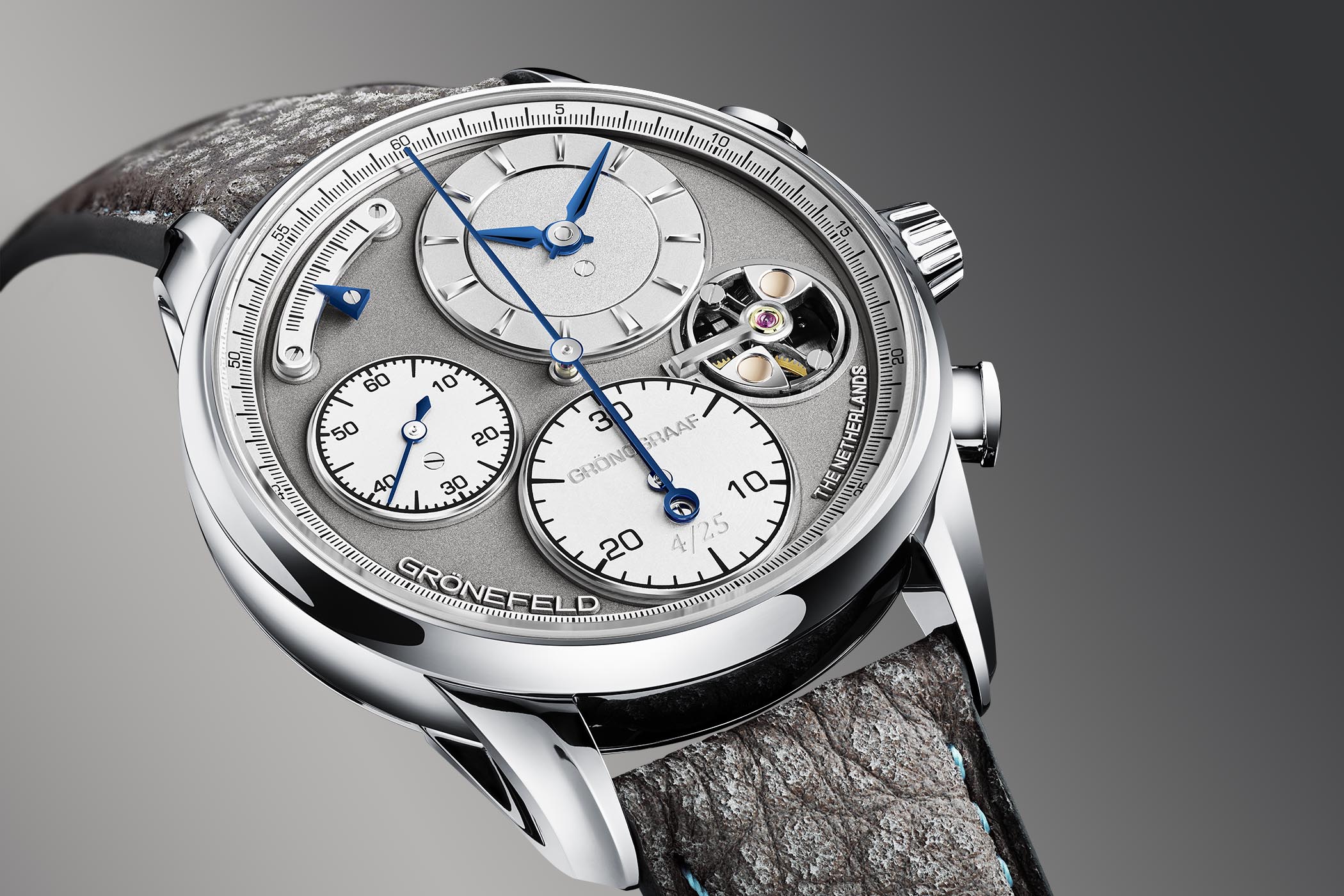 With a case crafted from either stainless steel or tantalum and measuring 40mm x 11.3mm, this watch nails it in terms of sizing. As views go, the dial isn't bad either, with plenty of textures and details to get lost in. The offset time dial is beautiful, as is the running seconds dial. The minutes dial for the 30-minute chronograph is large with clear printing on it, while a long thin Breguet-esque chronograph seconds hand floats above. A power reserve sits where 10 O'clock is typically, and some of the movement peeks through diagonally opposite.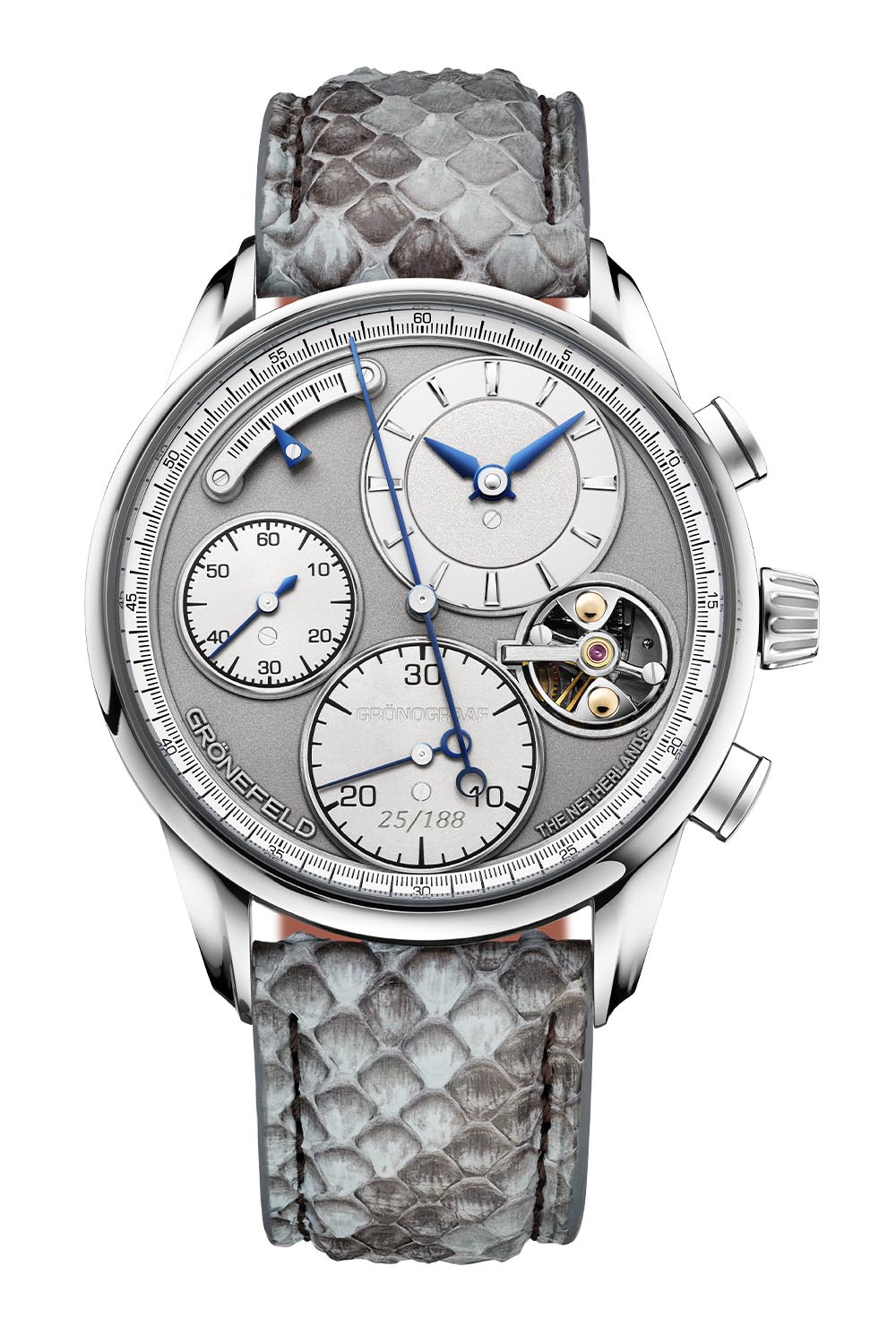 This component is a governor for the chronograph, which in some ways is like nothing we've ever seen before. Governors are traditionally used on chiming and other musical watches. Their function is to provide an even power delivery that is no more or less than required. Grönefeld designed their chronograph with mechanical sympathy in mind. As I've mentioned before, chronographs are incredibly complex despite their mainstream proclivity. The coupling and uncoupling of tiny components is quite a shock to the system and can cause damage over time (this is why you need to have your mechanical watches serviced, people).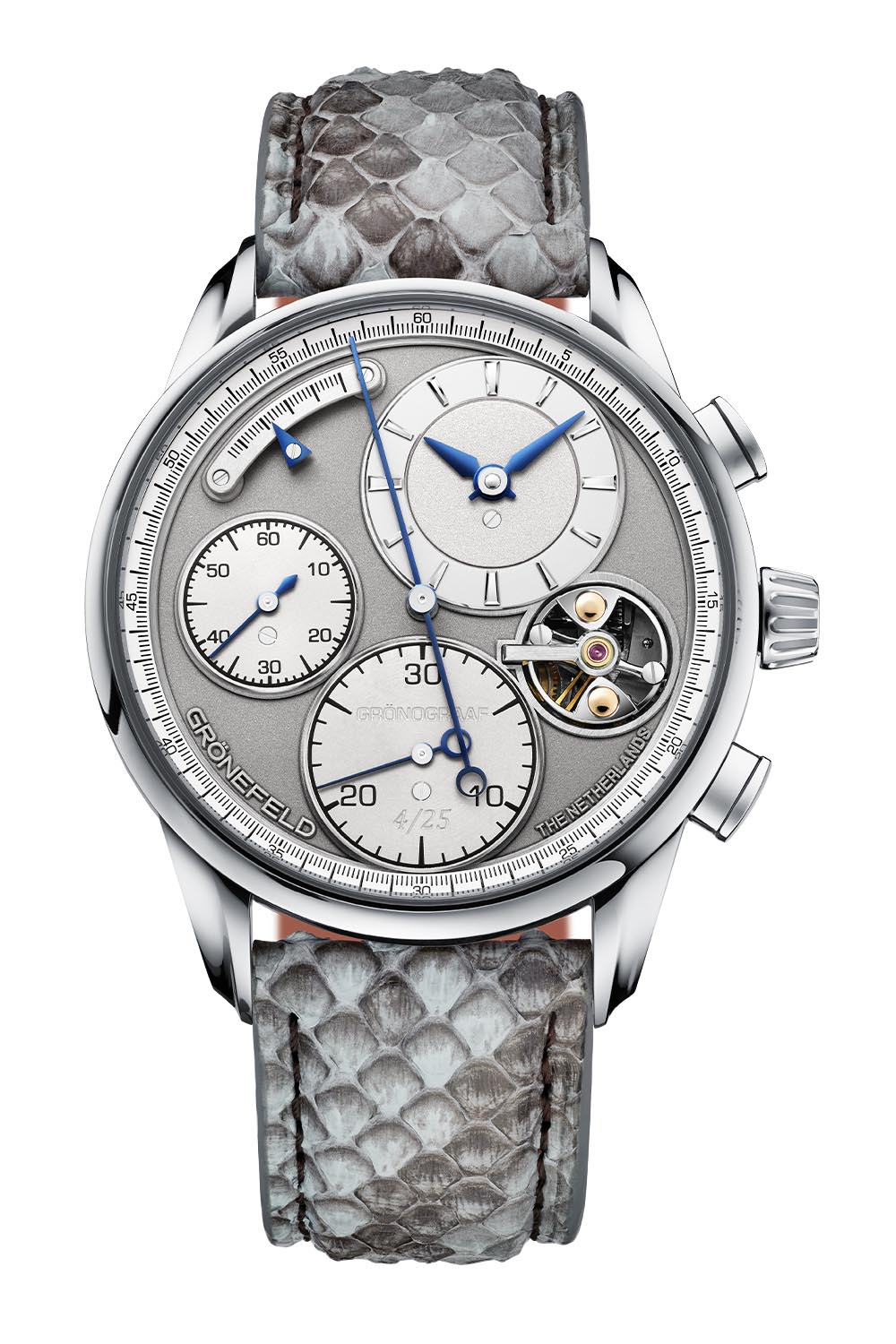 Grönefeld made a few changes to the chronograph design which should remove these issues. For starters, rubies have been used on the hammers that operate when the chronograph is reset, significantly reducing wear from the hammers impacting their targets. Then there's the governor on the dial. With two solid gold weights, the governor gives the chronograph a soft reset. Resetting the chronograph engages the governor, due to its extra mass it can't stop instantaneously like a featherweight seconds hand can. As the governor loses energy, it slows down. This means the hands and components in the movement reset gently rather than slamming against each other, which theoretically removes the wear caused by resetting the watch. I wonder if they measured how much energy the governor used?
Alongside this governor system is an instantaneously jumping minutes display for extra pizazz. The minute and seconds hands will jump forwards or backwards when reset for some wow factor. The calibre G-04 runs at 3Hz for a total of 53 hours, it's also hand-wound, but you could probably guess that from looking at that glorious movement. If you were distracted by the appearance, I wouldn't blame you for not noticing that. The movement has a column wheel for better interactions with the components inside but also has a lateral clutch, it offers no performance improvement over a vertical clutch, but it is better looking.
The strap you see in the photos, with its crazy colour and pattern, is just one example of the nearly countless straps Grönefeld can make for you.
Grönefeld will make 188 stainless steel examples costing €155,000. The tantalum version costs more at €165,000 and is limited to 25 examples of which all are spoken for. The high price reflects the exclusive nature and the value of the work put into designing and crafting these watches, they're truly near the top of Haute Horlogerie.
Visit Grönefeld here.