Earlier this year we showed you the new Master Control line from Jaeger-LeCoultre, which had seen a significant revamp for the new model year. A rush of silver dials and brown leather straps coupled with blue hands came past back in early May but failed to leave a strong impression in my opinion. Believe it or not, that's a tough thing for me to write and think about seriously. In a way, it pains me that I myself think that, and I think lowly of myself for offering only a passing glance at what is a core collection of one of the most prevalent watchmakers of our times. But, at the same time, it serves as an eye-opener, it shows just how much our tastes differ. A lot of people loved the silver dial Master Control watches. A lot of people also asked an important question: Where is the Memovox?
Well, it's here. The new Master Control Memovox has finally landed, and it's… It's just how I expected it to be. A smart, modern-looking watch with a bit in the middle of the dial that moves around and says Memovox on it. It has two crowns, as the Memovox had always had since its launch nearly 70 years ago, and it has a date feature as well. It's a graceful design that's cut out for the new decade with its clean dial and minimalist styling. While there aren't several layers of depth to the dial or bold contrasting colours (save for the seconds hand), it still manages to remain a stand out in the new Master Control line, and indeed, in Jaeger-LeCoultre's entire collection. But this isn't what caught my eye. This was just the build-up. Because, as Jaeger-LeCoultre unveiled the Master Control Memovox, they also unveiled a new take on the Memovox collection entirely.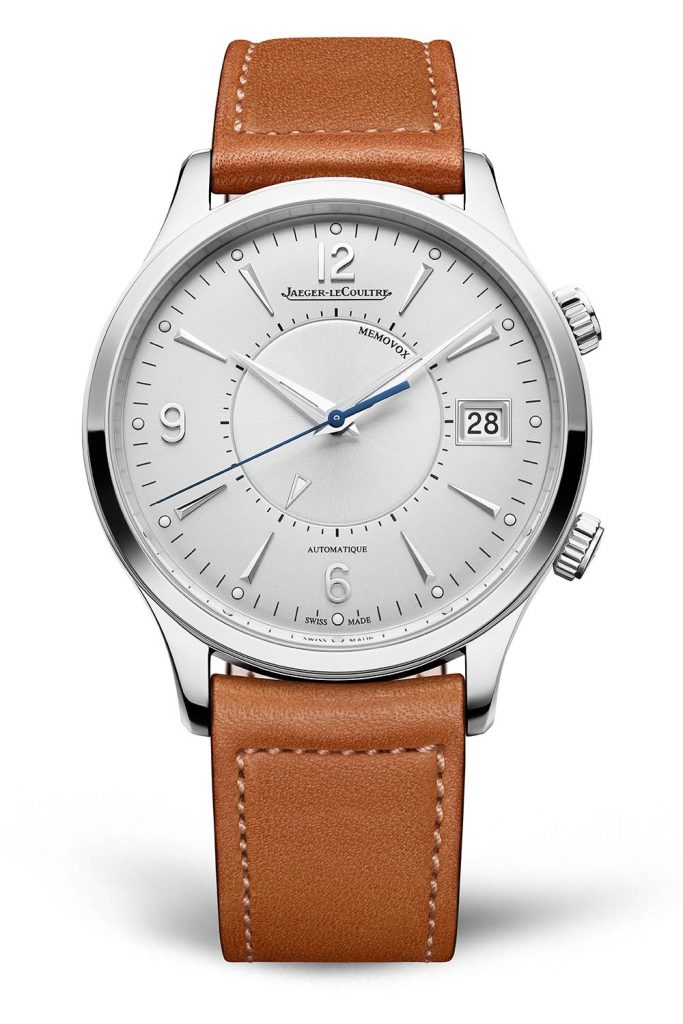 They call it the Master Control Memovox Timer, and it's a brand new spin on this well-established complication. On a standard Memovox watch, you choose when you want the alarm to sound by selecting a time with the central disk, a pretty easy function to grasp, this new one allows you to choose the length of time between now and when you want the alarm to sound by using a countdown function. Much in the same way a regatta timer is used to count down the start of a yacht race, this complication can be used for the same purpose (but I wouldn't go out to sea with that leather strap on it).
The design is a little different as well, to help it stand out as a limited edition. It follows the signature blue and silver theme that was prevalent across the brand's portfolio of releases last year. To be clear, you can still set this watch up in the classic Memovox fashion, but the added twist of having a countdown timer makes it even more useful in my opinion, especially if you're cooking something or you know you'll need to do something in a few hours time. This will be ten times as useful as a chronograph in that regard, and coupled with the subtle elegance of the watch; it makes this Memovox Timer an even more compelling package. I don't even mind the date window.
Inside both of these watches is a refreshed version of the Calibre 956, the significant difference between the two being the countdown function added, but other than that they're more or less identical both visually and in function. The 956 has a 45-hour power reserve in both guises, and a gold rotor as well. The caseback on the Memovox used to be closed to help amplify the sound (and, by attaching the gong to the caseback, would make the vibrations more apparent if you happened to be wearing it), but with an open caseback on these watches, that's not possible any more. The gong is now welded directly to the steel case instead, but the results should be similar.
If you want the non-limited, silver-dialled Master Control Memovox, then the retail price is $11,600, but for the limited-to-250-examples Master Control Memovox Timer, that price jumps up to $15,700.
Visit Jaeger-LeCoultre here.