MB&F, known for making frankly bizarre-looking watches, is back once again with yet another bizarre looking watch. This one is supposedly styled to represent a bulldog, a charismatic animal but not exactly the best looking one in my opinion. Still, we can only applaud the effort of MB&F to create an entirely new machine.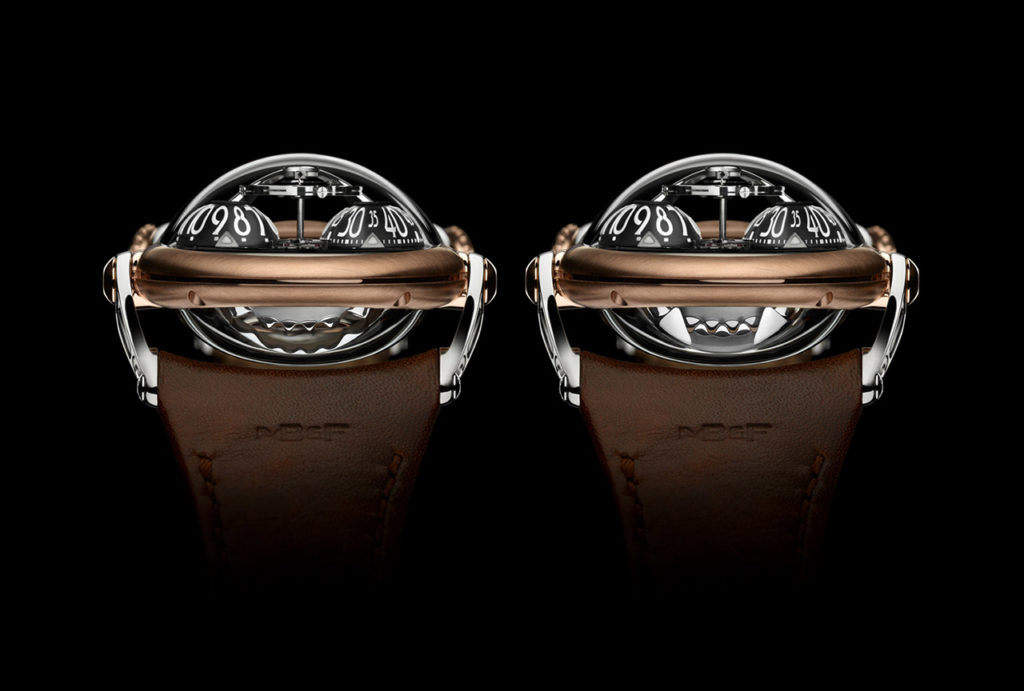 The time on this watch is told in a signature way for MB&F, using two hemispheres with elongated numbers on them that turn slowly. In this case, they are also representing the eyes of the bulldog, and the lugs which look chunky are meant to be the legs. It's sort of an odd appearance and one that's a little tricky to visualise. Luckily, visible through the sapphire underside is a set of teeth which look ready to have a good old go at your wrist at any time. But it wouldn't do that. It's not styled after a cat.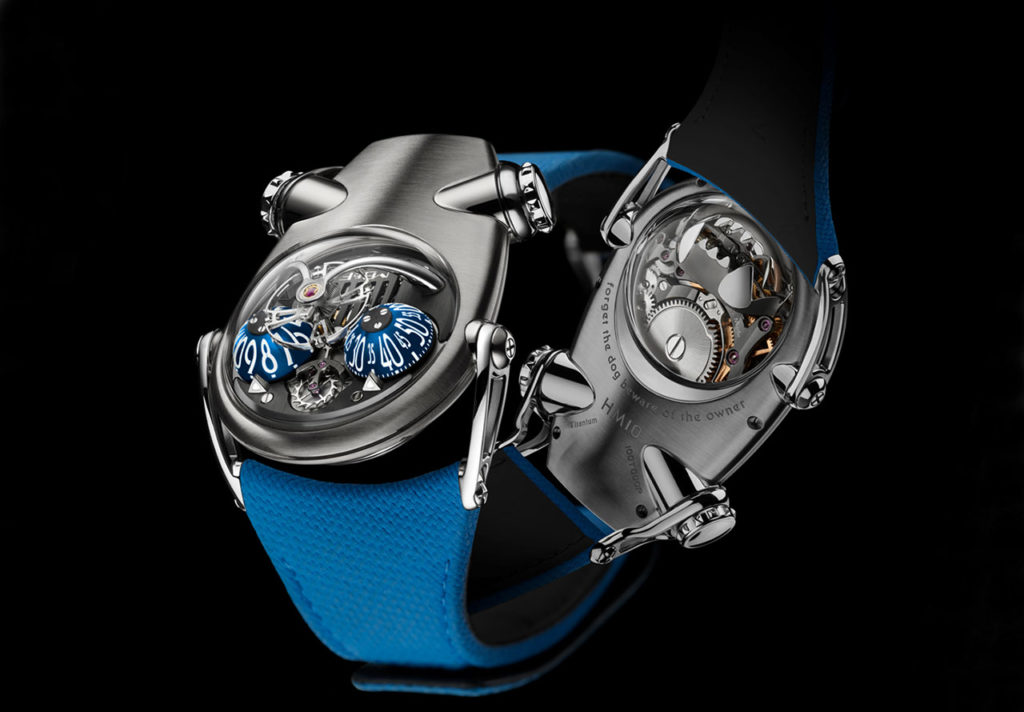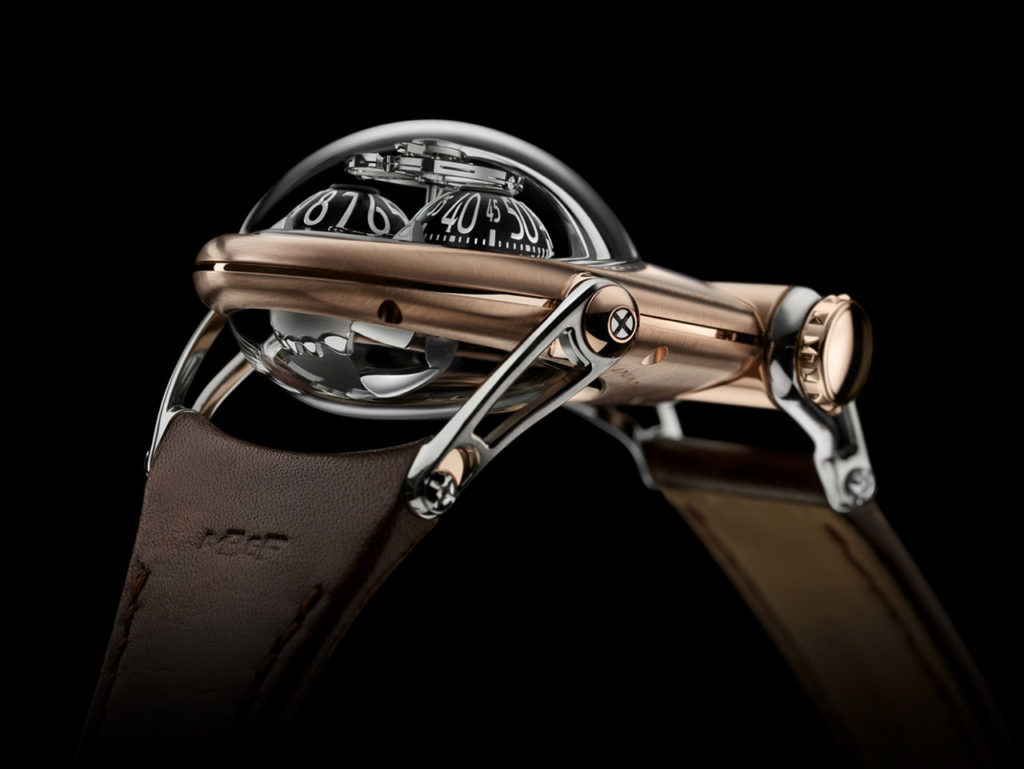 Interestingly, those jaws are more than just decoration, they also open and close depending on how much power is left in the mainspring barrel, so in this case, it'll take the jaws at least 45 hours to close. 
Hovering above the dog's "eyes" is the custom 14mm diameter balance wheel which oscillates at a rate of 2.5Hz. Flying balance wheels are as much of a signature of MB&F's as their weird designs, but here it works well and gives the piece some mechanical charm which is one of the main reasons that people buy MB&F over other companies. It's also interesting to see that the pallet fork assembly is not coupled directly to the balance wheel, but instead is set on the dial and connected via a rod, who says the balance wheel and pallet fork must be right next to each other?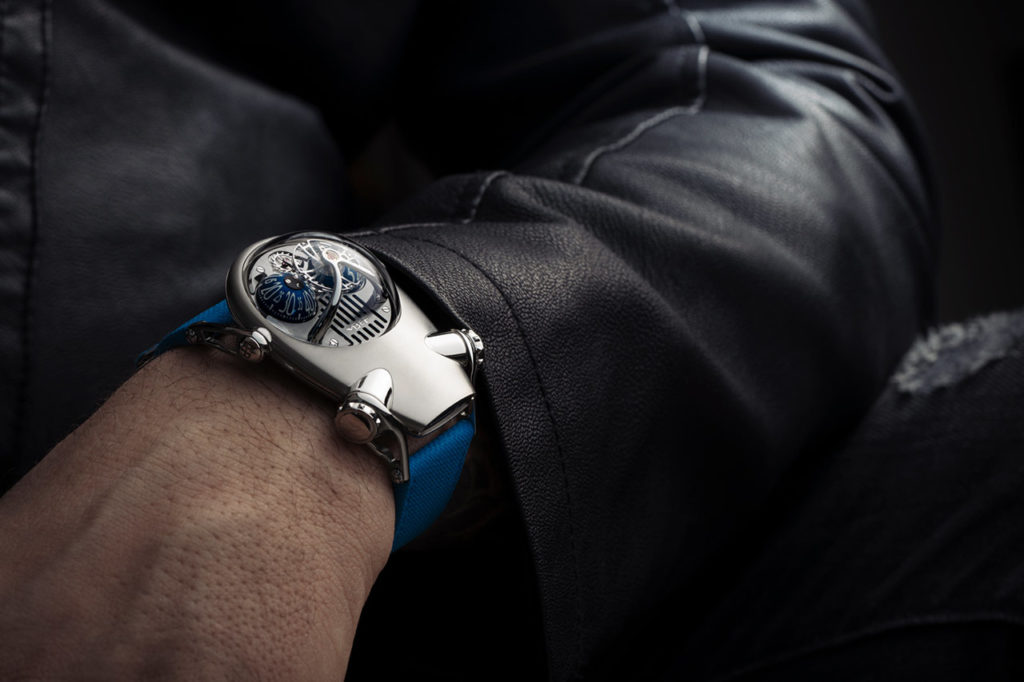 The watch measures in at 54mm long, 45mm wide and 24mm thick at the dome, it can come on either a hand-stitched leather strap, and you can have either a traditional buckle or velcro. Available in titanium or 18K red gold with titanium accents, the new HM10 will cost either €92,000 plus VAT or €105,000 plus VAT.
Visit MB&F here.