Oris has been on a roll for a while now, with new designs coming out that everyone seems to love. Their penchant for reliable watches featuring Swiss quality and at an affordable price puts Oris in a great position in the market. It seems as well that Oris is genuinely aware of the effects of its decisions on the overall market, and designs new watches in accordance with this. We all think of Panerai's bronze 'Bronzo' watches, but in fact, Oris has been doing more work with bronze watches than just about anyone.
And so comes yet another bronze watch from the brand. The Big Crown Pointer Date watch features, you guessed it, a big crown on the side of its bronze case. But it's the dial that ultimately attracts the most attention here. It's made of bronze, just like the case, and has received a unique lacquer treatment which makes it shine and gives it a unique finish for every watch. A macro shot of the dial shows just how this finish changes when you examine it close up, what seems to be a uniform bronze colour reveals itself to be layers upon layers of bronze shades.
So, the Big Crown obviously gets its name from the fact it has a big crown on the side. But to most the pointer date may be the one that takes them a few seconds to figure out. Rather than have a date window using one or perhaps two rotating disks to display the date, Oris uses a red-tipped central hand which advances once per day. Around the inner edge of the dial are all the numbers for the days. It blends in perfectly well with the cathedral style hands that give this design a unique 'olde worlde' feel. There are modern touches in it, for sure, but you can't help think that this was first designed 80+ years ago.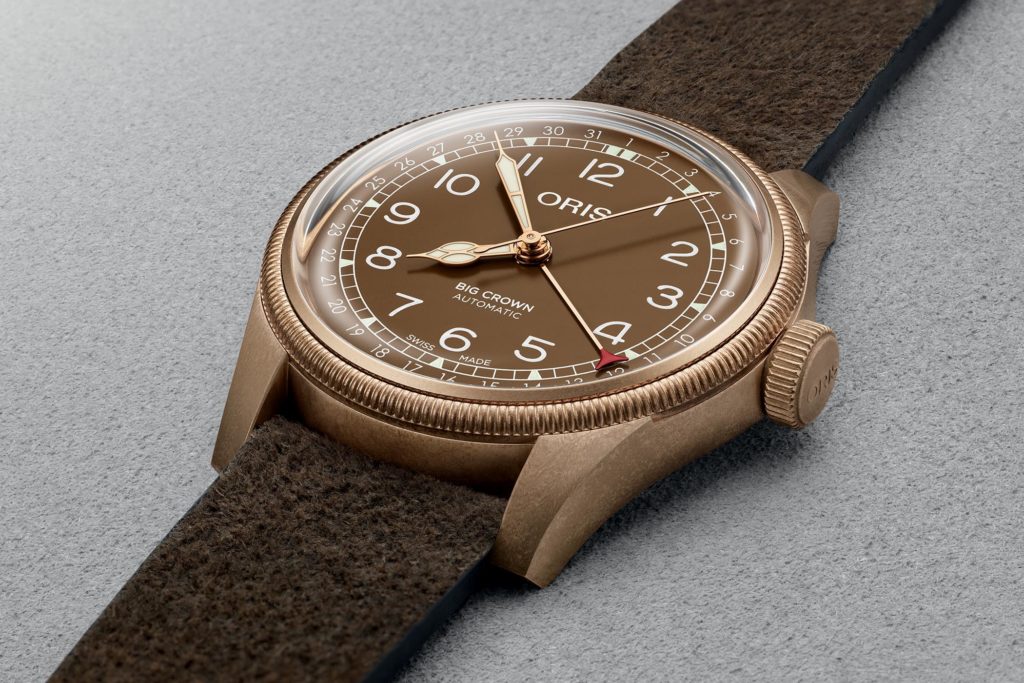 Inside the 40mm bronze case is Oris' 754 calibre which is based on a Sellita SW200-1 movement, runs at 4Hz and features a 38-hour power reserve which is plenty for daily wear. It also comes on a brown leather strap that complements the bronze colouring of the watch well. The price of one of these watches is a sensible and attractive price of $2,000.
[button color="black" size="big" alignment="center" rel="follow" openin="newwindow" url="https://www.exquisitetimepieces.com/oris-big-crown-bronze-pointer-date-01-754-7741-3166-07-5-20-74br.html"]Buy your Oris here[/button]