The virtual Watches & Wonders 2020 is upon us. Descending from the virtual cloud in the sky an armada of new timepieces approaches us, and as we scramble to collect ourselves, the watches continue their attack. First to draw fire is Panerai with it's new "Luminous Trilogy" of Luminor watches. These things look like they've been watching Tron, and they come with an exciting new warranty program to boot.
All three watches come with a copious amount of lume added to them. "More than necessary" is a good description, but I wouldn't say "too much" in this case as they haven't slathered the dials completely in luminous paint. As well as on the hands and markers, where you'd expect the watches to have some lume, there's also now a ring of it around the inner flange of the watch, on the crown guard and the strap as well. That last one isn't technically luminous paint, but rather luminous fibres stitched into the strap—all the same.
The watches all come in cases measuring 44mm in diameter which provide 300m water resistance. The difference between the references PAM1117, PAM1118 and PAM1119 is the material used for the case.
The former uses titanium which has been created via a process called Direct Metal Laser Sintering. It's a cool process that involves a very high powered laser melting powdered metal into a shape, the machine then drops the powder slightly, levels the metal powder and then the laser repeats. Think of it like 3D printing, but it uses an awesome laser to melt metal powder instead of feeding melty metal through a tube, check this link to learn more (not a sponsor). The price for this model is €19,000.
PAM1118 uses a material we're all familiar with: Carbotech. This is Panerai's signature material that uses layers of paper-thin carbon fibre, special resin and high heat and pressure to form the layers of carbon into a single piece. Each one has a unique pattern on it, due to the slightly randomised nature of production. The PAM1118 also receives a black dial and strap, instead of the blue seen on the PAM1117. The price for this model is €16,000.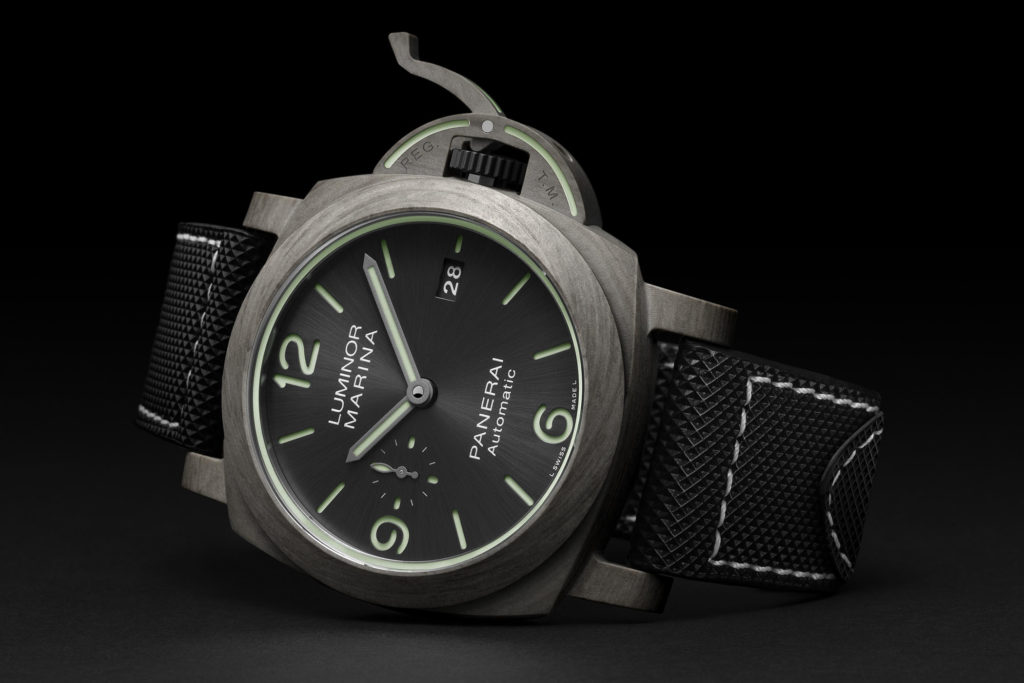 PAM1119 is an interesting one as it uses a material we're not familiar with. Panerai calls it Fibratech and describes it as made of magma fibres. To be more accurate, it appears to be made of basalt fibres which have been held together similarly to the way Panerai makes its Carbotech watches: pressure and heat. They claim it's 60% lighter than steel while still being incredibly resistant to corrosion. The price for this model is €19,000.
All three watches come with an in-house made P.9010 calibre, which is automatically wound with the motion of the wrist and has a 3-day power reserve and 4Hz beat rate. Each watch comes with a massive 70-year guarantee from the manufacturer, but they're also limited to just 270 models each which are available only in Panerai boutiques.
Visit Panerai here.