What on Earth does all that mean? Where is the Lamborghini as well? First off, the tyre in the background of the photo is attached to a Lambo, so, there is most likely one there. Second is the tyre itself, before Roger Dubuis partnered up with the famous Italian Bull, it was working hard with Italian tyre manufacturer and rubber expert Pirelli. You get a sense that everyone was very enthusiastic about this watch, and the design shows as there's no holding back on bold colours.
So how did this one get off the mark so quietly? No, Roger Dubuis hasn't partnered with Tesla as well, it's much more straightforward than that. Lamborghini hosted an event in February called the Lamborghini Winter Accademia, located in Livigno, a town located in Northern Italy near the Eastern Swiss border, known for its ski resort.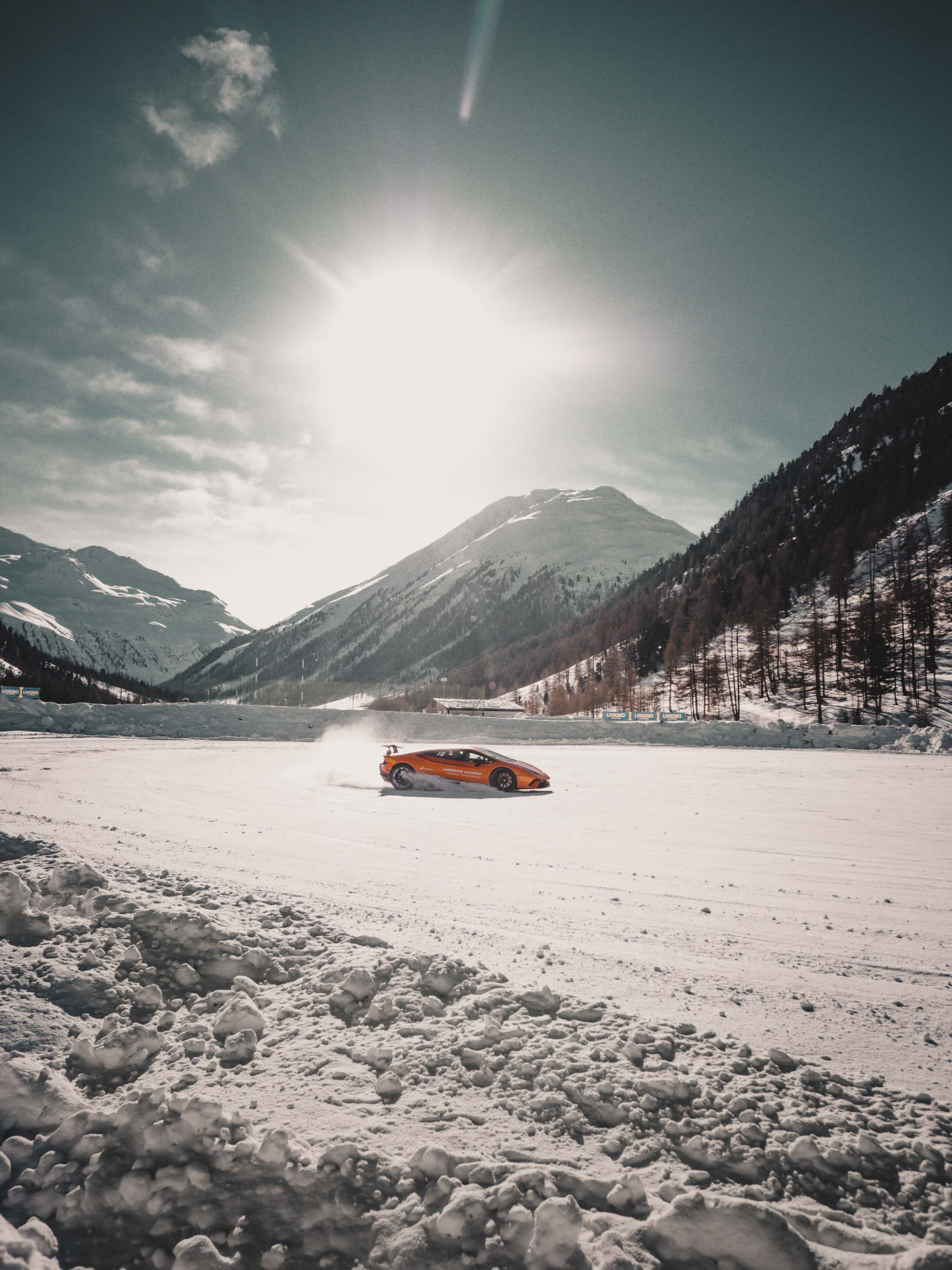 The Winter Accademia, upon further inspection, appears to be similar to Lamborghini's Volkswagen stablemate Bentley, which runs a Power on Ice event in Finland every year. At events like these, you can get in the driving seat of an insanely powerful car and then experience that power on a surface with almost no grip at all, save for the tyre studs.
The reason behind the name is twofold, one, Pirelli makes a tyre called the SOTTOZERO, and two, Pirelli makes some of the rubber straps for Roger Dubuis timepieces. In English, Sottozero roughly translates into sub-zero, which would explain the icy cool blue and white touches found on the new timepiece.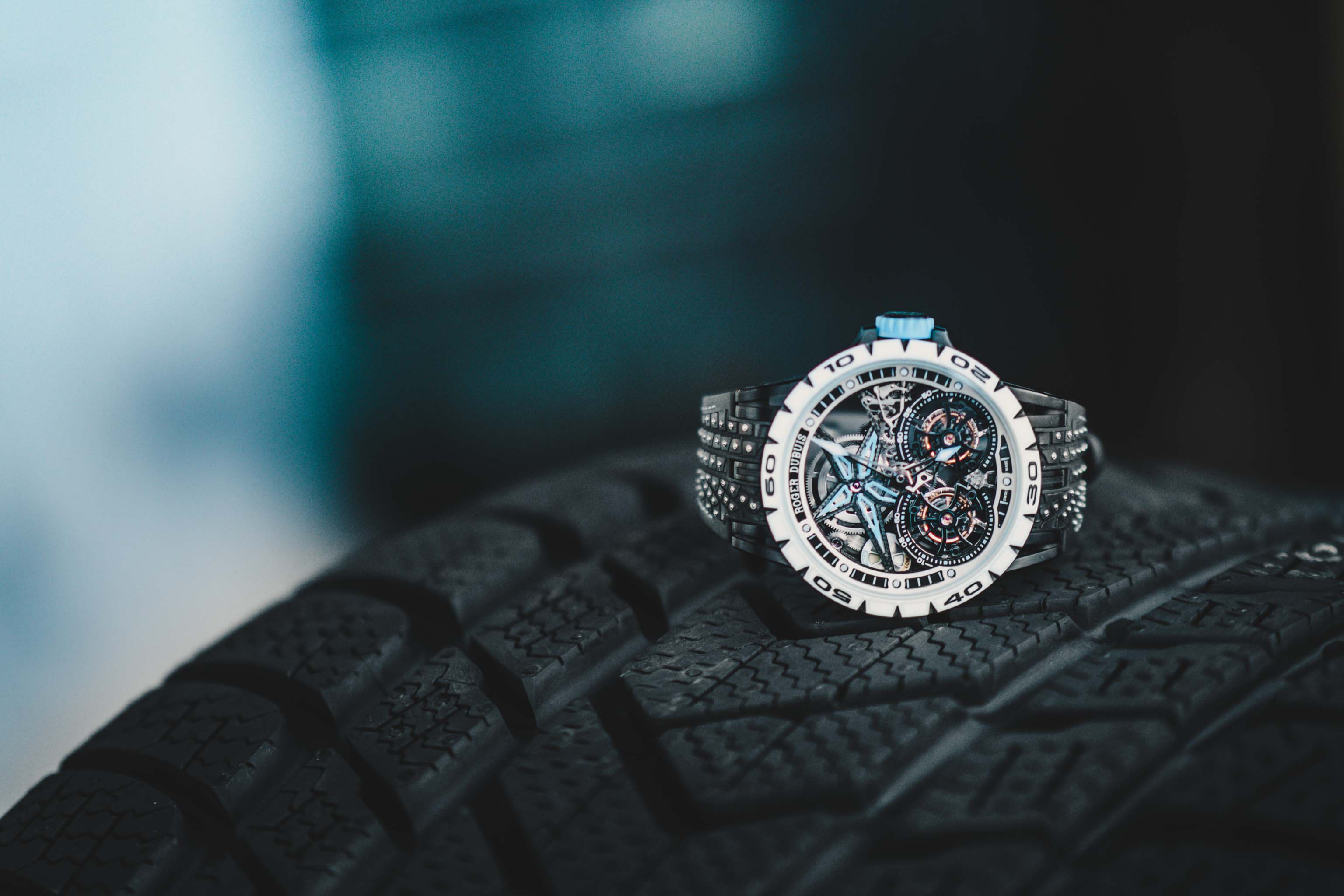 I love that Roger Dubuis colours the crowns of its watches, but unlike some other companies in this market, it doesn't make them about two feet long (look at the crown on the new Richard Mille RM11-03 McLaren watch, and you'll see what I mean).
But, of course, who could forget the inner workings of the watch. It's a Roger Dubuis, the Richemont Group's crazy division which makes incredible designs which meet the high specs of its more traditional companies like Vacheron Constantin, and in some cases, even further. Take the new Excaliber Spider Pirelli Sottozero for example: it's not messing around in any sense with its double tourbillons built into a skeletonised movement. A movement which I'm sure bears the Geneva Seal, given that so many other watches made by the company currently also have this awarded to them as well.
The case is a ginormous 47mm in diameter, meaning that most will have difficulty trying to wear it, which is unfortunate. However, those who can pull it off, and afford it, will be treated to something unique. There's only going to be eight examples of this watch made in total, and it's unlikely we'll ever see one. I doubt that we would be able to afford it anyway, although there is no mention of the price so far, most likely one of those "if you have to ask, you can't afford it" type deals. Shame, I particularly like the blue accents, coupled with the rubber strap which has little studs in it, so you have some purchase should you fall over on ice. Also, the Sottozero tyres used at the Accademia have studs in them, that's probably it. For more info, visit Roger Dubuis online.