You may remember last year that myself and the Masthead of WristReview got to fly out to Switzerland to visit the manufacture of Jaeger-LeCoultre. Funnily enough, it would have been at roughly this time last year, too. One of the parts of the factory we got to see was the arts and crafts section where the excellent hand finishing is practiced, perfected and then applied to their watches. One of those crafts is miniaturised painting on watches, which happens to be the focal point of the new Reverso Metiers Rare collection, celebrating the works of Swiss painter Ferdinand Hodler.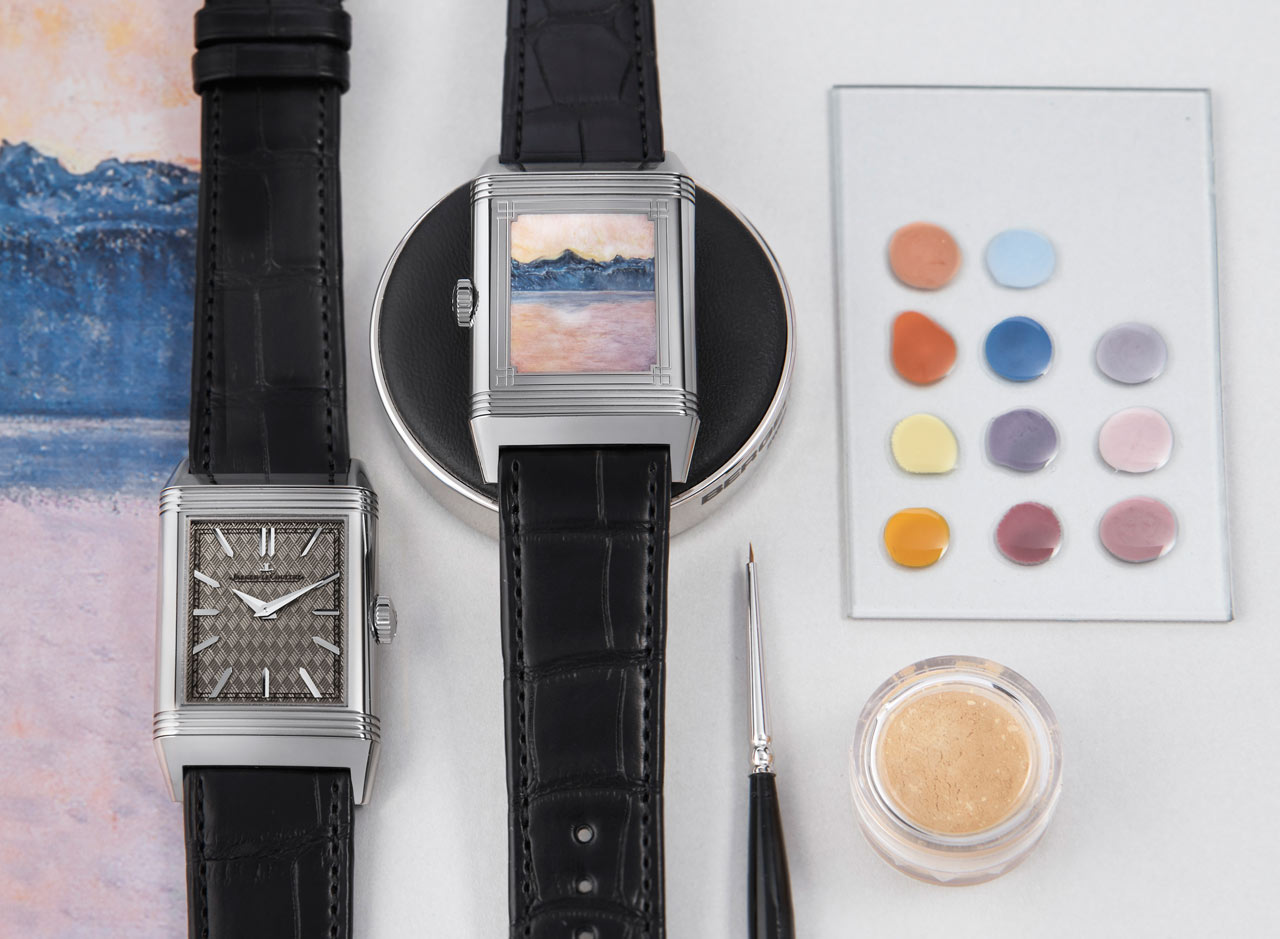 Hodler was one of the best-known painters of the 1800s who came from Switzerland, his style was known as parallelism, a take on symbolism which in itself is a part of the gothic elements found in styles such as romanticism. Although, his early works were mostly portraits and landscapes, which is what JLC appears to have focused on here. Depending on which colour dial you opt for, you will receive a different recreation of an Hodler work on the reverse side.
Reverso Enamel, Tribute to Ferdinand Hodler Ref. Q39334H2
One watch will have his Lake Thun with Symmetric Reflections, painted before sunrise (1904). This one features a pine green dial; it was essential to select the correct colour for the dial to allow it to stand out. Fortunately, the rocks near the bottom of the painting provided the perfect idea for this one.
Reverso Enamel, Tribute to Ferdinand Hodler Ref. Q39334H3
Secondly, one will feature Thunersee mit symmetrischer Spiegelung (Lake Thun with Symmetric Mirroring, 1909). This is my personal favourite, everything about it exudes class, but I especially adore the calming blue dial which harmonises with the blue skies of the lake which spreads between Thun and Interlaken.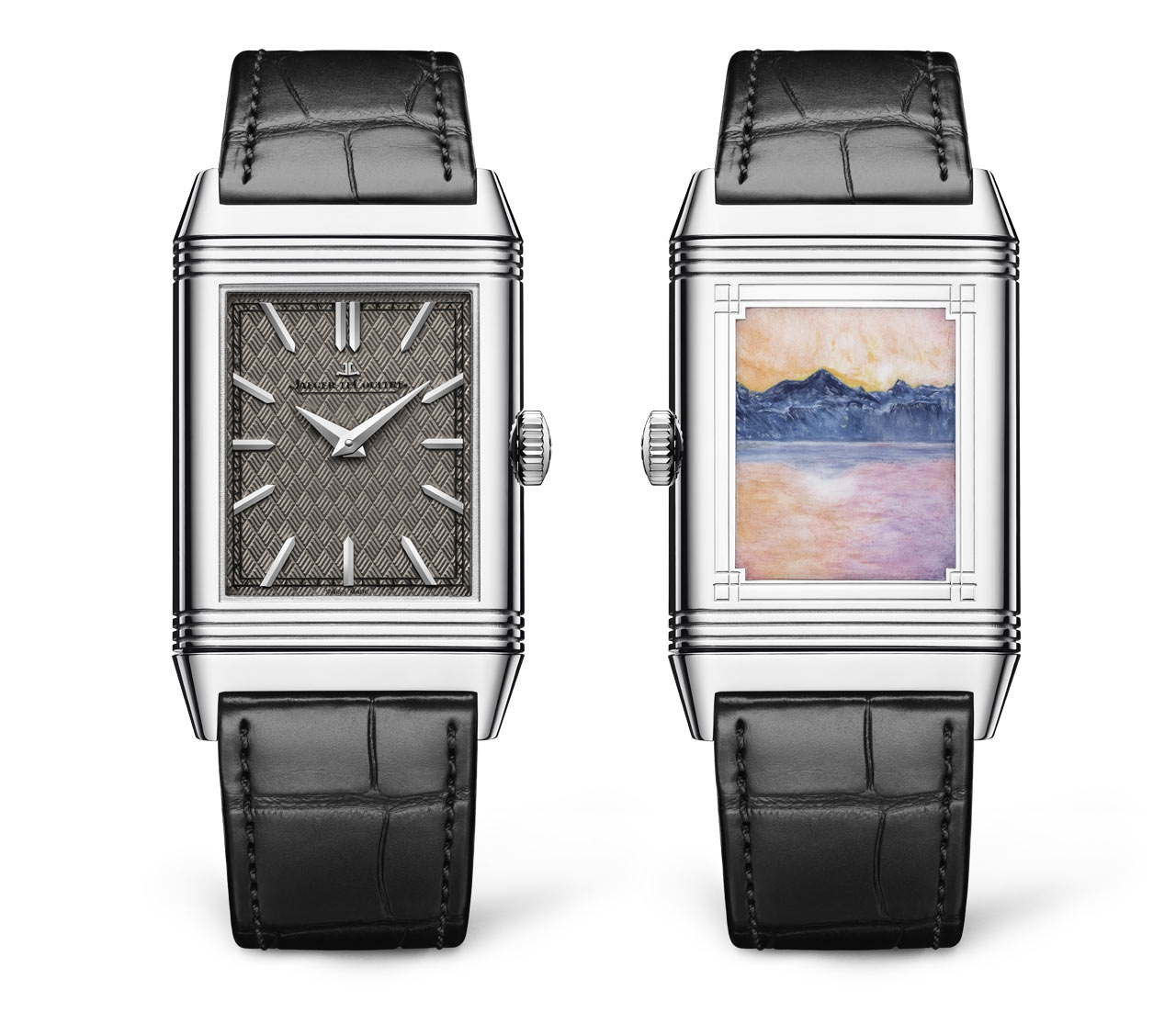 Reverso Enamel, Tribute to Ferdinand Hodler Ref. Q39334H1
Finally, there will be one with his work Genfersee mit Mont Blanc bei Morgenlicht (Lake Geneva with Mont Blanc in the Morning Light, 1918). This one required extra work on JLC's behalf to ensure the correct shades of pink and gold were recreated on the Reverso watch, luckily, they've had a bit of practice, meaning the watch looks stunning. Bear in mind that for all of these works there's a 3.2cm squared area to paint in, rather than the hundreds of centimetres Hodler would have had.
Each watch has a hand decorated dial with a technique called flinqué. Flinqué is a very tricky art to master; it requires a guilloché dial to be covered in a translucent enamel which is coloured to reflect whichever work is on the reverse. All three watches receive applied hour markers with dauphine hands on the dial. Inside the 18k white gold case is the hand wind JLC calibre 822/A2 which will last for 38 hours between winds. All three watches are being produced in limited runs of 8 each and are only available through a JLC boutique. Price on application. For more info, visit Jaeger-LeCoultre online.