Those of you who are up on your knowledge of the various calendars around the world will doubtlessly know that this year, 2022, marks the year of the tiger in China. In the Chinese Zodiac, the tiger, the king of all animals, is renowned for its strength, bravery and courage. These are all things we could do with, especially as we adapt to our new post-pandemic lives. Jaeger-LeCoultre has made a restrained-yet-elegant Reverso to honour this particular year.
The watch is made of 18k pink gold and measures 45.5mm x 27.4mm x 9.73mm. It only has 30m of water resistance, but that's not really the point of the Reverso. The clean black dial plays host to sharp dauphine hands and pointy markers, all of which are made of 18k pink gold and match the case. The Jaeger-LeCoultre logo and train track seconds are also painted to match.
The party trick of the Reverso is the reversing case, which can be slid out of place, flipped and then slid in sideways (this is the way Jaeger-LeCoultre recommends reversing a Reverso). There's no movement to view on this special edition watch, although if you're interested, it's a manually-wound calibre 822A/2 with a 3Hz beat rate and 42-hour power reserve.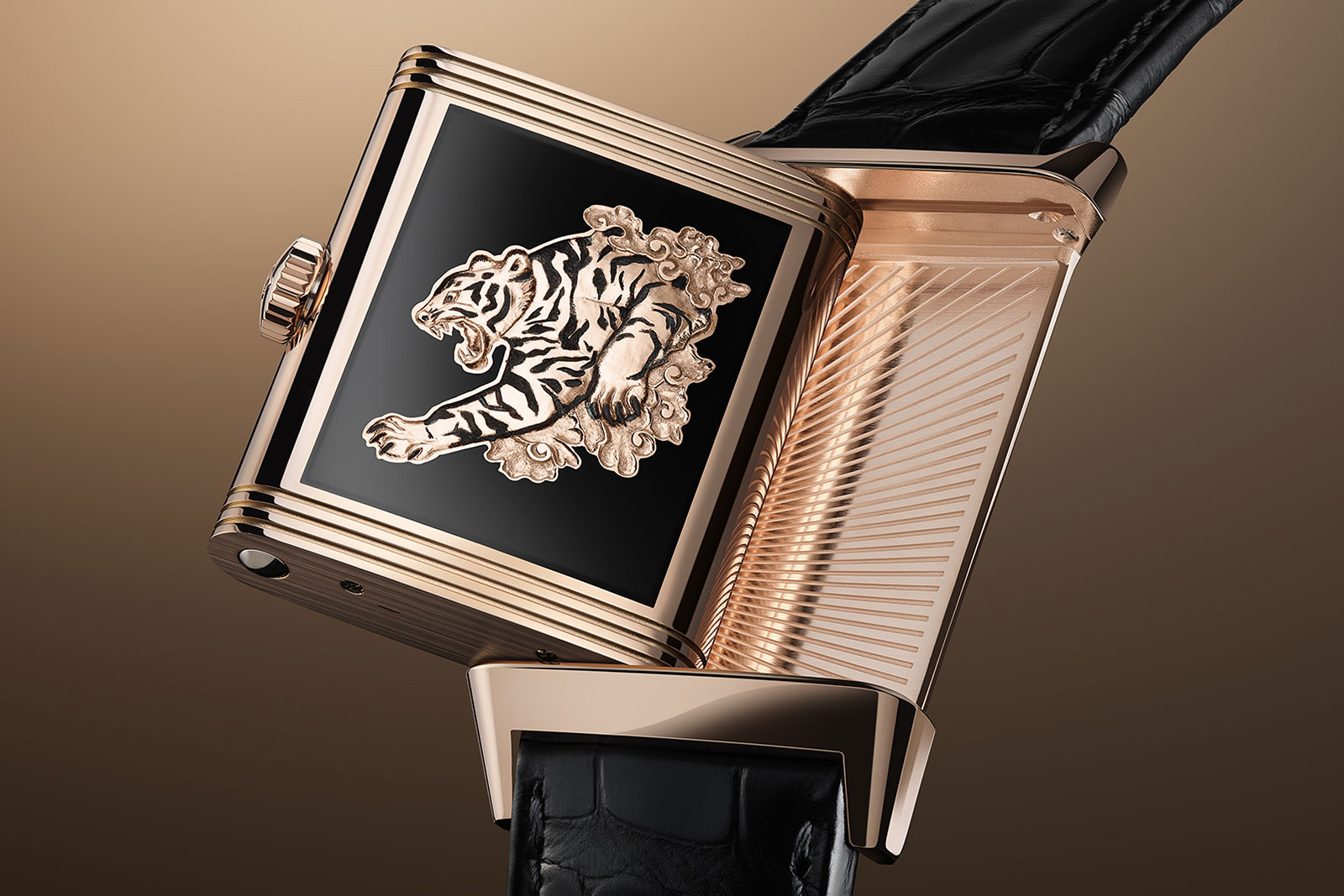 As is familiar with the Reverso, the back has been used as a canvas for art. The back is first enamelled with an outline of where the tiger will be included. The enamel powder is melted in a kiln to form one piece and then polished once cool. The artisan then carefully removes parts of the gold outline to reveal the black enamel underneath. The tiger's stripes are created by applying black lacquer and really stand out. Jaeger-LeCoultre says that this decoration process alone takes over 55 hours to complete.
All this beautiful craftsmanship does not come cheaply, though. This watch costs €90,000 before VAT. It's not limited in production as such, but it is limited by the amount of casebacks the artisans can work on. Jaeger-LeCoultre makes these to order and they're available through boutiques only. At least they didn't put a sticker on the back.
Visit Jaeger-LeCoultre here.