For 2023's edition of Only Watch, Krayon introduces the Anywhere Only Watch 2023, which is due to auction in the Only Watch auction at Christie's in November of 2023. Not sure I can convincingly say 2023 in a sentence any more than that, but it was worth a go.
Now, Krayon is a marvellous little company founded in 2017 by Rémi Maillat who cut his teeth in the high-end division of Cartier's watchmaking arm. You may be familiar with their first watch, which was called the Everywhere. The Everywhere used a complex movement of over 600 components to allow its wearer to know sunrise and sunset times anywhere on the planet by inputting the time, latitude and longitude. Perhaps not the most practical complication ever, but certainly a mechanical oddity which is generally the attraction of pieces like this. That complication comes with a price, a Krayon Everywhere is priced north of CHF600,000.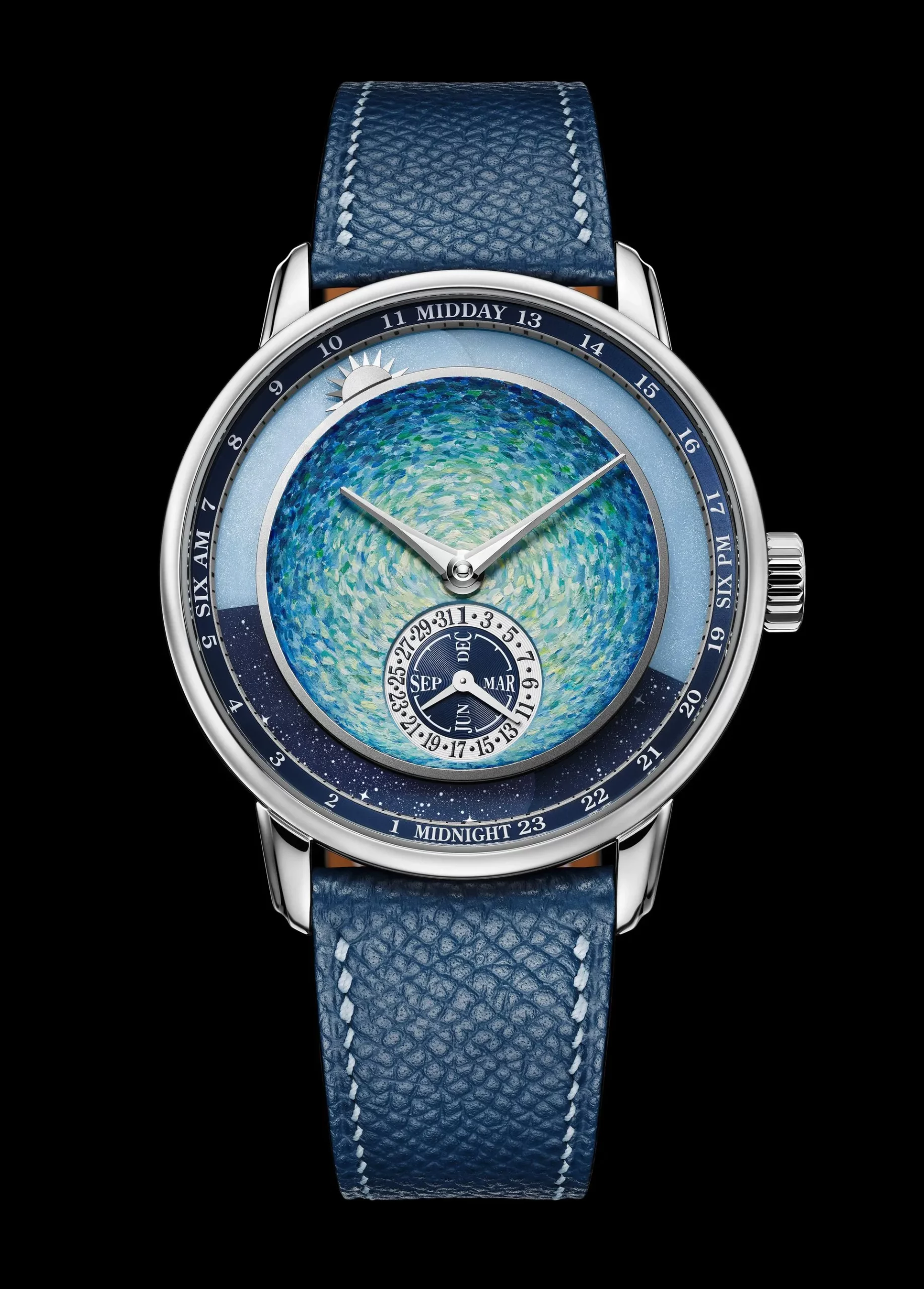 The other watch in Krayon's lineup currently is the Anywhere which can be bought for less than CHF100,000 making it a relative bargain. Like the Everywhere, the Anywhere can show you the sunrise and sunset times of any timezone of your choice, watches with a sunrise/sunset timer can only be programmed to one place (probably Switzerland) for their entire life due to the design of the mechanics in use. Krayon used the experience of making the Everywhere to make the Anywhere do the same thing. The difference is that you can't program the Anywhere yourself, it needs to go back to Krayon for adjustment if you're, say, moving to another country.
For the special one-off piece, Krayon has moved into the world of métiers d'art with a miniature hand-painted dial using colours and brush strokes inspired by Belgian neo-impressionist painter Théo van Rysselberghe, and when you compare his work to the watch you can really see the influence. The gradient colours are stunning.
Behind the dial is the manually-wound C030, specifically, number 3, which is differentiated by the German silverwork on display. On the 'regular' models, the plates are made of German silver and then rhodium plated, a Swiss technique more commonly used with brass. This is the first time Krayon has left the German silver exposed to patinate over the years. 432 components work in harmony and provide a 72-hour power reserve keeps the time.
It's expected that this will sell for between 150,000 and 250,000 CHF at the auction. The last Anywhere special edition for Only Watch in 2021 went for three times its expected price, so good things could happen here.