By Nick A. Meijer
Last year, I first came across one of the creations of Ludovic Ballouard, when Antiquorum offered a Upside Down at auction. I was immediately fascinated by the timepiece: the combination of classic simplicity and very innovative thinking in how to display time. This, combined with the excellent finishing of the watch, struck my interest in the history of mr. Ballouard.
Ludovic Ballouard was born in 1971 in France, from a Breton father and a Dutch mother. Already at the age of 12 he was attracted to the art of watchmaking, and his talents were recognized by his environment. He developed his skills in France at a watchmaking school, and found out, as most of the talented watchmakers do, that he had to move to Switzerland. He first worked for three years at Franck Muller before joining Francois-Paul Journe for seven years. During his last three years there he devoted all of his time to the assembly and regulation of the extraordinary "Sonnerie Souveraine".
In 2009 he made the decision to create timepieces under his own name. Not long thereafter his first creation, the Upside Down, was presented.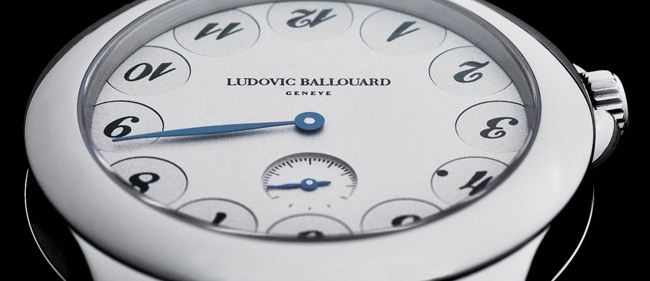 The Upside Down is a rather poetic timepiece. At first glance, the watch looks rather subtle. But a second look shows that each of the hours is placed in an upside down position. The "active"hour is flipped around to be right side up. To make this effect, every hour indicator is dotted on a small disc. Only the "now" in time is presented with the right side up. This is Ludovic's way of reminding us how precious time is.
Ballouard's creations caught the right attention, as in 2010 he was honoured with "a special prize of the jury" by Montres Passion magazine in Geneva.
In January 2012, a second line was introduced with the Half Time. With the Half Time, Ballouard managed to split the hours in two, and place them on two disks. One disc contains the upper half of a roman numeral, and the other disc the bottom half. But.. The discs move in different directions. As an effect, only at 12 o'clock the roman numerals are shown correctly. The owner has to study his watch properly before using it!
The Half Time's case is made out of 950 grade platinum, measuring 41mm in width and 11mm in thickness, just like the Upside Down.
This year, Ludovic challenges us with a cooperation with Harry Winston. The Opus XIII is definitely a timepiece to observe a little longer before using it. The time is being displayed through some sort of illusion created by multiple circular movements .The minutes are being displayed by 59 hands, while the hours are shown by 11 rotating triangles. The watch is larger (44mm) than previous creations, looking more sporty than what we have seen from Ballouard before. (video here)  Nevertheless, the fact that displaying time is constantly questioned and re-invented, is 100% Ballouard…