Simplicity and cleanliness – that is what H. Moser & Cie. is and will be always well known for.
In March 2015, H. Moser & Cie. unveiled a concept watch to refresh the palates of watch collectors globally. The new Endeavour Concept Watch Fumé takes that idea to the absolute extreme, once again impressing everyone while retaining its strong identity. A dial stripped of any logo or indices, the concept watch is left with only the graduated tones of the fumé, making them even more striking than usual.
The brands official statement was: "In a world awash with aggressive branding and marketing strategies, the independent manufacture has gone back to basics to unveil a watch of absolute purity. This model, which features neither indices nor a logo, is the antithesis of the dial overloaded with useless functions, and turns the spotlight back onto distinctively human luxury which remains true to the central aim of watchmaking: indicating the time."
And true enough, H. Moser & Cie. has proven time and again that the finer things in life can be appreciated even without any loud brand identifier screaming "luxury" and "wealth". It has held true to its values that a real luxury product is easily recognized even without a visible logo, similar to how a painting painted by a famous artist would be widely appreciated even if it was unsigned.
Due to overt enthusiasm response this model received, H. Moser & Cie decided to launch 4 new limited edition pieces, each restricted to just 10 pieces.
With an 18-carat white or rose gold case with alternating polished and satin finished flanks, H. Moser & Cie. has much more flexibility to play with the range of tones on its sunburst fumé dial – either with its traditional rhodium-plated fume or the midnight blue fumé dial which has always captivated me more, but that's just a personal preference.
Functions include hours, minutes and seconds, although there are obviously no markers, so reading the dial will be more of an estimate. That is, of course, the point. It is more about the beauty of the dial, the finish, the movement – than what time it is.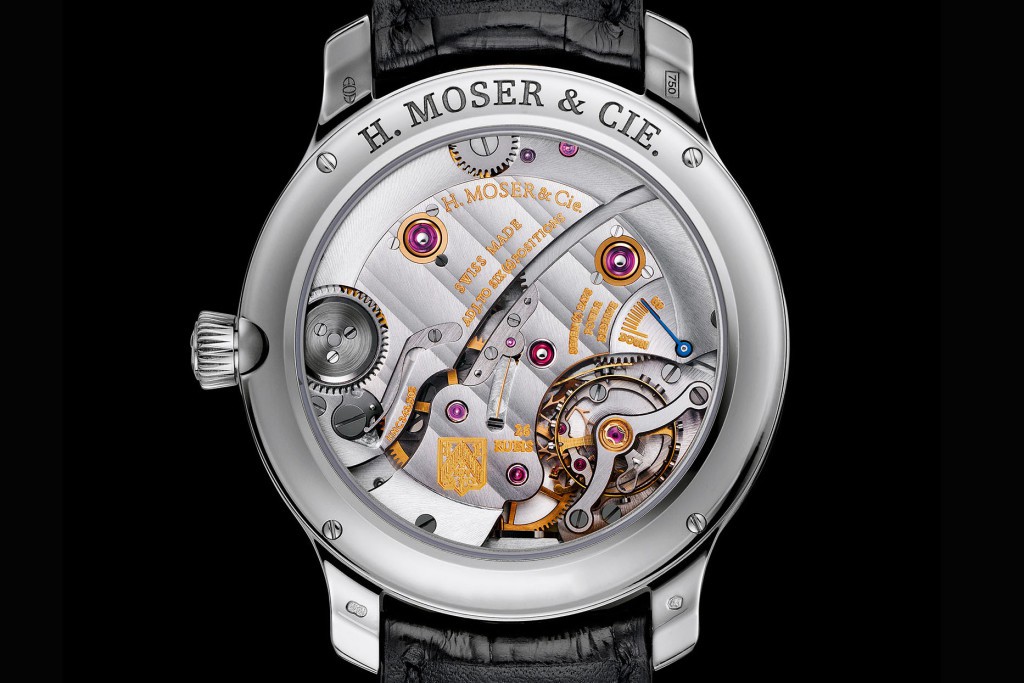 The movement inside is the HMC 343, a hand-wound calibre with a seven day power reserve visible from the rear display of the watch. It is also equipped with the trademark interchangeable escapement module that can be swapped out during servicing for quicker turnaround.
With the 3 different types of straps available (alligator, hand-buffed calfskin, kudu leather), I am still more inclined towards the traditional alligator leather strap with a more luxurious look and feel. Alternatively, the hand-buffed calfskin strap provides a more refined alternative while the kudu leather strap also gives the wearer a more rugged look. All feature a solid gold pun buckle that matches the case, with engraved Moser logo.
Available only on special order, the Concept Watch Fumé is priced at approximately 22,000 Swiss francs before taxes.
For more info, please visit h-moser.com
Technical details
References
Ref. 1343-0208, white gold model, signature fumé dial, hand-stitched kudu leather strap
Ref. 1343-0207, white gold model, midnight blue fumé dial, hand-stitched black alligator leather strap
Ref. 1343-0106, rose gold model, signature fumé dial, hand-stitched and buffed brown calfskin leather strap
Ref. 1343-0107, rose gold model, midnight blue fumé dial, hand-stitched brown alligator leather strap
Cases
18-carat rose or white gold, three-part
Diameter: 40.8 mm
Height: 10.9 mm
Dials
Rhodium-plated fumé or midnight blue fumé with sunburst pattern
Movement
In-house hand-wound calibre HMC 343
Functions
Hours and minutes
Central seconds
Power reserve indicator on movement side
Straps
Hand-stitched kudu, calfskin or alligator leather
18-carat solid rose or white gold pin buckle, with engraved Moser logo
Edition
Reference 1343-0XXX, white gold model, signature fumé dial, black strap, unique piece
References 1343-0208, 1343-0207, 1343-0106 and 1343-0107, limited editions of 10 pieces in each version
JAMES PHANG – CONTRIBUTING WRITER
James Phang is a young watch enthusiast from Singapore and is self-professed fanatic of independent brands for their unique avant-garde designs. Some of his favourite brands include MB&F, Urwerk, Romain Jerome, Sarpaneva, Peter Speake Marin and Azimuth. His love for art extends out to all things handmade, and he has made it his personal mission to find the best handmade straps and buckles worldwide for his humble collection. Read his articles here.