Only Watch 2015 has seen a number of outstanding pieces presented and here we have another one from the crazy cats over at MB&F. For Only Watch 2015 we are presented with a unique one-of-a-kind robot table clock known as Melchior. This groundbreaking robot was made to commemorate the 10th anniversary of MB&F and was released at Baselworld earlier this year. It is inspired by the theme of this year, "a creative adult is a child who survived" and what an apt way of description Melchior. It is the robot companion we all wanted as kids who would protect us against all those monsters in the closet.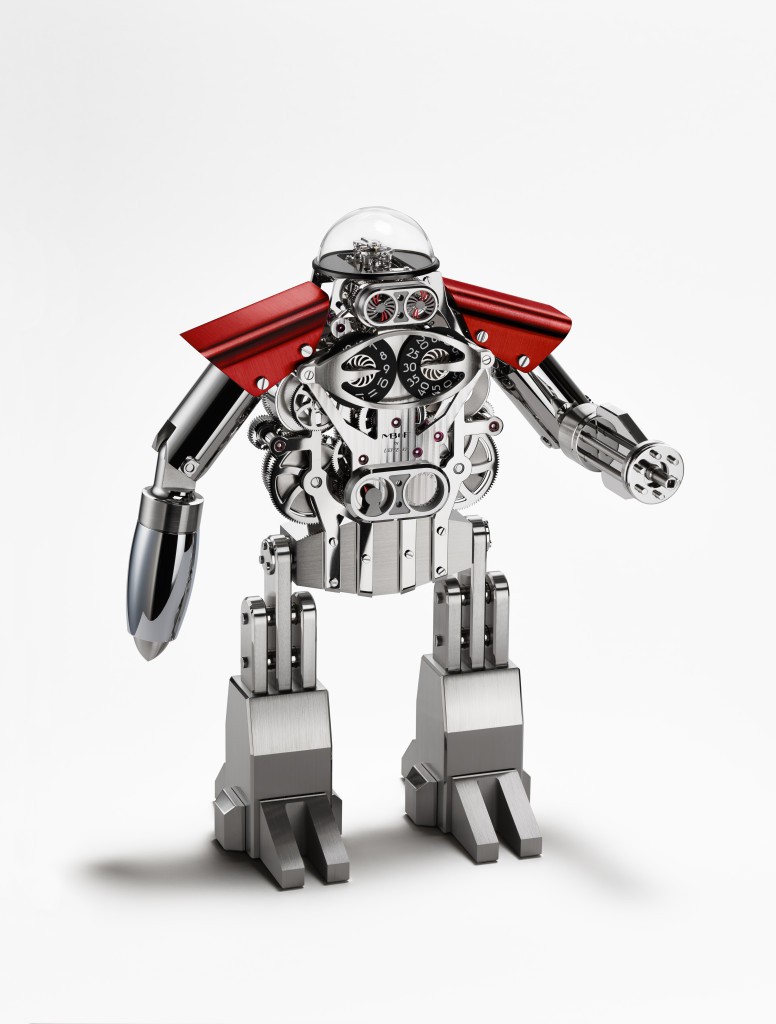 Melchior for Only Watch 2015 features the same beautiful inner workings and outer shell as its counterpart with a few cheeky additions helping to differentiate it from all the others. It was entirely conceived by MB&F and built by renowned manufacturer L'Epée 1839. Maximilian Büsser developed and created Melchior with the help of designer Xin Wang.

Encased in palladium-plated brass, stainless steel, red anodised aluminium and polished glass, Melchior features a jump hour function with sweeping minutes, double retrograde seconds and a remarkable 40-day power reserve. Hours and minutes are displayed using discs on the chest of Melchior with a combination of fixed vents and revolving discs giving the impression that Melchior is blinking his eyes. It adds a touch of human cheekiness and really brings the table clock to life.
Further animation can be found by looking at the regulator, that is the brain of Melchior that beats through a polished glass dome cover. The regulator works hard to make sure that everything is functioning and governs the extreme precision of the clock. Finishing off Melchior and adding to its craziness is the gatling gun on the left forearm that also doubles as a detachable winding key to help wind the clock if every it stops ticking away and protecting your room.
The inner workings remain the same with no real need for tinkering on something that is already executed to such high precision and engineering. Melchior for Only Watch 2015 is truly a unique piece that will be auctioned off on the 7th of November in Geneva alongside a number of other beautiful timepieces for the Only Watch Charity Auction.
For more info, please visit mbandf.com
OSHEEN ARAKELIAN – CONTRIBUTING EDITOR
Drawing on a lifelong love of horology and a more recent introduction to the appreciation of fine whisky, Osheen brought the two together with watch & whisky. He is the proprietor of the site, which covers everything related to watches and whisky. In between completing a degree in commercial law and supporting a rich social life, he is out and about attending all the latest watch and whisky events Sydney has to offer. His passion has also taken him around Australia attending a number of events and he hopes to continue his career in the watch industry on a more serious level after he graduates. Read his articles here.