I'm sure most of you already know the history of Tudor watches but if not here is a brief history lesson on Tudor Watches, Rolex's younger sibling.
Thirty-eight years after he started making watches under the name 'Rolex,' Hans Wilsdorf started another brand that he called Tudor.
Hans Wilsdorf actually started his watchmaking career a few years before the Rolex name was coined, in London, England. His love of England and, in particular, the time of the Tudors led him to choose the name for his sub-brand. Using Rolex cases and bracelets, it was created to be a more affordable brand for people to buy, the watches using bought-in Valjoux movements rather than the more expensive Rolex in-house movements.
The Oyster Prince collection, based on the already famous Rolex Oyster case, started the brand off. The Tudor Submariner was and is a firm favourite, and is available with the distinctive 'lollypop' and 'snowflake' hour hands, a variation on the 'Mercedes' hand common with the Rolex Submariner. The dial featured many different logos, including the shield (their current logo), the Tudor rose and a mixture of the two.
You can be forgiven for thinking that Tudor is an imitation brand of Rolex, but you would be so very wrong.
This is first and foremost a tool watch, no shiny sparkly bits or highly polished links on the bracelet, just everything you would need with nothing added for show.
Let's start with the case which is made of titanium and steel with a nice satin finish measuring a healthy 42mm, giving it a good presence and wearability but not too heavy as if it were made from stainless steel. The screw in crown is ridged for ease of use and covered by pointy crown guards which are a reference and homage to early Tudor Submariners that were released way back in the early 1960's.
A first for Tudor is on the opposite side of the case where we find a helium escape valve fitted, furthermore adding to its credentials as a grown up, no nonsense timepiece.
The bezel is made from ceramic it's so very hard wearing and resistant to scratching, the sides of the uni-directional bezel are finely ribbed and provide excellent grip with either bare hands or with gloves on. The numerals are coated with lume but more on that later. Around the outer edge of the dial is an original double-bevelled flange incorporating the square, rectangular and triangular applied hour markers, Tudor again went back to their heritage when choosing the hands which I'm glad they did as they have added their so-called "snowflake hands" to this piece, again in reference to their Submariners from the late 60's. With a small date window at the usual 3 O'clock with black on white numbers.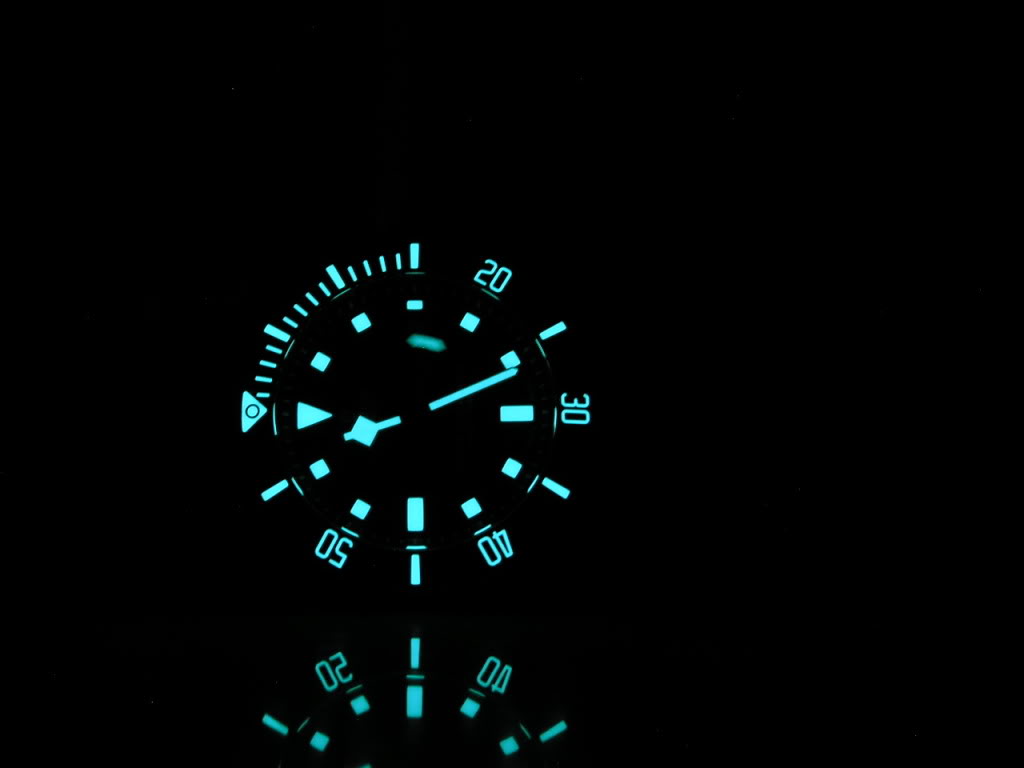 The Deep black dial really accentuates the clean crisp white markers making it highly visible in all lights and the strong lume as mentioned earlier is superb. Every marker and hand including the bezel numerals are highly visual which makes for easy night time reading.
The bracelet is titanium and fitted with a folding clasp, but the pièce du resistance for it is a unique spring-loaded self-adjusting mechanism.
The bracelet can be finely adjusted by means of a spring in three positions, the rest of the adjustment is a remarkable technical accomplishment as the bracelet can adjust itself while diving. The strap will contract in deep water diving when the diver and suit are compressed and then will expand back as the pressure eases as the diver ascent back to the surface. You have to admit a very clever technical system. The Pelagos also comes with a rubber strap and an extension enabling to be easily worn over the top of a wetsuit, but this strap doesn't have the automatic adjustment system.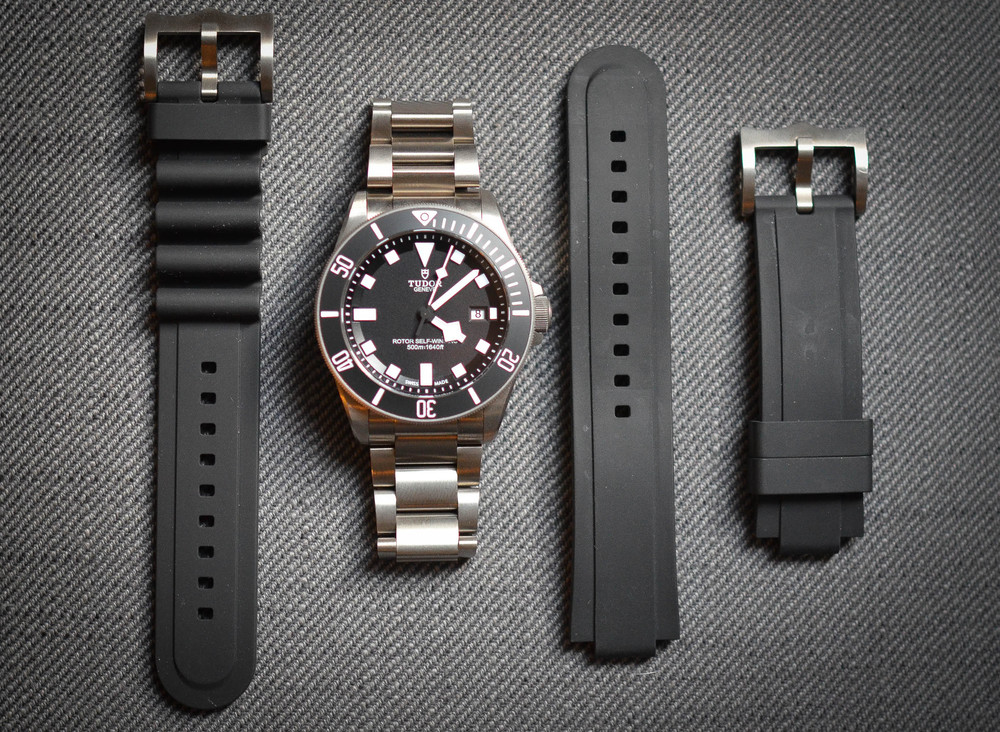 The depth rating for the Pelagos is 500 meters which in my opinion is spot on for a dive watch as there is no need to increase it to any further because in reality nobody is really going to go this deep let alone any deeper.
Turning the piece over you are greeted with a solid case back very which is common of the Tudor/Rolex family. Inside there is no in-house movement as they would make the cost skyrocket and move the Pelagos into the same price band as its older brother, instead they use the well-known and ultra-reliable ETA calibre 2824 with 38 hour power reserve. The price for the Pelagos is $4,125.
Conclusion
This to me is a near on perfect tool/dive watch with no polished parts, meaning you won't need to panic if you scratch it. It's got enough mass to know you're wearing it but not so heavy that you wouldn't be comfortable wearing it daily. There's also high visibility anytime of the day or night.
Note to readers: After reviewing it I liked it that much that I went and purchased a Pelagos to add to my own collection, that's how good I think it is. For more info, please visit tudorwatch.com
JOHN GALT – CONTRIBUTING EDITOR
John Galt caught the horology bug back in 2010 on his first visit to a London watch show and has snowballed since; John has become an avid writer and blogger of timepieces of all kinds, from everyday timepieces to modern Luxury HauteHorology, his favorite brands being HYT and GreubelForsey that push the boundaries of modern watch-making. John keeps a keen interest in the UK watch scene with their many emerging brands and timepieces. John Galt currently contributes watch related articles for online publications in the UK and USA. You can follow John on Twitter @johng73 Read his articles here.